Naperville's Bar Menu
Come and meet our friendly artists and bartenders, enjoy one of our awesome beverages and paint the night away! We have Wine, Beer, and Spirits.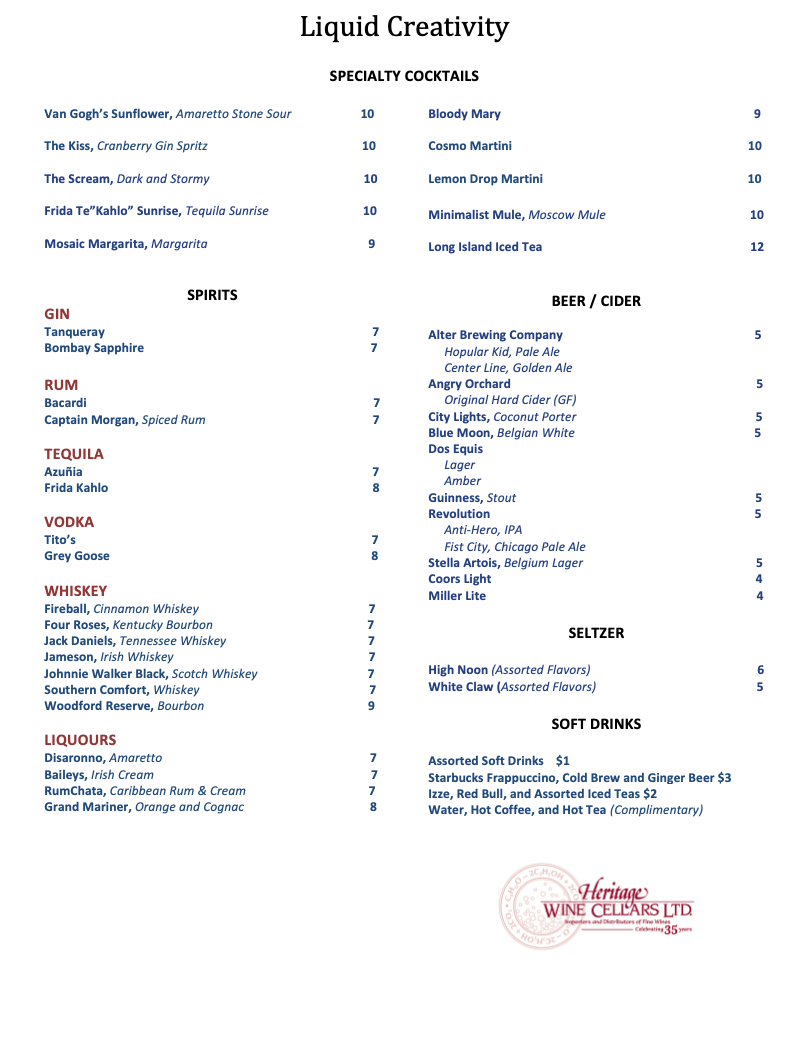 We also offer complimentary coffee, hot tea and bottled water.
Wine List
SWEET AND SPARKLING WINES
CHAMPAGNE
Jean Louis, Blanc de Blanc Brut, France. 8 32
Lime and pineapple with a dry finish
CHOCOLATE WINE
Cocoa De Vine, Blend of Chocolate & Red Wine 8 32
PROSECCO
Tiamo, Prosecco, Italian. Fresh and fruity 9 36
MIMOSAS
Soliel (Pre-Mixed), Orange, Mango or Pineapple 8 32
MOSCATO
Bricco Riella, Moscato, Italy 8 32
Refreshing, with white peach flavor
Serena, Red Moscato, Italy 8 32
Aromas of rose and an accent of rhubarb-strawberry pie
SANGRIA
Opici (Pre-Mixed), Red or White 8
SWEET RED
Fox Brook, Sweet Red, California 8 32
Light and sweet blend, flavors of raspberry and cherry
WHITE WINE
CHARDONNAY
Mimi, Chardonnay, California 9 36
Lightly oaked, fruit shines through
FitVine, Chardonnay, California, 0.04g of sugar 10 40
Full bodied dry wine with hints of pear, citrus and vanilla
Matchbook, California 10 40
A beautifully balanced blend of tropical fruit and vanilla spice
Raeburn, California. 12 48
Creamy rich layers of citrus and pear and accented by vanilla.
PINOT GRIS
Nine Hats, Columbia Valley, Washington 10 40
Peach, orange blossom and honeysuckle flavors with a crisp finish
REISLING
Dr. Heyden, Germany 10 40
Floral and green apple aromas with a mineral finish
SAUVIGNON BLANC
Fire Road, New Zealand 8 32
Grassy aromas with notes of gooseberry, apple and citrus
Flint & Steel, Napa, California 10 40
Aromas of grapefruit and honeysuckle and tropical fruit flavors
BLUSH WINE
ROSÉ
Honoro Vera, Spain 8 32
Bright and crisp with notes of strawberry, cherry and watermelon
RED WINE
BLENDS
Raymond R, Field Blend, California 9 36
Blend of Cabernet, Zinfandel, Petite Sirah, Petit Verdot and Merlot
Full bodies with notes of berries and white pepper
American Vintage, California 15 60
Blend of Zinfandel and Petite Sirah
Notes of Juicy red & blue fruits and hint of spice
.
The Prisoner, Orin Swift, California 72
Blend of Cabernet, Zinfandel and Petite Sirah
Flavors of ripe raspberry, pomegranate, and wild berry
CABERNET
Lyeth, Cabernet Sauvignon, California 9 36
Rich flavors with balanced acidity and smooth tannins
FitVine, Cabernet, California, 0.06g of sugar 10 40
Flavors of cedar, boysenberry, coffee and chocolate.
Hess, Cabernet Sauvignon, California 11 44
Medium bodied with blackberry, cherry and a slightly toasted finish
Palermo, Cabernet, Orin Swift, California 79
A full-bodied wine with flavors of cocoa, new oak and dark fruits
GARNACHA
Honoro Vera, Spain 8 32
Dark red berries, flowers, licorice & a hint of oak
MALBEC
Santa Julia, Argentina 9 36
Full-bodied with notes of plum, spice and vanilla
MERLOT
The Velvet Devil, Washington State 10 40
A fresh blend with flavors of velvet, black fruit, and cedar
PINOT NOIR
Bouchard Aîné & Fils, France 8 32
A deliciously fruit-forward Pinot Noir
Nielson by Byron, California 15 60
Wild berry flavor with hints of vanilla on the nose
RIOJA
Navardia, (Organic), Spain 10 40
Rich fruit flavor and medium body style.
ZINFANDEL
Klinker Brick, Zinfandel, California 12 46
Rich with blackberry and a hint of velvet vanilla oak