Virtual Painting Parties? Tell me More!
Paint, Create, Connect and Have Fun…..from Anywhere!
After about a year and a half experiencing a new "normal", I think one of my many takeaways from it is that as a society we want to still be connected with one another. Whether it be within the workspace, school, our loved ones, we thrive being with others. In early 2020, we would never have imagined that we would be hanging out with our customers via Zoom, yet here we are! Like so many small businesses we have had to pivot our delivery of services to stay in business. Thankfully, we can host our painting parties in-studio and in person classes now, however, are grateful that we have mastered the art of virtual online painting parties.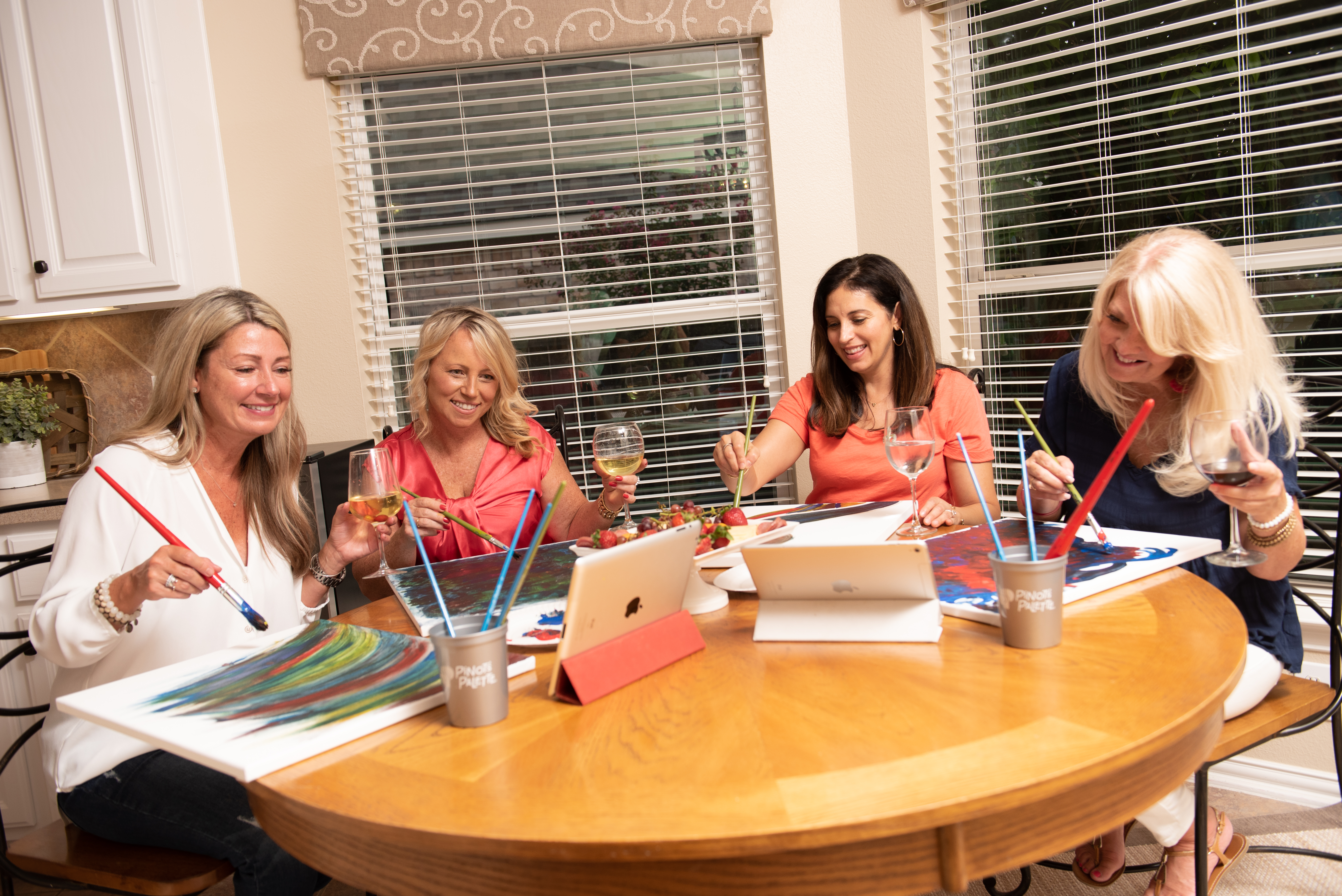 Hosting a virtual party is a great way to connect with you colleagues, friends, and family, during these somewhat bizarre times. Virtual parties are perfect for bringing those together who can't gather in person to help build lasting memories and build camaraderie. What's even better! Painting and creating is a great way to help relieve stress and promotes a positive atmosphere for creative self-expression.
If you're searching for a fun activity to do with a group of people, look no further! We hold virtual parties of all shapes and sizes including but not limited to bachelorette parties, fundraising events, corporate gatherings, client appreciation, birthday parties…just to name a few. What's even better is that we all get to create from the comfort of our own space so that we can have fun yet be responsible and safe.
There are three options to connect virtually:
Artist Led Painting Virtually
This is our most popular option. Each painter logs in to the class via an Internet connected device. Then participants can follow along with our artist that is instructing the painting step-by-step. Painters can ask questions and receive help directly from the artist. Paint kits can be picked up, delivered or mailed to painters for an additional fee.
Pre-recorded Painting
Paint kits including video instruction may be purchased. The video link to the class may be sent to the organizer to host their own Zoom meeting. The video can be stopped and started as needed for the participants. Paint kits can be picked up, delivered or mailed to painters for an additional fee.
Self-Guided Painting
Paint kits including self-guided written instructions may purchased. The group can be hosted through video conferencing and an appointed moderator can guide/read each step of the painting. Paint kits can be picked up, delivered or mailed to painters for an additional fee.
If any of these options sounds like a good fit for you and your group, please give our studio a call at 913.451.7466 to discuss how we can help plan your next event!