Pairing Wine with Halloween Candy
Are you trying limit how much Halloween candy your kids eat by indulging in the sweet treats yourself? Well, we have a guide that will bring a little sophistication to your sneaking of Halloween candy!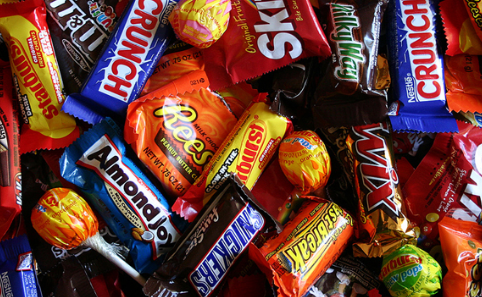 Sparkling Wine: Champagne—Proseco—Cava—Sparkling Rose
Pairing hard, rock candies with these wines will be like a flavor punch to your mouth. It'll be hard to stop this sugar train! Try with candy like Nerds, Sweettarts, Pop Rocks
Sweet White Wine: Moscato – Riesling
Chewy, berry flavored candy like Starbursts and Skittles pair very nicely with sweet whites.
Dry White Wine: Pinot Grigio—Sauvignon Blanc—Albarino—White Table Wine
Similar to a sweet white wine, candy like Skittles go well with a dry white as well. It adds a little kick to the dryness of the wine. Other candy would be Jolly Ranchers and Jellybeans.
Light Red Wine: Pinot Noir—Gamay—Beaujoulais
A simple nutty candy like Reeses or BabyRuth pairs nicely with this, or simply a Hershey's bar.
Medium Red Wine: Temperanillo—Sangiovese—Zinfandel—Grenache—Merlot
Even though it has nuts and you might think it would be better with a light red, Snickers pairs perfect with a medium red since it has the extra flavors of caramel and nougat. All these flavors match with all the flavors of a medium red blend. Other candy can include a regular Hershey's bar, M&Ms and KitKat.
Bold Red Wine: Cabernet Sauvignon—Malbec—Syrah
Pairing 'bold' with 'bold' is typically a winner. Reeses cups have a bold rich flavor that go along with the bold rich flavor of a bold red wine. Other candy includes Twix, M&Ms, Whoppers, Snickers Dark, and Milky Way.
Now what are you waiting for? Sneak some pieces of your kids' Halloween candy and break out a couple bottles of wine!