How to Score Bigtime! Your Guide to Super Bowl Wine and Food Pairings
When planning your Super Bowl party menu and what beverages to serve, most oftentimes you think of beer. I've never been much of a beer drinker, except in college of course, so this Super Bowl Sunday I will be drinking wine. Here are some ideas that will help with your menu planning: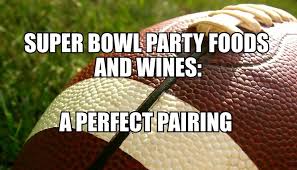 Hot wings = Riesling
WHY: The Riesling will cut the heat of the wing sauce and balance the spiciness with the sweetness of the wine. The Riesling's acidity is a good match for the vinegary sauce.
Nachos = Rose'
WHY: Nachos have a little bit of everything in them, so it makes sense that an all-purpose Syrah-based Rose' would be a good selection.
Chicken Fingers/Fries or Potato Chips = Champagne
WHY: Yes, believe it or not Champagne is your best bet for fatty foods. The bubble cut through the grease. Plus, it's just fun to be fancy with not-so-fancy foods!
Chili = Red Zinfandel
WHY: The Zinfandel is bold enough to stand up to the spiciness of the chili.
Pizza = Barbera
WHY: Pizza needs a hefty red to tackle the acidity of the tomato sauce. If you are serving Vegetarian pizza you may want to consider a crisp Pinot Grigio.
Spinach Artichoke Dip = Sauvignon Blanc
WHY: Did you know artichokes can play a trick on your tongue and make wines seem sweeter than it is? The Sauvignon Blanc has an herbal side to it and is a perfect pairing with this dip. Avoid Reds with Spin Dip, they can taste metallic caused by the spinach.
Want to create the perfect Wine Buffet for your Super Bowl Party? Here's a great suggestion, pick one from each category:
Sparkling Wine: Champagne, Cava, Prosecco, Moscato d'Asti, Lambrusco
Crisp white: Sauvignon Blanc, Grüner Veltliner, off-dry Riesling
Rosé: Provençal or Côtes du Rhône rosé
Fruity, not too tannic red: Zinfandel, Barbera, Beaujolais, Grenache/Garnacha
Aperitif: Fino or Oloroso sherry, White Port
Once Super Bowl is over be sure to plan your next night out at Pinot's Palette Leawood! Call the studio today at 913.451.7466 for more information, check out our calendar of events at www.pinotsplaette.com/leawood or email us at Leawood@PinotsPalette.com
Sources:
http://drink...l-snacks.html
http://vinep...ine-pairings/
Enter your contact info and request details below, and we will contact you with details about your private party!