Halloween: Party Planning
Are you planning a Halloween party? While Halloween is a theme in itself, have you thought about stepping it all up a notch, to make your party extra scary fun?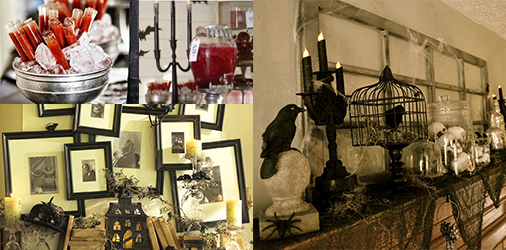 Blood Bar
It sounds disgustingly delightful. How to achieve this gory getup?
- Bloody Mary Shots in test tubes
- Cherry Bomb Jello Shots in syringes
- Red wine in a decanter
- Cranberry Cosmopolitan in a decanter (go the extra mile and find one that looks like a conical flask)
And, of course you'll want to decorate the bar with (fake) bloody gauze, a black candelabra, and any other scary items you can find!
Ghostly Pictures
This is pretty simple since we all have pictures hanging around our house. Google "ghostly pictures" or "old Halloween pictures" and you will have plenty of creepy Halloween pictures you can print off to put in your frames around the house. This one is always fun, because it takes people a while to notice them, but gives the party the extra "scare" factor.
Bats!
Adding bats and crows to any Halloween décor makes it scarier in my book! Top it off with a witch's cauldron of dry ice, your Halloween party will be one for the books!
Happy Haunting!