Time Book Your Company Holiday Party
We're joining in with the rest of the retail industry, and start talking about Christmas! The Christmas decor seems to be coming out earlier and earlier every year. If you want some last minute Halloween decor, you're out of luck, it's already been replaced with Christmas decorations. You can forget about Thanksgiving…you want some generic Fall and harvest decor, head on back to the darkest corners of the store and you can maybe mix and match some leftovers for your Thanksgiving table setting, because it is obviously time to get ready for Christmas. Well, we're not going to pressure you to start decorating for Christmas, but it IS time to start planning your company's holiday party…and we want to be there to help!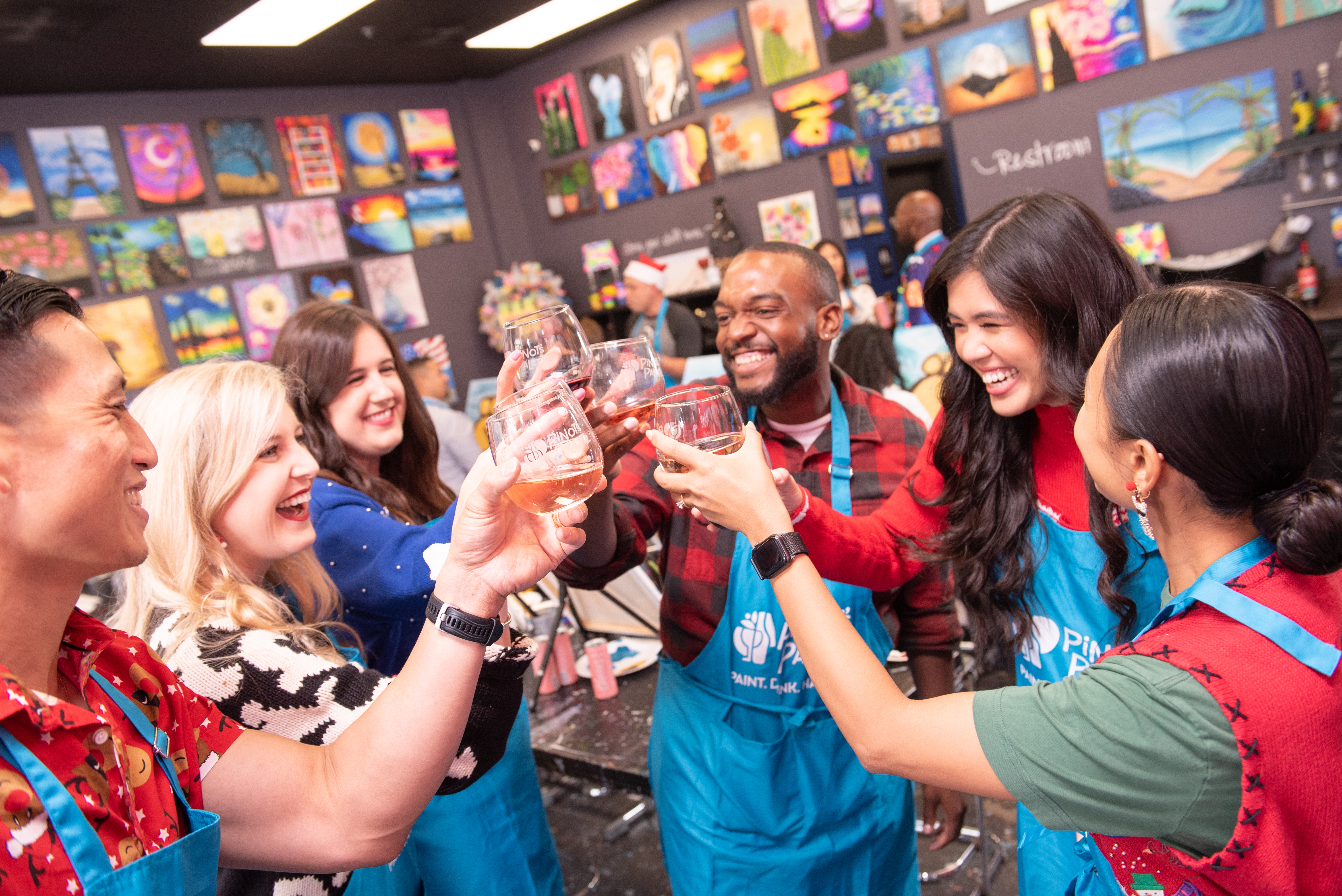 Office parties are so predictable, especially if you don't start planning them early. Potluck in the break room, and if you're lucky, shut the office down early for some festive tunes and cocktails in the conference room. Or, as of late, everyone grabs their own drink of choice and hop on a zoom call. Well, let us help you be the hero of the office and plan an IN-PERSON and fun holiday party your whole team can enjoy. We have so many different types of painting parties to offer that will fit your team, whether you want to do a team-building or just have everyone kick back, relax and enjoy the end of year celebration, we have your back.
Choose the type of holiday party to fit your team:
Pinot's Palette Special
The tried and true painting party that everyone knows and loves about Pinot's Palette in Leawood. You choose a painting for the artist to lead the group through step-by-step, while everyone enjoys music, drinks and each other's company.
Musical Painting
This is perfect for everyone to not only take a masterpiece home or hang in the office, but to have something that everyone on the team has contributed to. Just like musical chairs, painters will paint a step on one canvas, and then when the music stops, everyone shifts over to the next canvas.
Collaborative Painting
Your team takes turns to paint on ONE large canvas. This is great if you have a shared office space to hang the team's masterpiece when it's finished. This style of painting allows for more team interaction, or it's great if you need to pair the party with an end of year team meeting as well.
Mystery Painting
This is a fun class because it keeps everyone intrigued until the very end, because no one knows what they will be painting (except the person who plans the party). When you book the party, and choose the painting, you won't tell anyone what the painting is. The artist will lead the team through the painting step-by-step revealing the painting a little more with each step.
Puzzle Painting
This truly takes a team effort. The masterpiece will not look complete without a painting from each team member. Each person's painting will be a contributing piece to the overall painting to reveal a single masterpiece that everyone helped make. This is another good party option for companies that have a shared office space to hang the painting(s) after the party.
However you choose to celebrate your team's holiday party with us, we're sure everyone will love it! We have hosted countless holiday parties since 2013 for groups large and small, and the outcome is always the same - everyone loves it and leaves happy! We encourage you to come into one of our public classes to give one of our painting parties a try before you commit to a private party, but we can almost guarantee you will be excited to bring your team members back to partake in the fun as well.
If you have any questions, please call us at the studio or stop in! We'd be happy to answer any questions you may have. We hope to see you soon and look forward to being part of your holiday events this year.
Cheers!
Share Check out our full Calendar of Events | I'd like more information about Corporate Events!