Make Your Teambuilding Outing a 'Teambonding' Experience
Yay!! Tax season is over, Spring is here, 1st Quarter numbers are in and they're good!! Want to keep the momentum going through the end of the year? Pinot's Palette Leawood offers painting activities to reward your employees while also fostering a fun team-bonding experience. We offer multiple teambuilding activities that are not only fun, but they are inclusive for an entire team.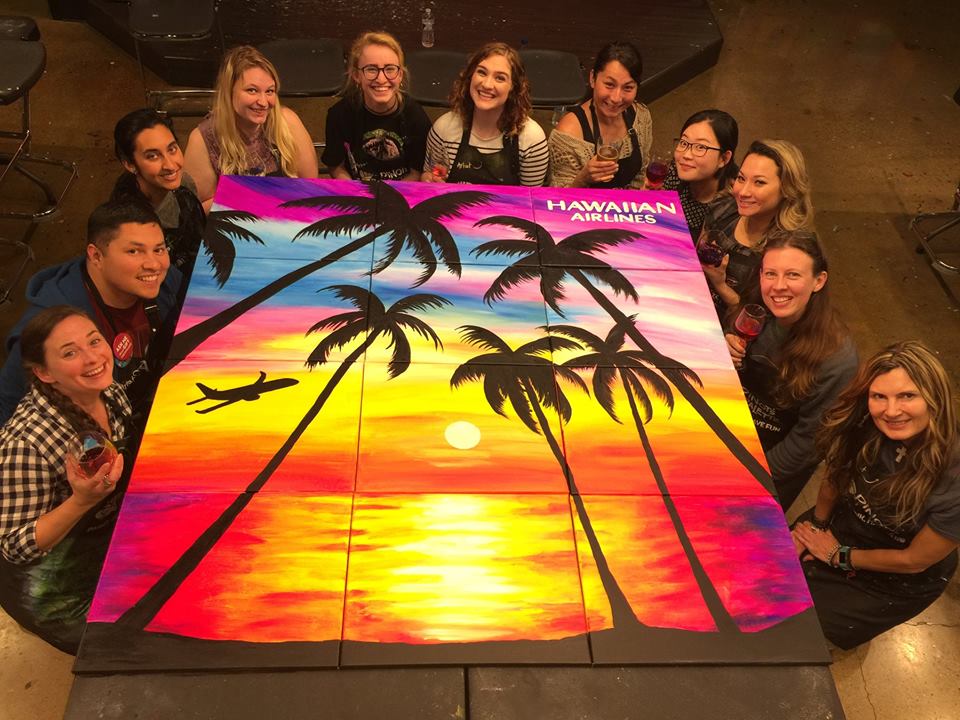 Just a few of the offerings we provide are:
• Jigsaw Puzzle-Each person paints an individual canvas piece that is part of a larger piece. When the pieces are put together it creates a full image. We can include your company logo as well.
• Musical Canvases - painters start on one canvas and switch canvases at assigned times throughout the painting. By the end of the evening, everyone has had a hand in every masterpiece.
• Blind Painting or "How well do you follow instructions!"-Painters are not shown in advance an example painting. The artist leads them through the process and at the end they are shown what the original example was.
• Collaborative Painting – Everyone in the group contributes to a large 3 x 4 ft painting. One collaborative painting recommended for every 8-10 painters at the event.
• Karaoke – It's a great ice-breaker or a fun activity to get everyone involved.
Successful companies and teams have a common theme, they all support and foster a collaborative work environment and company culture that helps them sustain long term success. Pinot's Palette can provide an activity that may kick-start a big project coming up or as an award for meeting team goals. A paint outing can help bring a team together to increase morale and productivity.
1. Painting is an all-inclusive activity
Your entire team can do it! There are no physical limitations to any of our painting activities.
2. Teambuilding activities promote collaboration and problem-solving
Our artist guided activities enhance collaboration and create consensus between teams. It has been documented both statistically and scientifically that creative team building activities have positive effects in the workplace, especially for teams continually looking for ways to keep momentum or to improve communication.
3. Painting encourages more socialization
Our Pinot's Palette environment is designed to be relaxing, unintimidating and supportive where our painting process fosters conversation and interaction between workers.
4. It's easy and stress-free
The best reason to choose Pinot's Palette for your next 'teambonding' experience is that we do all the work for you! All you need to do is show up! We take care of all the set up and clean up, plus we can also arrange for your food and beverage needs. When you and your team arrive, we are set and ready to paint.
Want more information? Contact our studio at 913.451.7466 or email us at leawood@pinotspalette.com.
Check out the video link below for more information too!