Why Panera Delivery is a Game Changer
Being in the midwest, food delivery typically means two things: chinese or pizza. And while I do love indulging in pizza or some crab rangoon from time to time, it's not the healthiest option. I know there's Grub Hub, Door Dash, Postmates, etc., but I feel like there's more accountability when the restaurant is delivering the goods themselves. Enter: Panera.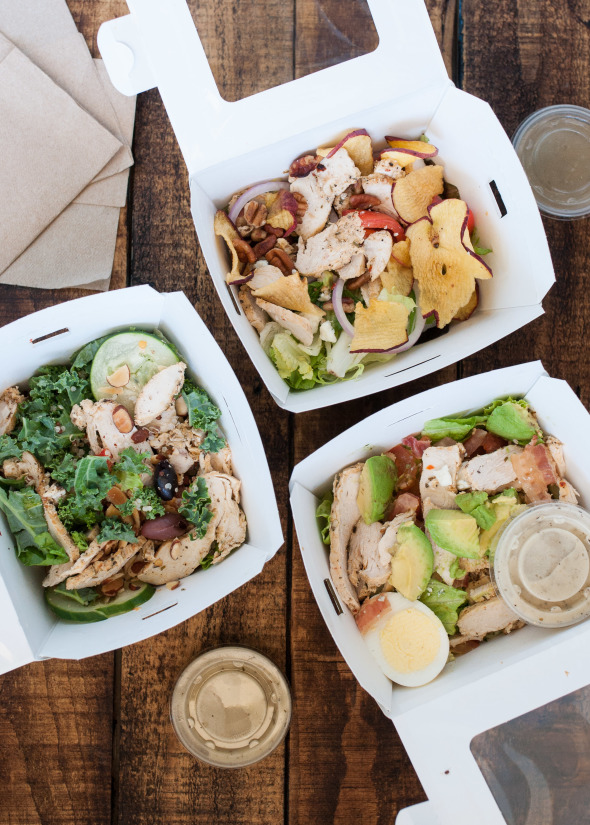 Not only do they have a fresh, seasonal menu, but they change up their menu occasionally too. As a mom of a rambunctious 3-year-old and an almost 7-month-old, I typically gravitate towards what's easiest...which means not getting them into the car, just to get them out of the car, have my 3-year-old run around like she owns the place, order, then change her mind 5 minutes later, and then have my 7-month-old crying by the time we leave. All in a matter of 20 minutes. Today, I ordered Panera Delivery for the firs time, and it did not disappoint. I knew I would be ordering something for delivery today, because we have a shipment of inventory coming and FedEx is unpredictable with their delivery time and I can't miss it. Which means, I can't even go next door to T.Loft to get something in under 5 minutes, because, inevitably, the FedEx man will try to deliver our paint during that time. Also, kids. Both are with me today.
I ordered online, chose the drop-off time within a 15 minute window, and they even texted me updates. If you clicked on the link in the text update, it redirected me to a map that showed the exact location of my food. Then, they sent me an update when my food was arriving at the door. I looked up from my text update, and the delivery man was walking through our door. The order was correct. The food was hot. My, and said 3-year-old, belly is happy.
What would have taken [probably] an hour out of my day, I have been an hour more efficient and productive with my time. Even if I didn't have kids with me or expecting a shipment, I would still have Panera deliver. Not out of laziness, so I don't have a break in my productivity. And, when I'm putting healthy food in my body, it only helps my productivity in the long run. So, thank you, Panera! You made my day!