St. Patrick's Day
St. Patrick's Day is always a fun day, whether you're spending it with the family and going to see a parade or with your group of friends drinking green beer. It's the first day that (usually) feels like spring and outdoor activities are beginning to become acceptable again. This year is extra special since it's on a Saturday and you don't have to wait to get off work to celebrate!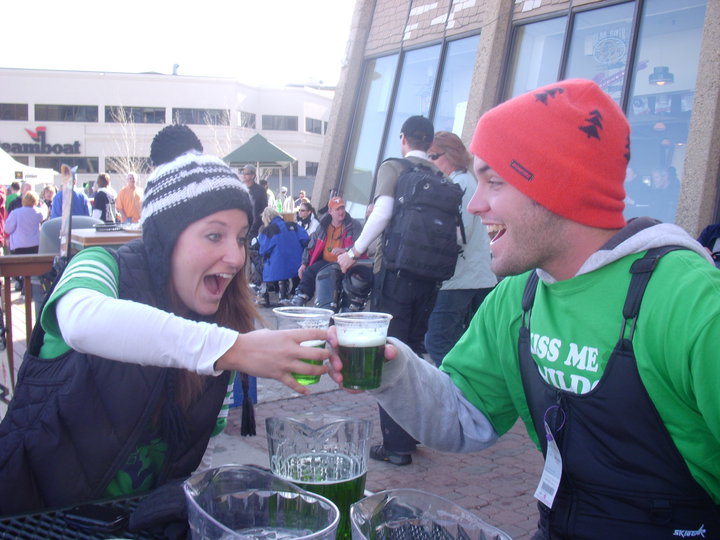 In college, I celebrated St. Patrick's day with my group of friends and it usually started off with green eggs and green beer. Then we'd walk to the bars and begin our day of green beer drinking. Somewhere along the lines we would order a corned beef sandwich, which by that time of day was necessary to replenish our bodies with some sort of nutrients, and continue on our quest of drinking too much beer and pretending we were Irish for the day.
My St. Patrick's Day celebrating has drastically changed since then. I still get up early to start the day off right with some eggs, and maybe I will add a little bit of green food coloring to it...because my kids will think it's fun. Then I will load up the kids in the stroller and matching green outfits, and walk down to the parade. We still eat corned beef sandwiches, but I actually know what they taste like now and enjoy it versus stuffing my face out of necessity. Then I'll open my first beer and, again, enjoy the taste rather than drinking it as fast as I can. If it's nice outside, we'll get bocce ball out or corn hole and invite friends over to enjoy beers and appetizers into the evening.
It's amazing how celebrations change in the matter of a few (or ten) years, but I'm not going to gripe about it being because, "I'm an old person now." It's a different stage in my life, and I enjoy it! Whether or not I had kids, I don't think I would want to celebrate like I did in college. It was a fun and irresponsible time in my life, but I look forward to celebrating yet remembering the celebration now.
However you choose to celebrate this St. Patrick's Day, may it be enjoyable and spent with great friends and family...and of course, beer.
Cheers,
Kelly