Spring Break 2023!
Can you believe Spring Break 2023 is right around the corner?? If you're not jetting off to a tropical destination or fresh powder-filled mountain, and instead you'll enjoy the serene scene Kansas City has to offer, then we have some classes that you will not want to miss out on!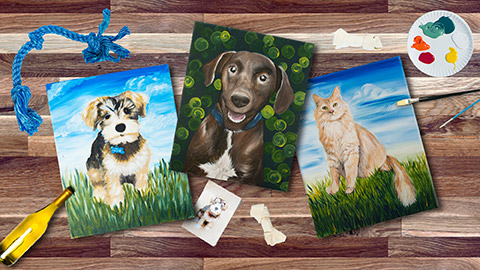 FAMILY FRIENDLY AND KIDS PAINTING PARTIES DURING SPRING BREAK
Open Studio - Do Your Own Thing!
This is a great option to bring the whole family in to dip into everyone's own creativity and paint their own creation. We have self-guided painting instructions available, or simply paint at your own whim. While there isn't an artist leading you through the painting, we have staff available to help and answer questions, and of course, tend the bar if you feel like starting the party early! We have open studio days on Monday and Friday during Spring Break!
Book Your Spot for Monday:
https://www..../event/677777
Book Your Spot for Friday:
https://www..../event/677778
Live. Laugh. Llama
Tuesday, March 14th 2:00 - 4:00 PM
This lovable Llama will make you live to laugh! We can't help but find this adorable llama's hairdo perfect, and the best way to lift your spirits with its cute presentation of flowers. The perfect gift for Spring! This is a fun class for ages 6 and up!
Book Now:
https://www..../event/670045
Tropical Sloth
Wednesday, March 15th 2:00 - 4:00 PM
If you're dreaming of lazy days in a tropical location, this sloth can take you there for an afternoon. This cute sloth relaxes among beautiful, pink hibiscus flowers, and is the perfect afternoon getaway for a Leawood Spring day. This class is perfect for ages 6 and up.
Book Now:
https://www..../event/675546
UFO - BLACK LIGHT PARTY!
Wednesday, March 15th 7:00 - 9:15 PM
This is the perfect family fun night out for your preteen and teenage kiddos! Whether you believe in extraterrestrial life or not, this painting is super fun and unique to paint…not to mention you paint with black lights on, so wear your neon and whites!
Book Now:
https://www..../event/670048
Magical Rainbow Moon - BLACK LIGHT PARTY!
Friday, March 17th 3:00 - 5:00 PM
If you missed Wednesday's black light party, well no worries, because we have ANOTHER black light painting party planned! This Magical Rainbow Moon is a perfect painting class for kids ages 6 and up. Don't forget to wear bright neon colors and bring your glow sticks for an extra fun black light party!
Book Now:
https://www..../event/671922
Project Pet
Saturday, March 18th 2:00 - 5:00 PM
This class is best suited for those in the family that are teenagers and older. This three hour class is a fun way to capture your best furry friend's likeness to forever hang on your wall. Project pet is one of our most popular classes, so be sure to sign up early and save your seat!
Book Now:
https://www..../event/665056
We can't wait to see you on Spring Break and hope to add to your fun on your staycation!
Cheers!
Share Check out our full Calendar of Events | Plan a Paint Night for Home!