Project Pet - Paint your pet!
Project Pet is one of our most popular classes, and we host a project pet class about 4 to 5 times a year at each studio – Leawood and Prairie Village. It's our most popular class because our guests are painting their pet! While, people would say it's our most intimidating class, everyone walks away with their own personalized pet portrait.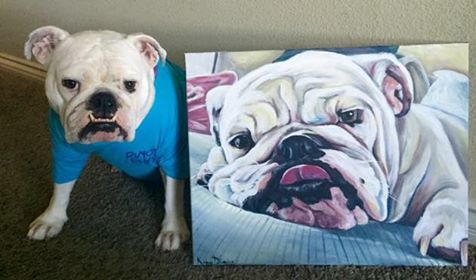 This class is personalized to fit each painter, because our artists float around the room and help each guest achieve the painting they want. The process is simple…
1. Sign up for the class on our website or give us a call to register.
2. Email us a photo of your pet to Leawood@pinotspalette.com
3. You come in and paint your pet while sipping on your favorite wine!
Those are the only three steps that you, the guest, has to worry about, we do the rest! We take the image and remove the background, convert it to grayscale and pixilate the image to better show shading areas. We then send off the images to be printed on the canvases.
During the class, the instructor begins by painting the background, and this is where everyone in the class can be creative with their backgrounds with different colors or landscapes, or follow the instructor. Then the artist instructor begins teaching how to paint the body of the animal and how to get different texture effects. The second artist floats around to help with color combinations, techniques or to pour you another glass! The final step is to paint the eyes and nose and all the fine details, and our artists are there to help you every step of the way.
So whether you have a furry, feathered, scaly or slimy friend, we want to make sure you leave with a masterpiece you love! Do you want to see proof that everyone leaves with a fantastic portrait of their pet?
Check our albums of our previous pet classes here:
https://www....4595349626317
or here:
https://www....7937559625431
We have all of our Project Pet classes planned out for the year, so head on over to our calendar to sign up for a class today! Don't forget to check out the classes at our sister studio in Prairie Village too!
- June 23rd – Picture deadline 6/13 – Proceeds from this class go to our friends over at Great Plains SPCA! Come "Paint it Forward" with us!
- September 30th – Picture deadline 9/18
- December 2nd – Picture deadline 11/21