#pumpkinspice!
With the cooler breezes of September comes festive décor, a new color palette, and new flavor profiles.
You know what I'm talking about.
Pumpkin flavored EVERYTHING! I just did a quick survey of all my friends, and 100% of them LOVE anything pumpkin flavored!
Okay, that's clearly a lie.
But ready or not, we've arrived. Pumpkin season.
Since Starbucks rolled out the Pumpkin Spice Latte in 2003, the association between pumpkin ANYTHING and the beginning of fall has only gotten stronger. If you were do a search within our master painting library you would find 88 unique Pinot's Palette pumpkin paintings (say that 5 times fast). What is it about this big ol' squash that we find so lovable?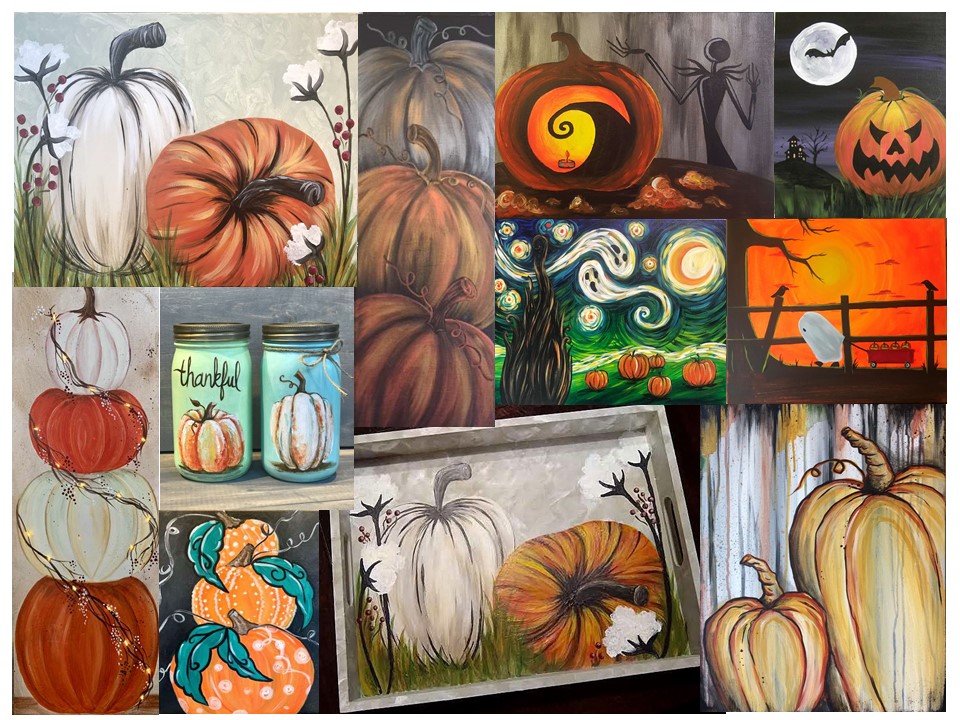 I have a theory that the pumpkin is a universally appealing symbol of the impending holiday season, no matter your age. Pumpkins are clearly an integral part of Halloween festivities, from picking out your favorite at the local patch, to carving spooky Jack O' Lanterns, to being imprinted on cute trick-or-treat buckets held by tiny, excited hands. Now close your eyes and imagine Thanksgiving Day for a moment. Family members greeting you with embraces on the porch, pumpkins in some form decorating the entryway. Everyone gathered around a table heaping with food and, of course, pumpkin pie. All of these pumpkin-based experiences, each wonderful on their own, continue to lead us ever closer to the holiday culmination that December brings.
Certainly, pumpkins quietly embody the nostalgia of quality time with loved ones. Come and spend a relaxing afternoon or evening with us in studio and let us help facilitate those sweet memories. Our first pumpkin painting of the season appears on our calendar September 21st, from 3-5pm. (https://www.pinotspalette.com/leawood/event/358769) with many others to follow. After all, your walls won't decorate themselves!
Pinot's Palette Leawood Pumpkin-palooza line-up:
Sunday, Sept. 29th 3-5 pm – Rustic Pumpkin Patch with LIVE Acoustical music by The Happy Accidents!
https://www..../event/357383
Wed., October 2nd 6:30 – 8 pm – Hump Day Happy Hour with Whimsical Pumpkins
https://www..../event/367027
Wed., October 9th 7 – 9pm – Rustic Pumpkin Patch Wooden Tray Class!
https://www..../event/368379
Sat., October 12th 12 – 2pm – Pumpkin Spice & Everything Nice Mason Jar Painting
https://www..../event/357350
Thurs., Oct. 17th – 7-9pm – Halloween Themed painting - Pumpkin Carving King
https://www..../event/367068
Fri., Oct. 18th 7 – 9 pm – Pile of Pumpkins
https://www..../event/359492
Thurs., October 24th 7 – 9 pm – Rustic Pumpkins
https://www..../event/367266
Sun., October 27th 2 – 5 pm – Illuminated Pumpkins – SO IN LOVE WITH THIS ONE!!
https://www..../event/368394
Wed, October 30th 6:30 – 9:30 pm – Halloween Theme – Haunted Eve
https://www..../event/368408
Our Pinot's Palette Leawood artists are so excited to bring this Fall's Pumpkin-palooza to our amazing and creative customers! We also have plenty of other Fall fun planned for the upcoming months for you to enjoy with your friends, families or co-workers! Check out our link to public classes below. Plus, in addition to our public classes on the calendar, we also offer private events! It's all the fun of our regular classes but you get to choose the painting and guest list! From fun with friends, to team-building creativity with your co-workers, kids' parties, and more, we've got it all! You set the date and we take the planning from there!
Celebrations:
https://www....ivate-parties
Team Building Events:
https://www....porate-events
Kids Painting Parties:
https://www....ainting-party
Mobile Events:
https://www....ainting-party