Check out our Spooktacular Events for Halloween!
Halloween is almost here and your house is probably covered in creepy spiderwebs, pumpkins on every flat surface and the all-around-perfect Halloween decor that makes anyone envious who walks through the door. Have you thought about adding an even MORE personal touch to your decor this Halloween? No, I'm not talking about getting a life-size cutout of you in your Halloween costume. I'm talking about adding to your holiday decor by hand-painting a work of art for your home!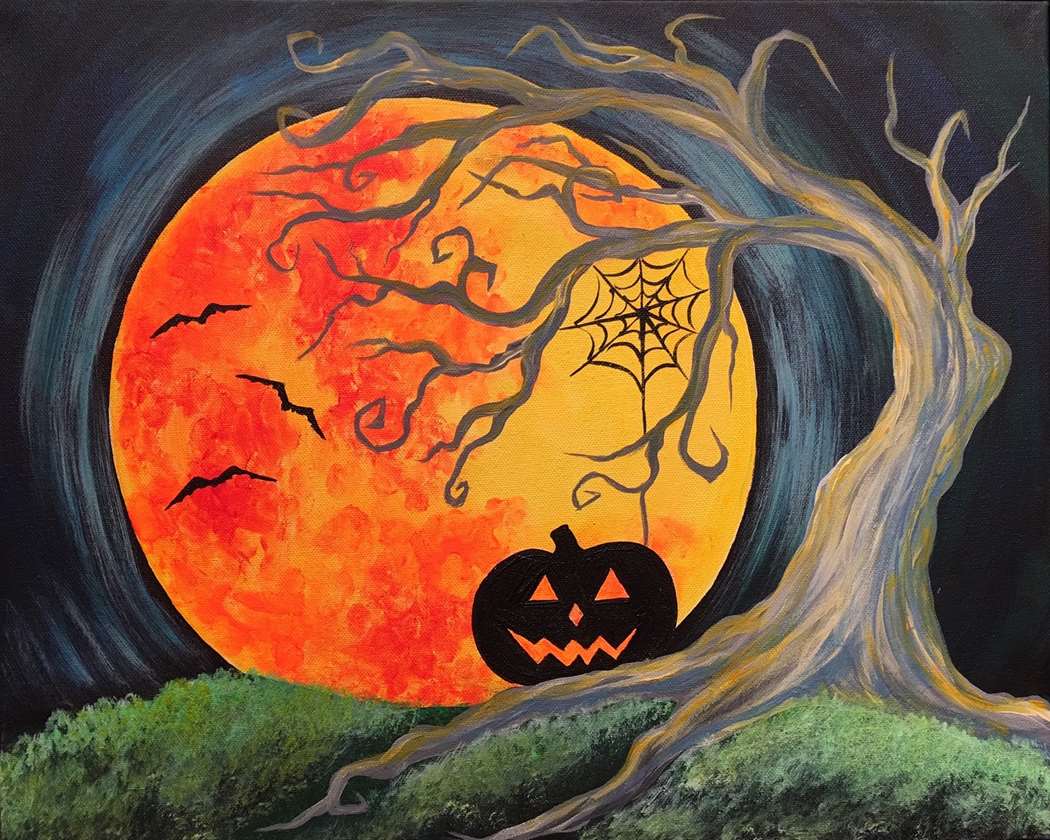 We have everything from pumpkins, witches, scarecrows, ghosts and more in our lineup of painting parties this month. If you're feeling extra funky...or should I say, "SPOOKTACULAR," then come paint under the black lights where we paint with fluorescent colors under the glow of black lights...it's pretty awesome! Some classes are designated for the whole family, while others make a fun girls' night out, or are great for a Halloween date night *wink*wink*. Why not just bring everyone you know in to create some artwork and have a fun night out as you Paint. Drink. and Have Fun!
Check out these Halloween-themed paintings...
Thursday, October 11th
Family Fun Night - Black Light Painting
"Glowing Jolly Jack-O-Lanterns"
6:30 - 8:30pm
**Perfect for ages 6 and up!!**
Have a fun night out with the whole family since the kiddos don't have school on Friday!
Check it out here:
https://goo.gl/xePgwf
Saturday, October 13th
"Deadly Nightshade"
3-5pm
Worm's wart, frog's breath....oh my is that, it can't be--the deadly nightshade. Friends BEWARE of the deadly nightshade or else!
https://goo.gl/zCyEmo
Saturday, October 13th
"Van Gogh's Starry Night Halloween"
7 - 9:30pm
Back by popular demand...don't wait to sign up for this class! It sells out quickly! "There's a magic in the night when the pumpkins glow by the moonlight!"
https://goo.gl/Rnrx6K
Sunday, October 14th
Family Fun DAY - Black Light Class
"Rainbow Jack-O-Lantern"
2-4pm
**Great for ages 6 and up**
Paint under the black lights and watch your painting come to life with the beautiful fluorescent colors!
https://goo.gl/Y8MUvC
Sunday, October 14th
"Rustic Pumpkins"
3-5pm
If you're not 'all-in' with the Halloween decor, this is the perfect painting for you that can carry over into the Thanksgiving holiday!
https://goo.gl/tJRphT
Thursday, October 18th
"Hallowed Moon"
7-9pm
Hear the hoot of the owl through the trees in the glow of the hallowed moon.
https://goo.gl/z7Xosz
Saturday, October 20th
Family Fun Day!
"Little Boy Boo"
11:30am - 1:30pm
Bring the whole family out and paint this cute painting!
https://goo.gl/mYqgbK
Sunday, October 21st
"Pleasantly Pumpkin"
**Back by popular demand!**
Bring all the girlfriends out to paint this fun 10x30 painting that is perfect for your decor through Thanksgiving!
3-5pm
https://goo.gl/5s7hEA
Tuesday, October 22nd
Full Moon Paint Night for $29! ... and we're not talking about your full moon ;-)
"All Hallow's Tree"
7-9pm
Full moon on a Halloween night... spooky! Fun and easy painting for festive decorating.
https://goo.gl/6ZhMoY
Thursday, October 24th
"Twisted Sisters"
7-9pm
Anyone with a sister knows how twisted we can get! Grab all your sisters, your brew (I mean wine!) and come paint this magical potion of a painting.
https://goo.gl/77kHfG
Sunday, October 27th
Family Fun Day Black Light Painting!
"Fright Night"
**Great for ages 6 and up!**
3-5pm
This Halloween paint serves as a dual purpose: It can be painted under a black light, which gives it a creepy glow or it can be painted as a regular painting and still has a frightful appeal
https://goo.gl/KoasVN
Tuesday, October 30th
"Hallow's Eve"
7-9pm
It's only $29!! Ghouls howling, black cats meowing, and spiders crawling. Dusk is upon us and it's Hallow's Eve… Let the spooking begin!
https://goo.gl/bMaafV
We hope to see you soon for one of our Halloween paintings! Bring all of your friends and family to join in the fun with you, as painting is always better with loved ones by your side!
Keep in mind that we do offer private events, if you're looking to celebrate a birthday, bridal shower, baby shower, retirement party, or anything else with a private painting class!
More information here:
https://goo.gl/AmstoZ