The Art of Healing
When you hear the words art therapy, one tends to think in the clinical sense. While it is a very effective tool in the psychologist's toolbox, it's also very applicable (and accessible) to anybody who has ever felt stressed... And if you can sit there and tell me you've never felt stressed, please teach me your ways, oh Magical One!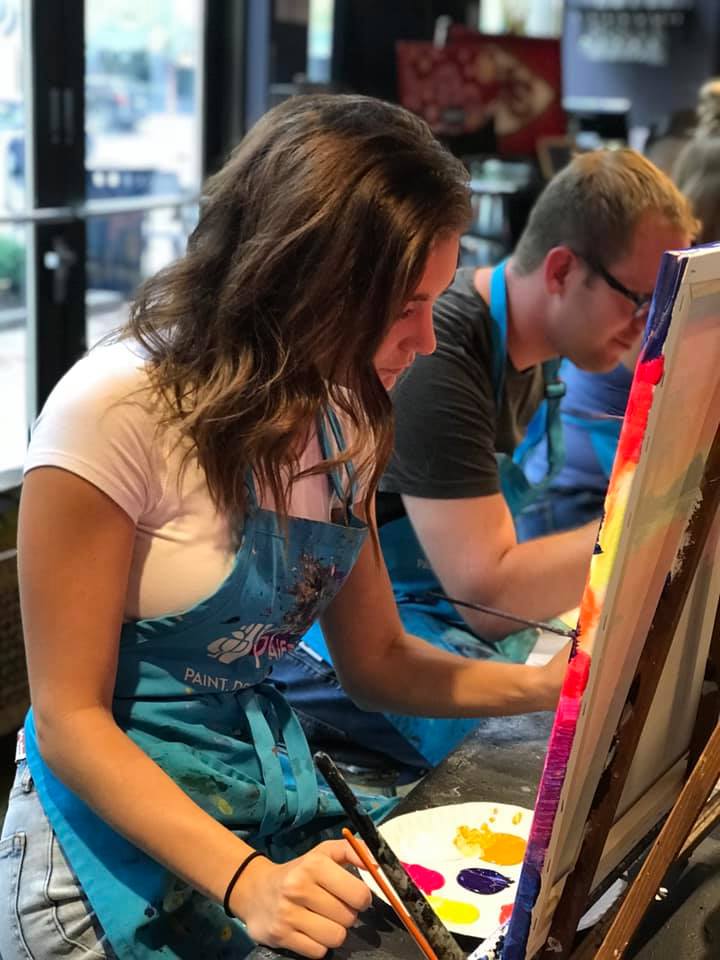 The act of creating has been shown to have positive effects both mentally and physically for persons of all ages. The best part is, you don't need to have artistic ability or special talent to experience these benefits. Just 45 minutes of any creative activity will begin to reduce cortisol levels.* Some research even suggests that just the presence of art can play a part in boosting mental health.** Does the wall décor currently in your home add a calming effect?
If you wouldn't typically call yourself an "artistic person" I encourage you to at least try a guided painting class. I can personally attest to the soothing nature of dragging paint across a canvas. The next time you sit down in our studio, pay attention to these little things. The satisfaction of covering white canvas. The way the colors gently marble into one another as you blend wet paint on wet paint. The reassurance that comes from repetitive brush strokes. Focus on these sensations rather than if your painting is "good enough". Take a sip of your favorite wine and lean into the relaxation.
If you are interested in a low stress painting, perhaps give one of the following a try:
Sat., Sept. 28th @ 11:30 am – Among the Cosmos -
https://www..../event/361527
Tues., Oct. 1st @ 7 pm – KC Neon Nights -
https://www..../event/357245
Fri., Oct. 4th @ 7pm – Twilight in the Forest -
https://www..../event/358771
Thurs., Oct. 10th @ 7 pm – Burnished Moon -
https://www..../event/366711
Wed., Oct. 16th @ 6:30 pm – Moon Gazing -
https://www..../event/367034
Sat., Oct. 26th @ 7 pm – Ikebana Bliss -
https://www..../event/361537
*Girija Kaimal, Kendra Ray & Juan Muniz (2016) Reduction of Cortisol Levels and Participants' Responses Following Art Making, Art Therapy, 33:2, 74-80, DOI: 10.1080/07421656.2016.1166832
**Stine L. Nielsen, Lars B. Fich, Kirsten K. Roessler & Michael F. Mullins (2017) How do patients actually experience and use art in hospitals? The significance of interaction: a user-oriented experimental case study, International Journal of Qualitative Studies on Health and Well-being, 12:1, DOI: 10.1080/17482631.2016.1267343