Spring is Here! Our Calendar is Bursting with Bright Color!
Our April and May calendars are planned and are bursting with bright colors that are sure to beautify your home or office! From Black Light and long canvas paintings, family fun days, Paint on the Patio Nights and plenty of Mother's Day fun, there is something for everyone this Spring at Pinot's Palette Leawood. Check out our line-up of paintings for April:
https://www..../events/april
and for May:
https://www....od/events/may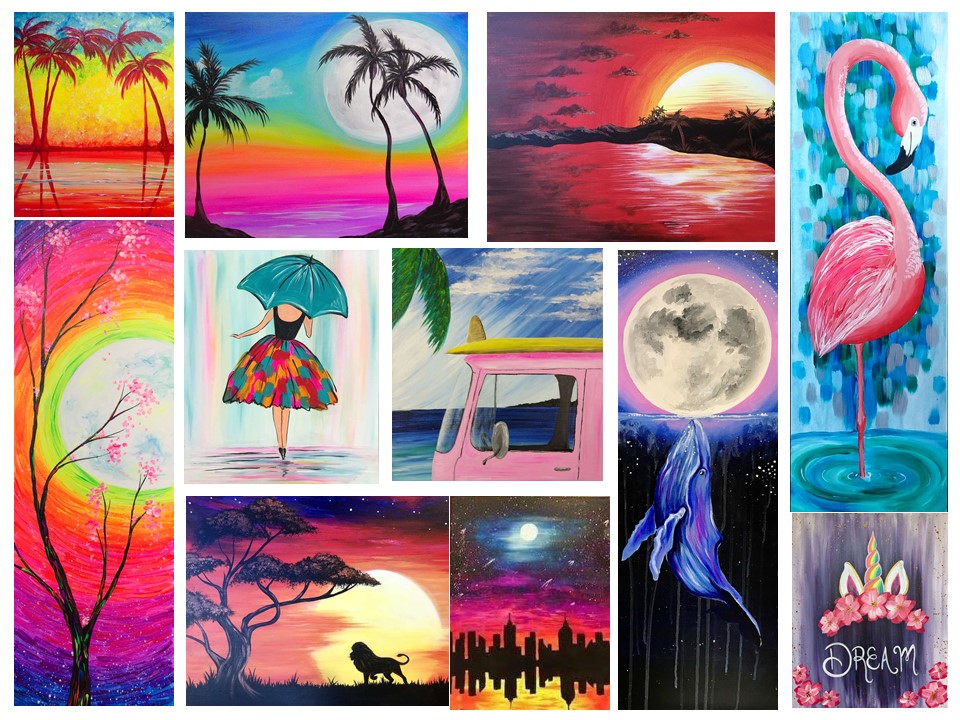 Just a few of the many highlights and new paintings we are offering this Spring:
--------- BEAUTIFUL FLORALS -------------
April 13th – Floral Delight
Relax and paint this bright, fun, & colorful bouquet. With bright pops of color, and abstract flowers - this painting is sure to be a hit!
https://www..../event/315998
April 14th – Lovely Hydrangeas
With their lacey like flowers, the lovely hydrangea brings awe across the face of all admirers. Create a version that will last a lifetime.
https://www..../event/318424
April 25th – Watercolor Poppies
Splash in chaotic beauty with watercolor abstraction, putting fun and freedom into these florals!
https://www..../event/315999
---------- BLACK LIGHT PAINTINGS -----------
Sign up for a unique experience of painting under black light with fluorescent paints. You'll come away with a 'glowing' experience!
April 12 – Edge of Space
If you like to travel far far away, and explore fantastic galaxies, this is the painting for you! Deep in space you will discover amazing new planets and millions of stars.
https://www..../event/310250
April 19th – Starlit Reflection
The stress of the day just melts away as you watch the shooting stars and the city's reflection.
https://www..../event/318425
May 10th – Extraterrestrial
Go beyond your imagination and paint this piece in the dark (it glows in the black light!) or paint it in the light of day for a bright stellar time. A wonderful opportunity to hang several canvases together for a large art display. Easy to customize.
https://www..../event/320715
May 31st – Black Light Moon Glow
A beautiful neon moon glow that is fun to paint in the black light or regular light!
https://www..../event/326357
-------- PAINT ON THE PATIO SERIES --------
We are so excited to be partnering with area restaurants, venues and wineries to take the Pinot's Palette Leawood painting experience mobile! Each of the venues we are partnering with will be offering Happy Hour menus with special pricing for our guests. Check out our line up so far…..
May 4th – Spring Stems @ Somerset Ridge Winery in Paola, KS
Colorful spring stems on a gold metallic background will make a lovely addition to your home's décor.
https://www..../event/326101
May 29th – Starry Night KC @ The Ainsworth in Leawood
Did you know that Kansas City has over 200 fountains, giving it the nickname, 'The City of Fountains?!'
Join us for our Paint on the Patio series with Park Place's Ainsworth restaurant! We are excited to have you join us for this special Happy Hour event taking place on the Ainsworth patio located @ 11563 Ash St, Leawood, Ks, 66211.
Your ticket includes one 9"x12" canvas along with instruction guided by one of our talented artists. Please pre-register for this event as there are limited seats available!
https://www..../event/326067
---------- GOT THAT SUMMERTIME FEELING ----------
April 18th – Malibu Morning
Escape to the magical beaches of Malibu with this beautiful warm color palette reminiscent of the California sun.
https://www..../event/315997
April 19th – Sunset of Fire
Dreaming of those warm summer days with this fiery sunset.
https://www..../event/319634
May 3 – Vitamin Sea
Sometimes all you need is a beautiful sunset, sand in your toes, and a healthy dose of vitamin sea!
https://www..../event/319656
May 24th – Havana Nights
Let the stress of the world slip away and enjoy this relaxing oceanside escape.
https://www..../event/322757
May 25th – Beach Vibes
There's nothing more fun than being in a flip flop state of mind and feeling the Summer sun on your shoulders. Customize your van and your board and create your personalized Beach Vibes!
https://www..../event/322754
----------- FUN FOR THE ENTIRE FAMILY -----------
April 20th – Huggable Unicorn
I am a small gray unicorn surrounded by all the colors in the world, and I'm on the search for some new friends. Can we be friends? You can name me whatever you wish!
https://www..../event/318432
May 4th – Spring Fox
This sweet Spring Fox is an adorable addition to any art collection and will be a favorite for kids and those who are kids at heart!
https://www..../event/319701
May 19th – Joyful Breeze
This simple and fun painting features dandelions and buttercups swaying in a gentle breeze.
https://www..../event/326295
May 25th – Unicorn Dream
Customize this cute unicorn design with your favorite colors to make your masterpiece magical!
https://www..../event/322751
------------ WE LOVE ALL ANIMALS BIG AND SMALL ------
April 26th – Safari King
"It's important to always look where you're headed rather than where you were!" - Lion King
https://www..../event/311003
April 27th – Flamingo Amore'
This tall elegant flamingo is painted using our 10x30 canvas. Bring a date for a bit of romance, placing two side by side make an endearing heart of their necks. This bright pink and magenta bird with cool teal and aqua background will add energy to any room. Hints of silver add a modern shimmer.
https://www..../event/318471
May 23rd – Cosmic Kiss
Looks like the whale is kissing the moon, is the moon kissing back.
https://www..../event/322224
We can't wait to see you in painting and having fun with us this Spring! Are you looking to host your own private event? Check out this link for more information:
https://www....-how-it-works