Rainy Day Activities to do in Kansas City
You've got a three-day weekend and the weather isn't cooperating…….no worries, there are still plenty of things to do in Kansas City on a rainy day. If a good book or a day-long of binge-watching movies isn't what you are looking for, you might try one of these exciting fun and/or historic sites for an afternoon of fun!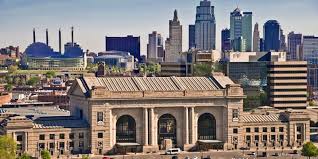 SEA LIFE KANSAS CITY AQUARIUM
The aquarium is the perfect family-friendly place to spend a day. The Sea Life aquarium is located at the Crown Center Shopping area and has many interactive displays. Not everything is behind glass here. There are touch tanks where you can handle marine creatures like starfish or crustaceans. There are also regularly scheduled educational talks, and the feeding demonstrations are exciting for all. Check the SEA LIFE Aquarium website for times.
2475 Grand Boulevard, Kansas City, MO 64108
UNION STATION
This historic structure is over 100 years old and hosts multiple attractions including the KC Rail Experience, a Planetarium, Science City, Giant Screen Movies and Live Theater, plus until September 2nd it will also be home to "Reflecting Motion" features more than 78,000 holographic streamers, 13,400 linear ft. of rope, 300 hand tied knots, and will appear to float in extravagant motion above Haverty Family Yards. The artwork will seem to float, as if by magic, in midair, offering a spectacular shimmering display of contemporary art innovation to visitors, who will be encouraged to spend time witnessing the ebb and flow of the installation's perpetual and mesmerizing movement.
The building is open from 6 a.m. until midnight, with varying business hours for each attraction.
Address: 30 W Pershing Road, Kansas City, MO 64108
LIBERTY MEMORIAL
The National World War I Museum and Memorial opened to the public as the Liberty Memorial museum in 1926, it was designated in 2004 by the United States Congress as America's official museum dedicated to World War I. Admission to the Museum and Memorial is free for veterans and active duty military personnel AND is half-price for the general public over the Memorial Day Holiday (Friday-Monday, May 24-27). Exhibits include the Main Gallery that features collections of artifacts from WWI. Horizon Theater explains the events that led to America entering the war, plus interactive tables that allows visitors to create their own patriotic poster. During the Memorial Day Weekend, the Museum and Memorial invites guests to "Find your World War I connection" and discover how the Great War affected your family through records, photographs and more with a variety of programs throughout the weekend. Other events are offered during the Memorial Day weekend for people of all ages. A free public ceremony will be held at 10 am on Monday, May 27th.
2 Memorial Drive, Kansas City, MO 64108
ARABIA STEAMBOAT MUSEUM
This unique attraction offers visitors a chance to step back in time to 1856 using items recovered and preserved from the Arabia steamboat, which sank in the Missouri River near Kansas City. You can walk on a replicated ship deck and in a general store to see original items from the ship, including what could be the world's oldest jar of pickles! The artifacts found are sure to interest all age groups. Guided tours include a short movie and explanation of the excavation process. Hours: Monday – Saturday 10 am – 5pm; Sunday 12 – 5pm.
400 Grand Boulevard, Kansas City, MO 64106
NELSON-ATKINS MUSEUM OF ART
With its free admission, this museum is a budget-friendly place to spend your day. With over 35,000 pieces of art and classes, guided tours, and special events, there is always something to do at this art museum. The exhibitions here change often, so check the exhibition listings before going. Note that the museum closes on Mondays and Tuesdays.
Opening Memorial Day Weekend is the "Art Course" an artist-designed, mini-golf experience located in the Donald J. Hall Sculpture Park. Each hole on this 9-hole course presents a fresh interpretation of a work of art in the museum's collection.
4525 Oak Street, Kansas City, MO 64111
AMIGONI URBAN WINERY
Amigoni Urban Winery produces small lots of dry handcrafted wines in the Stockyards District of Kansas City's Historic West Bottoms. They focus on traditional European grape varietals, like Cabernet Franc, Cabernet Sauvignon, Chardonnay and Viognier. The locally made wines are now produced from grapes grown in the northern portion of California's Central Valley, including regions like Lodi, Sierra Foothills and Amador County. Amigoni Urban Winery offers wine tasting sessions and private tours at its production facility located in the West Bottoms. Pinot's Palette Leawood is proud to partner with Amigoni Urban Winery on paint and sip events periodically throughout the year.
1505 Genessee Street, Suite 100, Kansas City, MO 64102