Great Guidelines For Pairing Wine + Food!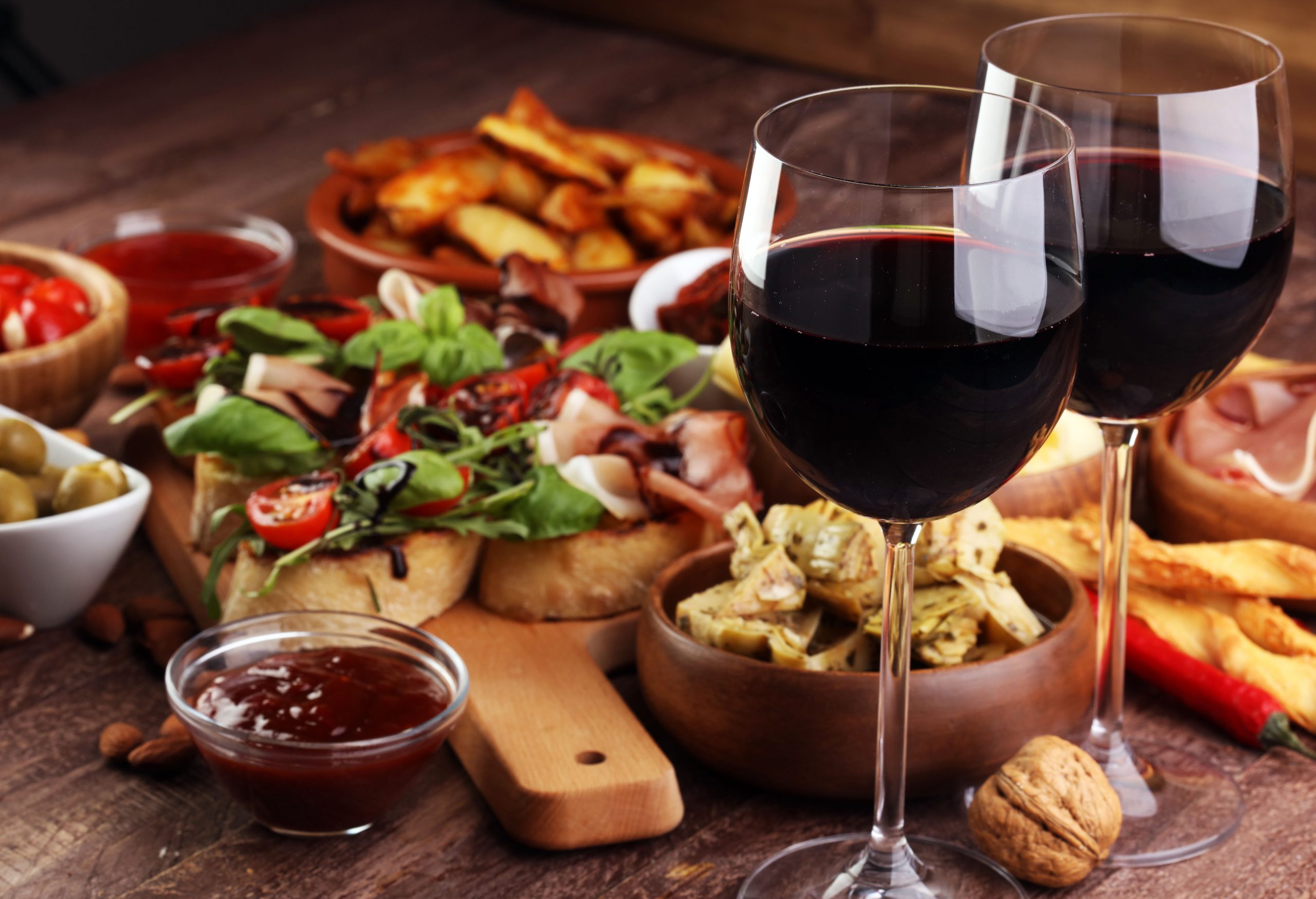 We think that ANY kind of wine is delicious (and we love a good glass of wine with some snacks at our Painting & Wine Classes)…
But it's when a specific wine is paired with the best possible food to bring out the best flavors, that we're truly here for it!
We've listed the most common types of wine and some delicious, mouth-watering recipes to try them with!
Gather you girls together and share these wine and food pairirings at your next Girls' Night In; Impress your spouse with a homecooked meal and bottle of wine for a fun at-home Date Night; Or, just splurge on yourself over the weekend when you can take things more slowly and pair a glass of your favorite wine with something new and tasty!
Check them out!
Champagne: Perfect with anything salty
Most dry sparkling wines, such as brut Champagne and Spanish cava, actually have a faint touch of sweetness. That makes them extra-refreshing when served with salty foods, like crispy udon noodles with nori salt.
(Recipe To Try): Easy Bacon & Cheese Quiche
https://www....heese-quiche/
Rosé Champagne: Great with dinner, not just hors d'oeuvres
Rosé sparkling wines, such as rosé Champagne, cava and sparkling wine from California, have the depth of flavor and richness to go with a wide range of main courses, like beet risotto.
(Recipe To Try): Chicken Sofrito
https://www....icken-sofrito
Moscato d'Asti: Loves fruit desserts
Moderately sweet sparkling wines such as Moscato d'Asti, demi-sec Champagne and Asti Spumante, help emphasize the fruit in the dessert, rather than the sugar.
Try it with these Honeyed Fig Crosatas:
https://www....fig-crostatas
Off-Dry Riesling: Pairs with sweet & spicy dishes
The slight sweetness of many Rieslings, Gewürztraminers and Vouvrays helps tame the heat of spicy Asian and Indian dishes, like this Thai green salad with duck cracklings:
https://www....ck-cracklings
Sauvignon Blanc: Goes with tart dressings and sauces
Tangy foods—like scallops with grapefruit-onion salad—won't overwhelm zippy wines like Sauvignon Blanc, Vinho Verde, from Portugal and Verdejo from Spain:
https://www....t-onion-salad
Chardonnay: Great with fatty fish or fish in a rich sauce
Silky whites—like Chardonnays from California, Chile, or Australia—are delicious with fish like salmon or any kind of seafood in a rich sauce.
(Recipe To Try): Rachael Ray's Seafood Newburg
https://www....ewburg-recipe
Cabrnet Sauvignon: Fabulous with juicy red meat
California Cabernet, Bordeaux, and Bordeaux-style blends are terrific with steaks and dishes like lamb chops with herbs. The firm tannins in these wines refresh the palate after each bite.
(Recipe To try): Hanger Steak with Kimchi Glaze and Miso Butter–Grilled Vegetables
https://www....ed-vegetables
Pinot Grigio: Pairs with light fish dishes
Light seafood dishes, like seafood tostada bites, seem to take on more flavor when matched with equally delicate white wines, such as Pinot Grigio or Arneis from Italy or Chablis from France.
Seafood Tostada Bites:
https://www....stada-7497633
Pinot Noir: Pair with earthy flavors
Recipes made with earthy ingredients like mushrooms and truffles taste great with reds like Pinot Noir and Dolcetto, which are light-bodied but full of savory depth.
(Recipe To Try): Truffle Mushroom Pasta
https://www....shroom-pasta/
Dry Rosé: For rich, cheesy dishes
Some cheeses go better with white wine, some with red; yet almost all pair well with dry rosé, which has the acidity of white wine and the fruit character of red. For an indulgent cheese dish, try these Triple-Decker Baked Italian Cheese Sandwiches:
https://www....se-sandwiches
Malbec:
Malbec, Shiraz, and Côtes-du-Rhône are big and bold enough to drink with foods brushed with heavily spiced barbecue sauces, like these GRILLED FILIPINO DRUMSTICKS WITH SWEET AND SPICY SAUCE:
https://aman...-spicy-sauce/
Syrah: For highly spiced dishes
When a meat is heavily seasoned, be sure to look for a red wine with lots of spicy notes. Syrah from Washington, Cabernet Franc from France, and Xinomavro from Greece are all good choices.
(Recipe To Try): Cumin-spiced burgers with harissa mayo
https://gril...harissa-mayo/
***If you're looking for the perfect snacks to pair with a glass of wine next time you're in the studio, check out the list of wine & snack pairings (AND see our class schedule), below!