Date Nights With Pinot's Palette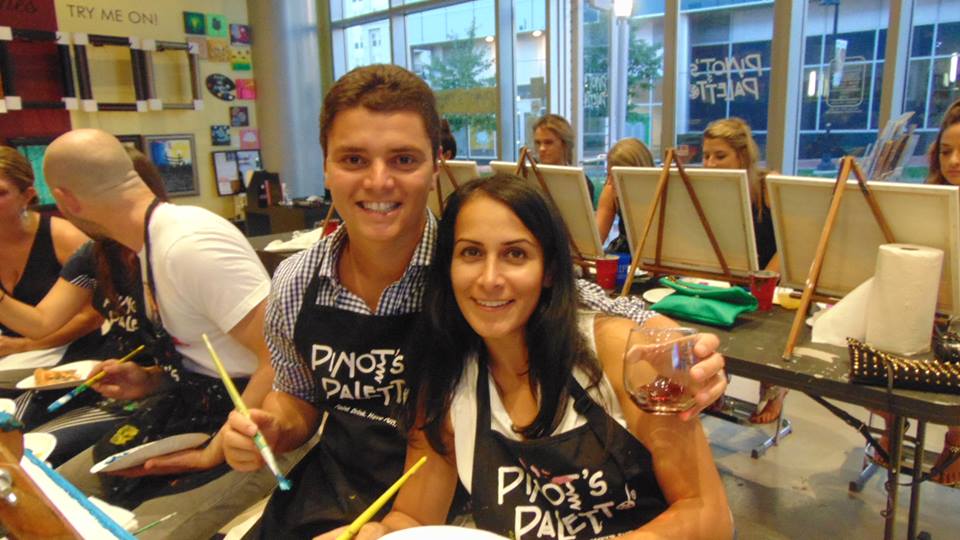 Who doesn't need a good 'Date Night' out ...(*or in)?!
It's so important to make time for your one and only, whether you've been together for weeks, months, years… decades…. or, hey, even a first date is a lot of fun when it's painting and wine!
That's right… We're talking about Pinot's Palette, the paint and sip studio where you get to enjoy wine or beer, listen to music, socialize with friends and family, and make a masterpiece to take home with you! Join us for your next date night at the studio (or learn about our paint from home classes) and have a great and creative Date Night that's extra special!
Painting From Home:
https://www....eral-way/shop
Whether it's for one of our 'Date Night' classes (you paint on one canvas and your other half paints on theirs), or ANY of our other classes, we know how much fun you'll have, spending quality time together, getting to learn all about each other's creativeness, and then leave with a souvenir work of art to take home and hang up, always remembering how much fun you had together, every time you look at it!
Spending time with your spouse, boyfriend or girlfriend, or any other "unlabeled" significant other is important for so many reasons:
***For Better Health
It's been scientifically proven that spending time with loved ones reduces stress and increases feelings of happiness and love.
Having a strong and happy relationship with your significant other gives you some much-needed "adult time", brings happiness into your life in many ways, and it's been proven to reduce your heart rate and calm your body.
***To Grow Closer
It's important to have new experiences by doing and seeing new things. You get to know each other better because you're seeing each other in a new light – sometimes literally! Common activities lead to shared feelings. This increases the amount of shared memories you have together.
Think about it. What if all you did together was to ask each other to pick up the kids or pay the mortgage or mow the lawn? Try some new types of food, activities, and other things together, so you're sharing experiences with one another, as well as making some wonderful memories.
***To Make Them A Priority
When all is said and done, what's the single most important thing in your life? Why your spouse of course!
It makes sense then, that you're filling your life with as much spouse-time as possible. By dating your spouse, you're telling him or her that he or she is a priority in your life. Obviously there are things that take up our time – good things. Working on your career and making money, spending time with friends and family, and working with your school or church are all great things.
The difference here is that by making your spouse a priority, these things won't ever become more important. They may take up more time. But they aren't more important. There's a difference.
While it may not be realistic to spend 40 hours a week dating, the time that you do spend together can be focused and potent.
By dating each other on a regular basis, your marriage will be strengthened. You'll feel loved. You'll have a solid base to go out into the world.
***To Reconnect
Dating your spouse feeds the fires of romance. Think about how life was for you and your spouse or boyfriend/girlfriend when you first started seeing one another. If you're like most couples, you spent every free moment together, making one another a priority and loving your time together more than anything else.
Over time, our hectic, daily routines tend to take over, leaving less and less time we can contribute to our relationships. We know that there are many things in life that are important and have to be set as a priority (like work and the kids, in many cases), but it's important to also carve out some time to reconnect with your significant other and spend time together, one on one.
***To Communicate
The importance of good communication is obvious. We have all experienced the consequences of poor communication with our spouse. Often times, it leads to unnecessary arguments or awkward tension. Poor communication will almost always lead to mismanaged expectations, which in turn lead to disappointment. These negative feelings will slowly pull you apart. Dating throughout marriage will combat these kinds of miscues.
*** To Show Commitment
By opening up to each other on dates, spouses build strong bonds that solidify their commitment to each other. This is important for the inevitable hard times that hit us all. When either of you are at your low point, will you have each other to pull you back up? How strong is your emotional bond with each other? If it needs some improvement, then odds are you aren't dating each other enough.