Celebrate 'National Barbecue Day' This May 16th!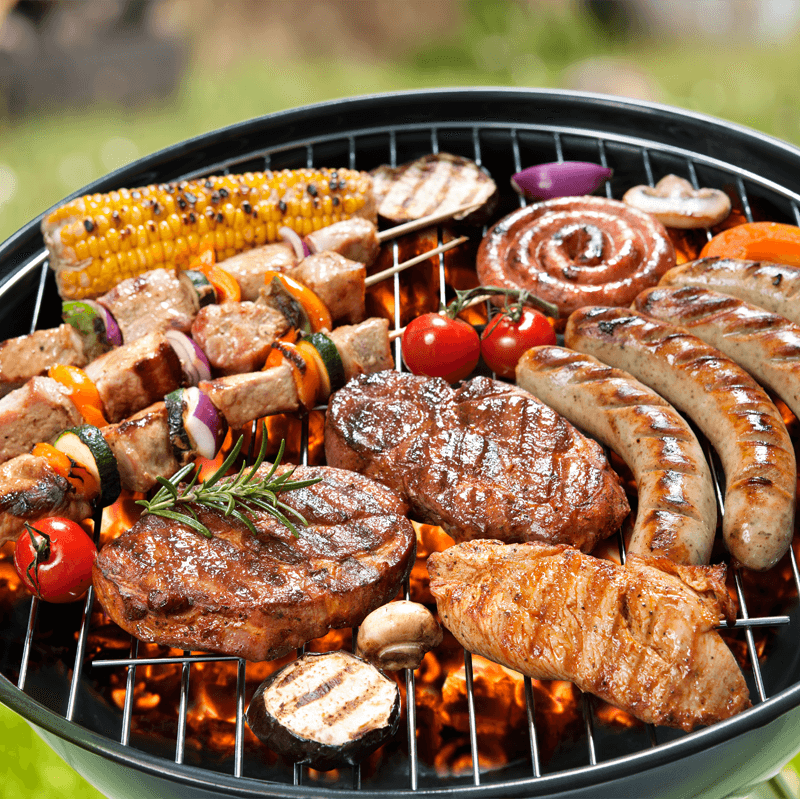 National Barbecue Day is celebrated every May 16 to serve as a reminder of the delicious food that Americans have access to. Go to a restaurant or have a grill in your own backyard. Just make sure you celebrate the day with a lot of passion for delicious flavor!
From smoked meats to grilled sausages, these barbecue joints are sizzling with great fare. And make sure to save room for those gooey sides like macaroni and cheese and baked beans. We've also included a gluten-free recipe you can try on your grill at home.
If you're taking advantage of our Paint From Home Kits, OR our Private Virtual Parties, you can pair your painting experience with grilled food and great friends from the location of your choice! While many customers prefer the in-person experience that the studio classes provide, sometimes a virtual event is just want you need.
The great thing about these at-home experiences is that you can do it YOUR WAY! Set up the art supplies, get the instructional video ready to play, and enjoy music, food, and of course some "liquid creativity" (wine, beer, or a other drink of your choice!) to help get your creative juices, flowing!
Check out some of our favorite BBQ recipes AND some delicious sides to go with!
Enjoy!
*** DELICIOUS MEATS ***
Easy BBQ Recipe for Pulled Pork Sandwiches
Skip the grill in favor of the slow-cooker for this easy-to-make BBQ idea.
http://www.m...w-cooker.html
BBQ Chicken Burgers with with Slaw
On the grill or in a skillet, either way these burgers are divine.
https://www....ecipe-1917239
Coffee-Crusted BBQ Beef Ribs
Give your ribs a jolt with this coffee-rich recipe.
https://food...ce=partnerize
Dry-Rubbed Ribs
If you've been wanting to experiment with a rub, this is the recipe to try. You'll love how easy it is.
https://smit...-rubbed-ribs/
Honey BBQ Chicken Kabobs
These tender kabobs are loaded with sauce and will leave you begging for more.
This dish is both sweet and tangy, packed with absolutely everything you've wanted.
https://damn...icken-kabobs/
Grilled BBQ Chicken
When it comes to grilling, the yummiest recipes are often the classic ones.
We can all agree that chicken can get a little boring, but this delicious recipe switches things up.
While almost any cut of chicken will work, I recommend opting for drumsticks.
https://www....-bbq-chicken/
Grilled Pork Chops with BBQ Rub
This dish is perfect for those warm summer nights where all you want to do is spend time with your family and friends.
Everyone loves some yummy pork chops straight off the grill.
This recipe is a combination of sweet and savory that will leave you licking the juices off your fingers.
https://heyg...et-sweet-rub/
Barbecued Burgers
These BBQ burgers are perfectly caramelized on the inside with a crunchy exterior.
While this recipe totally requires a few extra ingredients, it's completely worth it.
You'll be amazed to find out that the secret ingredient in this recipe is actually instant oatmeal.
Grilled Steak
We can all agree that the best dish to grill is a classic steak.
Why overcomplicate things when the best things in life are usually the most simple ones?
Once you establish your signature spice mix, cooking steak will become a breeze. Check out this recipe to become a pro.
https://iowa...-herb-butter/
*** SIDES ***
BBQ Carrots Recipe
Don't forget the side dishes! You can easily cook up carrots and other veggies on the grill, too.
https://www....-bbq-carrots/
BBQ Baked Beans
BBQ baked beans are incredibly hearty, tasty, and packed with protein.
This dish is ideal to serve up as a companion to your main course.
Try topping your burger or hot dog with some BBQ baked beans if you're feeling a little indulgent.
https://insa...-baked-beans/
Marinated BBQ Grilled Vegetables
Looking for a scrumptious side dish? How about some fresh and savory grilled veggies?
This recipe calls for zucchini, mushroom, eggplant, bell peppers, asparagus, and red onion.
You'll also use olive oil, lemon juice, and seasoning that we guarantee you have sitting on your shelf.
https://www....q-vegetables/
Veggie Kebobs:
https://www....d-vegetables/
And More:
There are so many delicious sides for BBQ. Creamy dips, cold salads to fudgy brownies, this collection of some of the best BBQ side dishes is sure to have something for everyone.
https://www....ides-for-bbq/
*** VEGAN ***
Baked Barbecue Tofu
Don't forget your vegetarian guests! This baked tofu recipe is hearty enough for herbivores and carnivores alike.
https://ohmy...-tofu-haters/
Maple Grilled Tempeh
This grilled tempeh can go in a salad or be served on its own for a delicious meat alternative.
https://www....h-recipe.html
Bonus Recipes:
BBQ Chicken and Cilantro French Bread Pizza
No grill? No problem. You can still get your fill of BBQ sauce with this pizza recipe.
https://www..../bbq-recipes/
Grilled Seafood Foil Packets:
https://www....-f18a235bfc29
How To Grill Sausage Perfectly:
https://play...lled-sausage/