Mother's Day Fun For Everyone!!!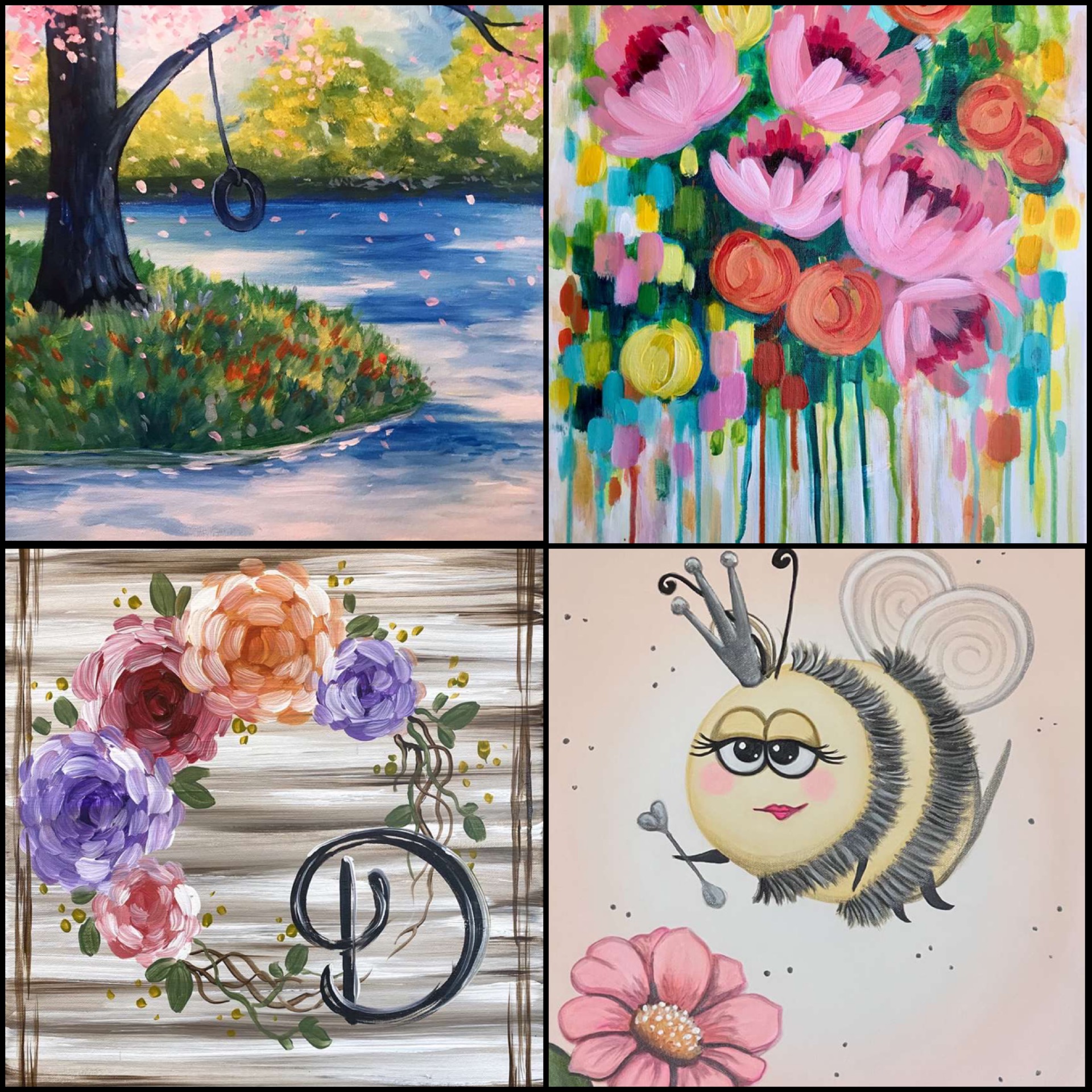 May 9th is Mother's Day this year and it'll be here before you know it! If you aren't sure of the plans for the day, yet, we've got your covered! No matter how you're looking to celebrate, we have something for everyone. From IN-STUDIO classes to VIRTUAL and Take-Home kits, we have it all and cant wait to see you and all of the mothers in your life this May!
-- Join Us IN THE STUDIO! --
If you remember all of our Mother's Day celebrations of the past, you know just how much fun they are in the studio! Join us as we listen to music, enjoy some wine, and walk you through a painting, step-by-step with all of your loved ones, in person! Ask questions as you go, see the painting up close and personal, and reconnect with your Mom, Grandma, Aunt, Step-Mom, Mother-In-Law, & ALL of the moms in your life!
Register for the in-studio class you and Mom want to join, show up that day and time, and we will take care of the rest! All of your wine and painting needs will be met by us, including set up and clean up, for a fun, easy, convenient, creative, and unique Mother's Day that's easy for you to plan and extra-special for mom to enjoy!
-- Join A Class VIRTUALLY! --
If you've take a class with us these last 12+ months, you know that we've been offering virtual painting events! That's right - you can experience all of the fun of a painting and wine class from anywhere you want! You'll see us paint live and can ask questions via the keyboard, as you see the painting's details through high-quality LIVE footage!*
You can learn more about the MANY options we have for Live Virtual classes and *Take-Home Paint Kits (which aren't live but tons of fun!), as you read on OR visit the website!
Just sign up for the Virtual event you'd like to join and stop by the studio at the designated times to grab everything you'll need to paint with!
We'll have it all ready for you including the info for you to log in to watch the class, AND the class will be available for days after the live version, so you can watch or rewatch later if you want (or need) to!
-- TAKE-HOME KITS For Everyone! --
These little 'buy and create' kits have been a 'Must-Have' during the last year! People have been buying them like crazy, and it's not hard to see why! For one great price, you'll get everything you need to paint, including a video of the instructions. These have been popular for large groups to buy and do together, as well as families looking for fun things for the kids to do or for the whole crew to participate in together!
Buy some of these kits for mom and let her paint with all of her favorite people! From a special class with her and her kids, to a date night for her and hubby, to some alone time getting creative as she paints the day away, making masterpieces and memories!
DIY Gifts For Mom!
Who doesn't LOVE a homemade gift??!! If there's one thing we know for sure, it's that there's NOTHING like a gift made from the heart! We guarantee that the recipient will love a hand-painted masterpieces from you and treasure it forever! Come in before Mother's Day and make a work of art Mom is sure to love! Alter the colors of style of the painting to best fit her home or preferences; Add her name, initial, favorite quote, or anything else that will add special meaning to it. Whatever you do, she's sure to love it and you'll have fun too!
Share See What Classes Are Coming Up! | Buy Mom A Gift Certificate!