Consider Pinot's Palette For A Birthday Party This Year!!!
Whether You're Looking To Plan A Birthday Party For A Loved One Or For Yourself, Pinot's Palette, Federal Way Is The Place For You!!!
For all of your birthday party needs in and around King County, we've got you covered!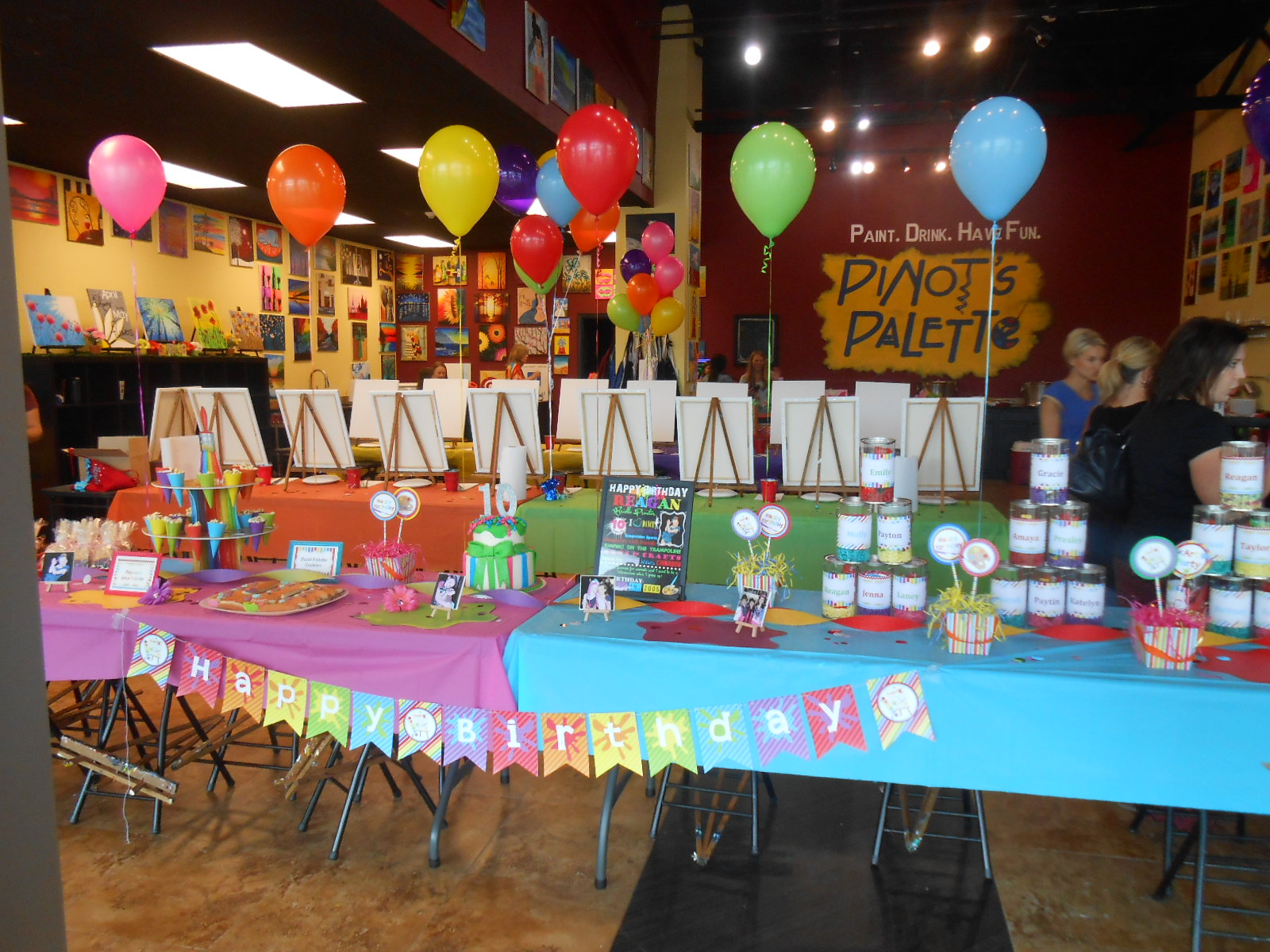 Chances are, you're having some trouble thinking of the perfect way to plan a birthday party this year. Who to invite… how many people you CAN invite; Where to hold the event; What to do about serving food, spacing, and mask mandates….
It's difficult to plan an event these days, but there are tons of great options out there if you get creative enough. If you were planning a party this time last year, you had nothing about the virus on your mind. You went about your usual ways of planning your event with ease and happiness…
But this year, with the global pandemic still in full-swing, you might be wondering how to make someone's special day as great as always (esecially if YOU are the b-day boy or girl)!
While there's no getting around the current situation, there are lots of fun ways to celebrate a birthday or any other special event in your life! With the modern day luxuries of technology, we can video-chat, text, call, email, and send photos to loved ones easily and safely; Some people have been getting extra-creative and having drive-by car lines with honking and decorated vehicles, and others have hosted Zoom parties, virtual girls' nights, and other creative friends and family "get-togethers"!
Our In-Studio classes are always tons of fun! We're taking the necessary precautions as always, limiting the number of customers and disinfecting the space often. Join us for a public class OR book a private party with us and enjoy all that we have to offer with friends and family by your side.
The great thing about private parties is that you (or the guest of honor) gets to choose the day, time, and painting of their choice. Invite your guests and get ready to party like it 2019! :)
Here at Pinot's Palette we're all about finding new and fun ways to do things in the midst of these times. Since March, we've adapted our paint and wine classes to the virtual way of life and customers have been loving it! Our Live Virtual Classes AND Take-Home Kits are fun, convenient, and just as much fun as our studio events! We gather all of the supplies for you, guide you through the step-by-step directions, and cheer you on; Enjoy some wine and food as you paint along with the instructor in your own space and comfy clothing! Be proud of the masterpiece you created at the end of class and display it in your home for all to see!
The best part about these parties is that everyone will have a handmade work of art to hang on to at the end. They'll take their masterpieces with them to display in their homes and aways remember the fun time they had celebrating a special day!
IN-STUDIO PARTY
Book an event at our location and you can have decorations, the wine and food of your choice (catering from your fave place is a lot of fun), as one of our instructors walks you through the painting in person. See your friends and family as you reconnect with one another and bond over the Birthday boy or girl! A painting class is a ton of fun for many reasons and the unique and creative activity of the party (painting) will bring everyone together as you all bond over this shared experience and some wine for those of you 21+…
For the kids, they can enjoy painting, and then the food and drinks that you bring for them as party of their event (*Optional).
VIRTUAL PARTY
If you're not interested in gathering in-person right now, as many of us are avoiding, that's ok! We can help you with a fun event, VIRTUALLY! We'll being the party to you, wherever that may be. We'll accommodate you one the date and time, as well as the painting like any of our private events, BUT you don't even have to leave home to have your special party!
We'll provide you will all of the supplies you and your guests will need - stop by the studio to grab everything - and then you and your friends can paint and party virtually for the rest of the time.
You can all make your art in your separate homes or gather together in someone's space to paint all at once. Enjoy drinks and snacks at your home as you paint along with an instructor, virtually!
We'll be available to chat and give help through the virtual site and everyone will have a lot of fun in the comfort and safety of their own space!
AND MORE!
It's not just Birthday parties that we host — but any kind of celebration you want! From b-day and holiday events to corporate/team-building parties, kids' parties and more, we've got something for everyone and we're here to make it happen!
Team-Building:
https://www....porate-events
Kids' Events:
https://www....ainting-party
Enjoy all that this time of year has to offer we hope you'll keep our virtual classes (and take home kits) in mind as a great way to spend time, too. We're always here to help out with anything you need, including any questions you may have. Thank you all so much for being there for our small Federal Way business and we can't wait to see your smiling faces back in the studio again in the new year!
Stay safe, stay heathy, and continue to support your small local businesses in the King County area… and all over Washington State!