Bright & Bold Color To Brighten Your Days!
Bring The Bright And Cheerful Colors Of Spring, Indoors NOW With These Stunningly Bold And Colorful Paintings!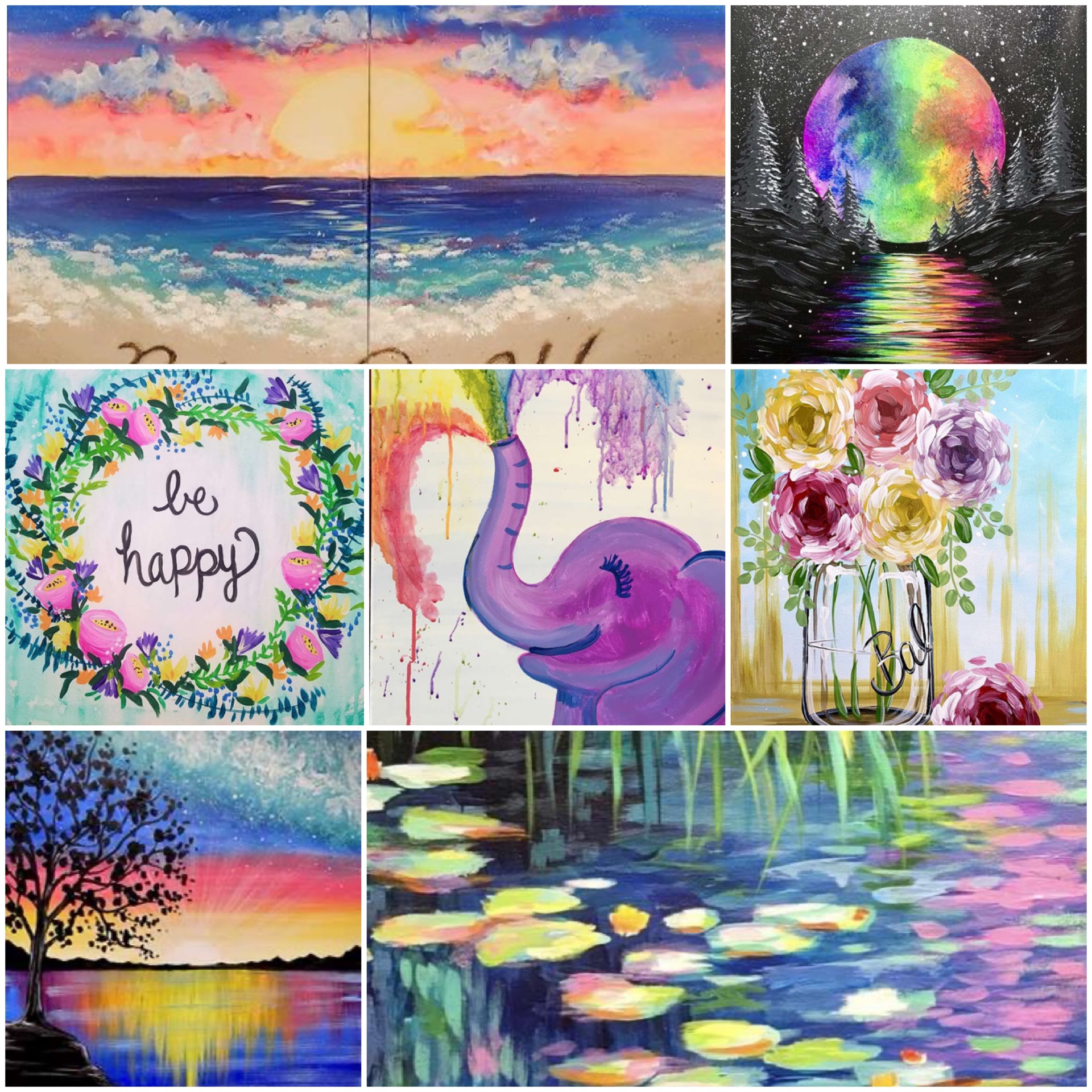 The drab and dreary weather is no match for time with loved ones, making artwork that's bright and beautiful — and then displaying it in your home for all to see!
Join us this month and turn the grey skies into every color of the rainbow with one of these stunning paintings on our calendar
You can paint from home with a 'Live Virtual Class' OR Join us in the studio to paint in-person.
If you don't see something you want to make on the public calendar, take advantage of our 'Take-Home Paint Kits' where you can choose from dozens of amazing paintings, many of which are loaded with color! With the take-home kits, you can watch the video, on your time, your schedule! Pause, Rewind, Fast Forward... the POWAH is yours! This video is available for seven (7) days after the link is forwarded, take your time... we'll be here waiting for you.
There's something for everyone, here at Pinot's Palette, Federal Way!
--- **** Full Of Color **** ---
2/12 Magical Rainbow Moon
A magical colorful sky reflecting in a peaceful stream.
https://www..../event/519646
2/13 Rainy Day Chic - Happy GALentine's Day!
Embrace the shower of nature while strutting your gorgeous style!
https://www..../event/519649
2/13 Cosmic Nightfall
Come star gazing with us and paint this beautiful piece!
https://www..../event/516713
***Paint this stunning masterpiece on TWO canvases; Paint as a 'Date Night' with a friend for 'Galentine's Day' or your sweetie pie to celebrate 'Valentine's Day'!
Cosmic Nightfall - Date Night:
https://www..../event/516708
2/13 Sunset Beach - Date Night (2 canvas painting)
Perfect For Valentine's Day!
Take a trip to a beautiful sunset beach without traveling Customize your message in the sand to celebrate your love.
https://www..../event/517437
2/20 Blooming Bouquet
Brighten your walls with this beautiful blooming bouquet!
https://www..../event/517440
2/23 Monet's Water Lilies
This classic masterpiece can be created BY YOU with one of our pre-recorded classes!
https://www..../event/517481
2/27 Be Happy!
A bright and happy ring of flowers with the words, quote, names, or other customizations of your choice is sure to being happiness into any space it hangs!
https://www..../event/517492
2/27 Psychedelic Starry Night
This vibrant take on Van Gogh's Starry Night is just as fun to paint in the daylight as it is under blacklight. The glowing color palette is easy to customize, and the simple design is very beginner-friendly. Join us and paint your own technicolor masterpiece!
https://www..../event/519652
2/28 Ele-Fun
Splish splash! It's time for a bath! This happy pachyderm is ready for a rainbow full of ele-FUN!
https://www..../event/519656
*** Galentine's Day is Feb. 13th and we're so excited to celebrate! Here are some of our favorite classes for your specials girls' night in or out:
https://www....inotspalette-
*** If you're still looking for the perfect way to celebrate Valentine's Day, Feb 14th, we've got your covered! Here's what's coming up:
https://www....brations2021-
*** More Fun Ways To Spend Your Time This Winter:
https://www....odothiswinter
Enjoy all that this time of year has to offer we hope you'll keep our virtual classes (and take home kits) in mind as a great way to spend time, too. We're always here to help out with anything you need, including any questions you may have. Thank you all so much for being there for our small Federal Way business and we can't wait to see your smiling faces back in the studio again in the new year!
Stay safe, stay heathy, and continue to support your small local businesses in the King County area… and all over Washington State!
Happy Valentine's Day From Pinot's Palette!