May The Fouth Be With You This Cinco De Mayo!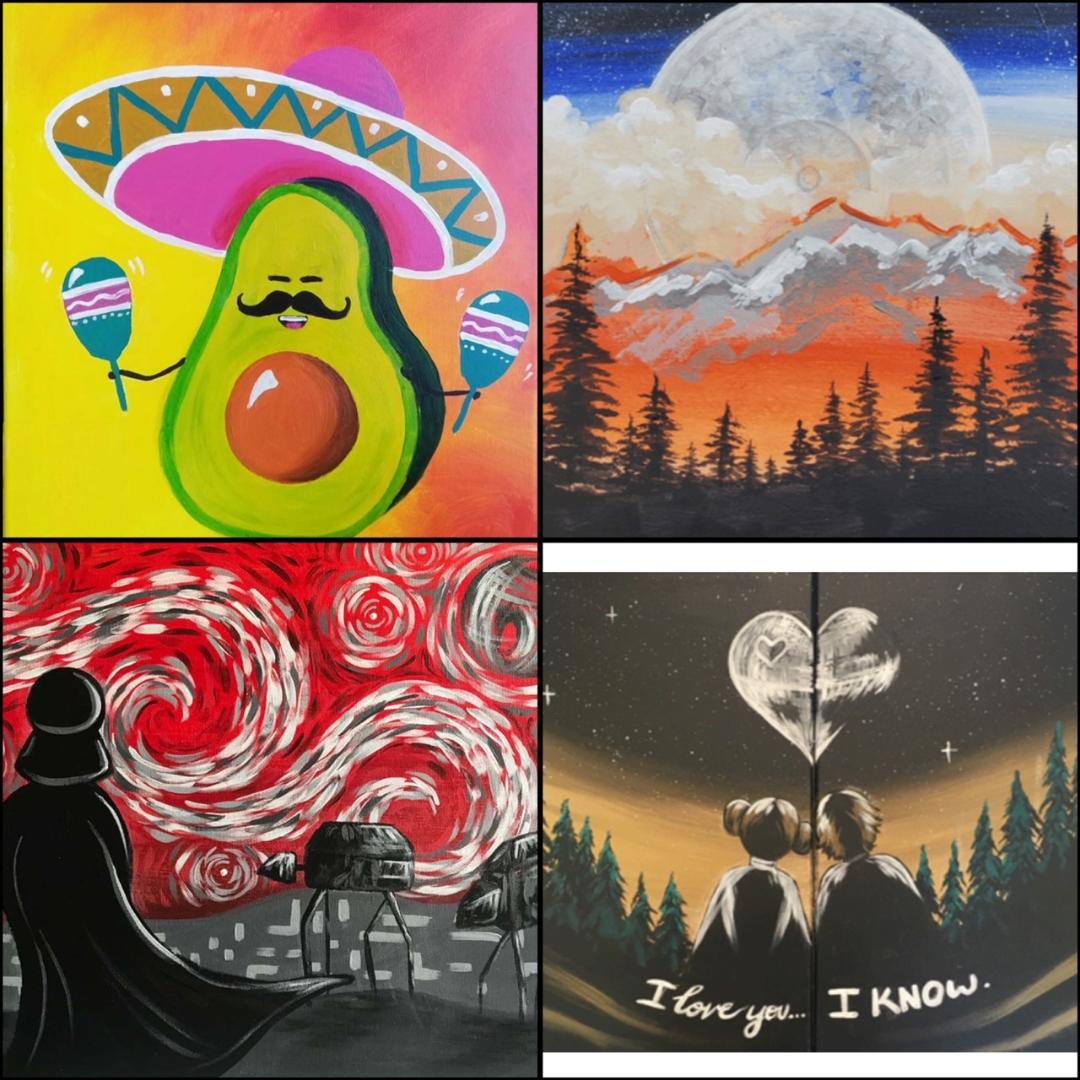 Come out to celebrate all of the upcoming holidays this May! From 'Star Wars' Day, to Cinco de Mayo, and of course, Mother's Day, we've got something for all of the fun events this month!
Here's What's Coming Up:
*** MAY THE FOURTH ***
5/4 Full Moon On The Rise
That's no moon! Use your imagination to take Full Moon on the Rise out of this world!
https://www..../event/608343
5/4 I Love You. I Know.
Why travel solo when you can escape the dark side of life with the one you love?
https://www..../event/608370
5/5 Dark and Starry Night
Feel the power of the dark side in this starry night painting that's a perfect addition to your nerd nest or to paint for a fun night out.
https://www..../event/608371
It's the famous Star Wars pun that launched a holiday, and for good reason. It's clever, it's catchy, and, well, everyone loves Star Wars. Even if you're not a die-hard fan, it's nearly impossible not to smile just a little bit at this play on Obi-Wan Kenobi's memorable line in A New Hope, which has become one of the most famous Star Wars quotes of all time: "May the Force be with you."
But just how did that clever turn of phrase turn into a bona fide Star Wars holiday that fans celebrate on the fourth of May every year by sharing May the 4th Be with You memes, rewatching the movies, cheekily using some Star Wars pickup lines, and unabashedly celebrating all things Jedi? We decided to look into it!
Enjoy learning about the history of this unofficial holiday:
https://www....wars-holiday/
Memes:
https://www....th-you-memes/
Pick up lines:
https://www....ick-up-lines/
*** CINCO DE MAYO ***
Cinco de Mayo, (Spanish for "Fifth of May") also called Anniversary of the Battle of Puebla, holiday celebrated in parts of Mexico and the United States in honour of a military victory in 1862 over the French forces of Napoleon III. Cinco de Mayo is celebrated on Thursday, May 5, 2022.
((Paint with us)):
Avo Great Day
You can almost hear the maracas and the music while you paint this cute Avocado wearing a sombrero! Have a margarita and AVO GREAT DAY :)
https://www..../event/608344
35 of the best tacos recipes:
https://gyps...taco-recipes/
The best guacamole:
https://www....ct_guacamole/
Delicious Margaritas to enjoy:
https://www....-a-margarita/
***MOTHER'S DAY ***
Mother's Day 2022 is Sunday, May 8th, but we'll be offering some amazing classes all weekend long! Treat Mom to a fun and uniqe painting and wine experience!
https://www....nots-palette-
Mother's Day is an exciting time of year because we finally get to take stock of how special the mother figures are in our life, and accordingly, spoil them with gifts. The best part? You don't need to shell out an arm and a leg to surprise her with something stunning for her home or something glitzy for her jewelry box. We think ANYTHING that's made with love is the best Mother's Day gift she'll enjoy for years to come.
If you're looking for a great way to hang with Mom on her special day as you get creative, you can also take advantage of our PAINT FROM HOME paint kits!
https://www....paint-at-home
More creative ideas:
100 Cheap & Easy DIY Mother's Day Gifts
https://www....rs-day-gifts/