'Take Home Paint Kit' Bundles!
There's nothing like our pre-made paint kits that you can use to make art from ANYWHERE! Gather friends and family together to enjoy some quality time and make some masterpieces while you're at it.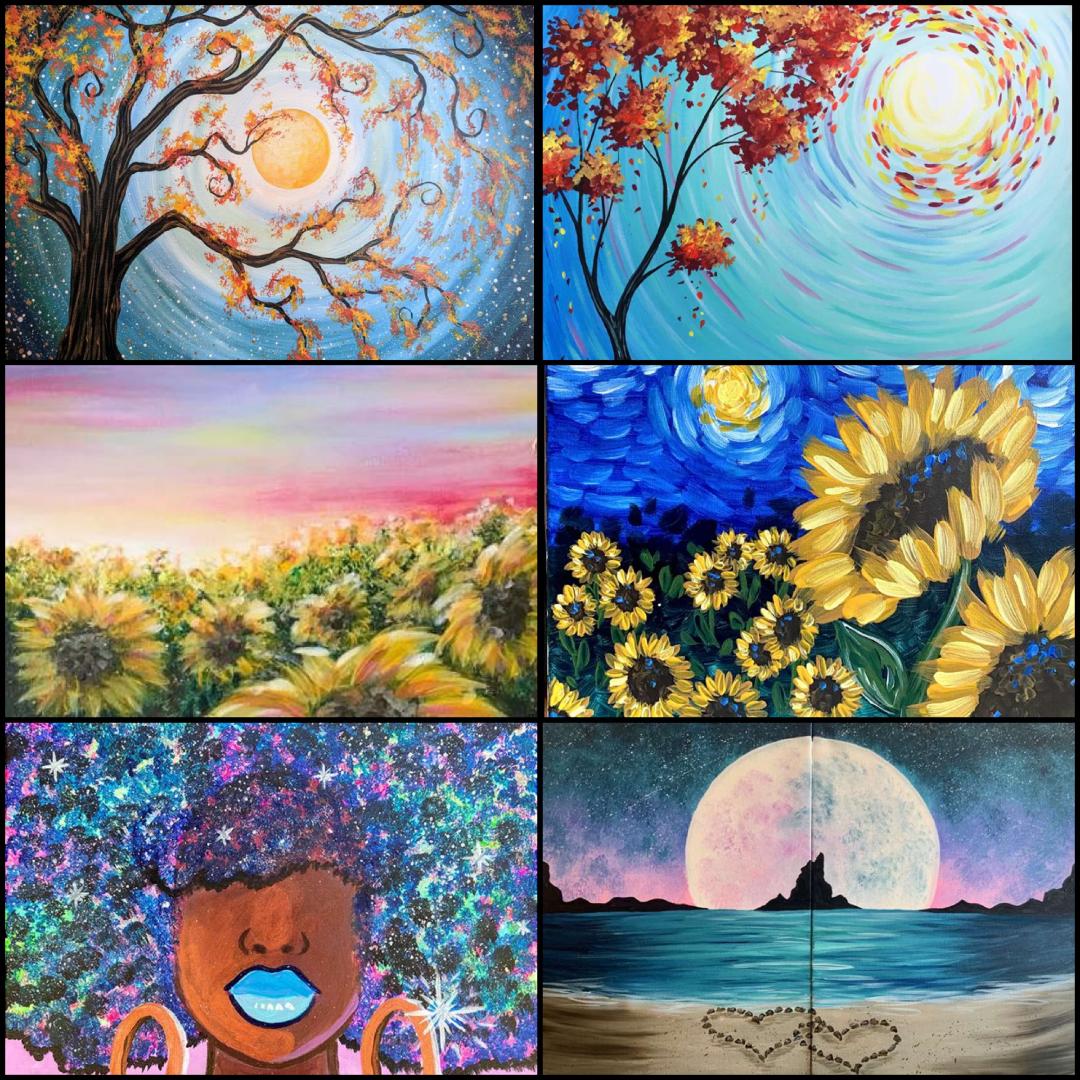 With our take home kits, you get a unique and creative activity to do, without having to put much effort into throwing it together. We'll put the materials together for you to pick up from the studio, Give you the link for the recorded instructions, and you do the rest!
You can sit and paint anytime that works for you (unlike our in-person classes that are at a specific day and time); You can put out your favorite snacks and wine for yourself and others to enjoy and then paint the night away!
Paint together with loved ones in one space as you all enjoy one another's company and make artwork and some great memories!
From our regular paintings to mini square canvases, to long ones, and even a 2-piece painting with two canvases (great for date-nights), we've got something for everyone!
To Get Your Supplies:
To provide a safe, no interaction pick up environment, your kits can be picked up from Pinot's Palette Pick up your kit for the class Wednesday between 2:30-6pm, Friday 2:30-6 and Saturdays 11:30-3pm
If you would like to pick up your supplies on a different day, please email us at and we will do our best to accommodate your request.
You can also check out the many choices that are available in our shop, here:
https://www....perville/shop
If you have your own brushes, you can enter the promo code "Have Brushes" at check out and it will discount the class by $3.00!
Your 'Take Home Paint Kit' will contain:
- A Canvas
- Brushes
- Video Tutorial on how to create the painting
- Paint
- Paint palettes (paper plates)
- Paper towels
-A table protector
ALL options come with the video. Purchase just the video for only $15, a paint kit without brushes for $34 or a paint kit with brushes for $37
How long do you have to paint?
The featured painting video with access up to seven (7) days after the link is received. You can either pick up a kit OR use your very own supplies! Select the product you need from the drop-down menu.
— More Paint From Home Options —
SUBSCRIPTION BOX:
ORDER BY THE 25TH FOR THE FOLLOWING MONTH Your first subscription box includes everything you will need to paint at home,... plus a little extra! $35 Starter Kit Includes: Apron, Mobile Easel and Water Cup, Video Instruction for Brand New Painting, offered only to our Subscription Members, 11x14 Canvas, Paint Brushes, Paint (Customized to the Painting), Paint and Mixing Palette, Paper Towels, Table/Surface Cover, and a Curated Extra! Pick up from our Studio for free, or we will ship it to you for $5
https://www....op-item/28129
PAINT AND CREATE BOX:
ORDER BY THE 25TH FOR THE FOLLOWING MONTH Ready to kick your creativity up a notch? This subscription box includes a full-size 16x20 Kit, access to the same great exclusive content, PLUS ANOTHER PAINT PROJECT! Paint projects include fun alternative surfaces, craft projects... really anything you can paint on! Step outside the box with the Pinot's Palette Paint and Create Subscription Box. Pick up from our Studio for free, or we will ship it to you for $5.
https://www....op-item/28131
LITTLE BRUSHES BOX:
ORDER BY THE 25TH FOR THE FOLLOWING MONTH This one's for the kiddos! This box has all the same great stuff as the Perks Painter Box, designed for your elementary schoolers and tweenagers. Content is curated to be gender-neutral and age-appropriate. Give your kiddos the gift of confidence with each painting completed! This box also includes curated extras, just for them. Pick up from our Studio for free, or we will ship it to you for $5
https://www....op-item/28132