In Praise Of Trees - A Look At Arboreal Art
Trees stretch their branches throughout many paintings, from street trees and parks to forests and rainforests, and even trees which are depicted in all stages of their growth, all around the world, and in their many varieties. We see their branches reaching high into the sky and their roots stretching deep into the earth.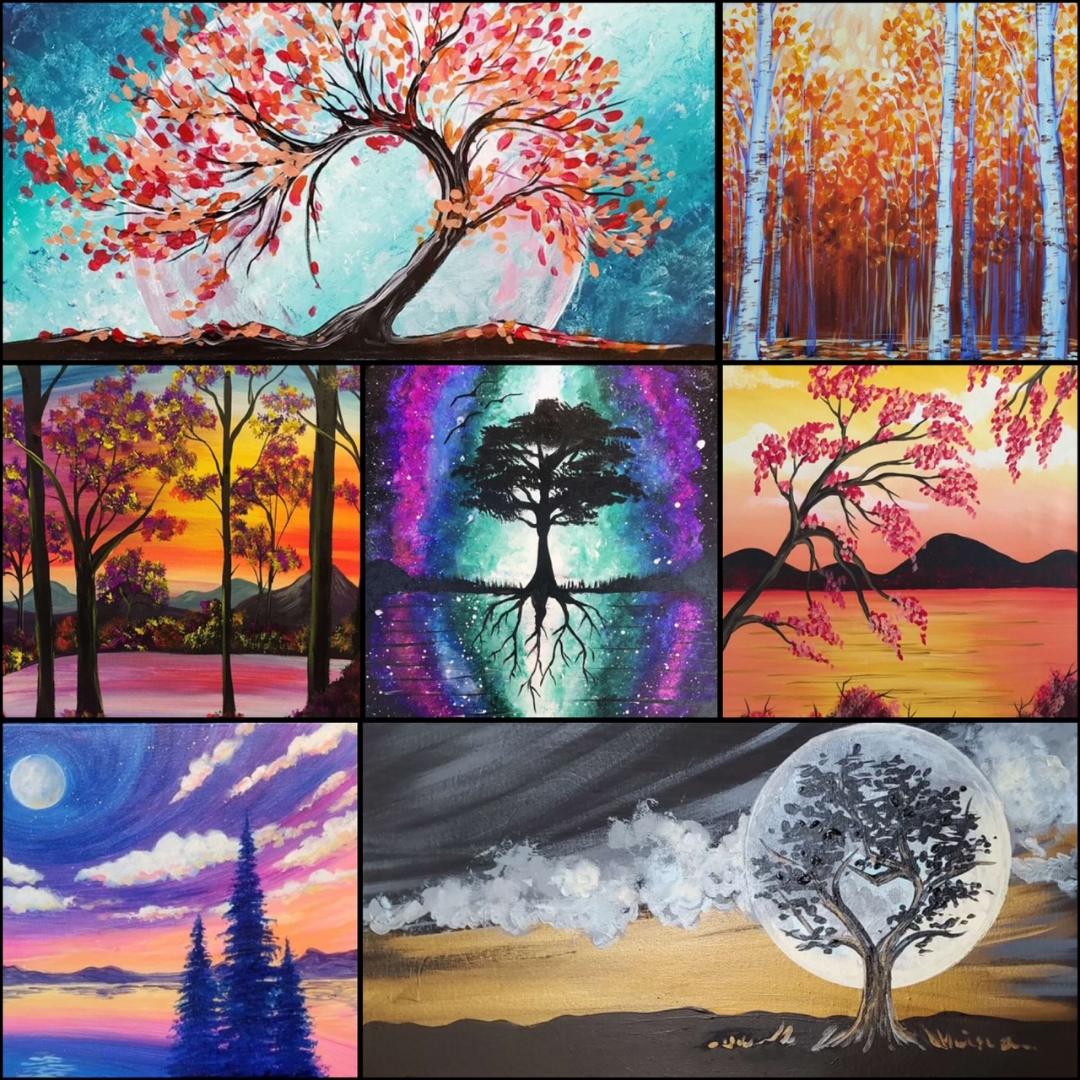 Trees have long been potent symbols in mythology, folklore and culture – the Tree of Life, the Sacred Tree, the Tree of Knowledge – forms of 'the world tree' also called the cosmic tree, thought to be the source of life at the centre of the world.
The Tree of Life symbolizes the connection of all forms of creation (famous depictions include that of the Austrian artist Gustav Klimt in his painting The Tree of Life) while the Tree of Knowledge connects heaven and the underworld.
No matter what kind of painting style you look at, chances are that you'll see a tree in most of them. Modern, abstract, surreal, and various other techniques draw upon this object that can, at best, be described as a symbol of life. Whether it's a landscape painting or something more imaginative and derivative, trees depict a special meaning. In fact, even the color palette will often differ from one tree painting to another.
(*For instance, while Van Gogh's 'Almond Blossoms' or 'Pink Peach Tree' feature somewhat pastel pinks and drab blues, 'The Red Tree' and 'Gray Tree' by Piet Mondrian feature a different aesthetic altogether with contrasting hues.)
Ever since the concept of painting landscapes came about, trees have been an important part of paintings. But at the same time, they're not just a nice way to frame a scenery; in fact, trees have been individual subjects of paintings as well.
One of the reasons is how enamored artists would be with trees – they acted as a medium for painters to enhance their observation skills. At the same time, trees have a complex appearance that's difficult to perfect on canvas, so painting them gave artists a chance to work on manual dexterity. Of course, because trees are such a crucial aspect of any natural landscape, learning how to paint them perfectly meant that artists could construct broader and bigger landscapes.
Rather than physicality, this question refers to the symbolism, perspective, or meaning, i.e. are all trees in art represent a part of nature? This is complex, but at the surface, observers can notice how there are two broad categories. There are paintings with trees that were directly studied from natural scenery, and paintings with trees that were conjured from imagination.
Then, in terms of symbolism, trees can be interpreted as to have political or poetic symbolism. In contrast, they might even be the focus in a straightforward, down-to-earth way. However, regardless of the artist's perspective or technique, paintings that include trees share a similarity. They're an extension of the artist's psychological insight and reverence to view a tree as a fascinating object that can hold an infinite number of meanings.
Depending on how trees are depicted, trees can mean several things in a painting. For example, landscapes emphasize the way sunlight accentuates the different hues on each leaf. On the other hand, an imaginative painting would talk about ideas like life, nature, or even fear, such as in paintings that show a dark and mysterious forest.
How Some Artists View Trees:
— In William Gilpin's book, 'Remarks on Forest Scenery and Other Woodland Views', he describes trees as Earth's grandest productions. Art has existed in some form or another since the early civilizations, and different findings argue how trees have always been a focal object, such as in ancient rock art.
— One artist can choose to adopt a different color scheme and perspective in each painting. Debbie Baxter's work is inspired by nature and the world around her, but she shows numerous angles and views in her paintings, especially when it comes to trees. She claims to be inspired by them and is bold about the palette of hues she can use when painting them.
— Sarah Pye, another inspiring creative, uses a simpler palette and paints with smaller strokes to create patterns. As these somewhat symmetrical patterns fill in the spaces, the audience can begin to see delicate branches and trunks, sometimes intertwined with a sunset on the horizon.
— Jill Barthrope, a contemporary, still life, and landscape artist, uses a different technique to show trees in her work. In her painting, 'Gunby Track East,' shows a collage of trees that blend in together yet stand out with their contrasting hues.
See her painting here:
https://www....y-track-east/
Another interesting perspective as to why artists are so fascinated with trees is how they can create something new altogether, just by being imaginative with the color scheme, lighting, and style. A good example is how artists choose to paint trees with leaves versus without leaves.
This is a reflection of an artist's inner conflicts and emotions, which ultimately play a role in how they view the world around them. This is what makes trees such a subjective focus – artists will paint a tree's shapes, leaves, and branches in whatever way resonates with them best, which is a test of creativity in itself.
Regardless of whether these trees in different paintings have a philosophy behind them or not, they do have the potential to stir a wave of emotions in the audience.
********************************************************************
---- Come Paint Some Trees With Us! ----
We LOVE when a tree painting is on the calendar! Besides the fact that they are always stunning works of art, filled with the best color schemes, they are some of the all-time easiest things for beginners to paint! No tree is perfect or symmetrical, so it's relaxing and simple to glide your brish to make branches, and tap-tap-tap to make clumps of leaves and build lots of texture; and if you can't draw a straight line.. that's perfect, as NO tree is made of perfectly straight lines!
Here are some of the tree paintings that we're offering these next few weeks:
3/30 Roots of The Galaxy -
https://www..../event/597647
3/30 Moonlit Night 10" x 10" painting!
https://www..../event/597585
41/1 Metallic Moonrise -
https://www..../event/597686
4/2 Birch Grove At Sunset -
https://www..../event/597612
4/2 Teilight Sorbet -
https://www..../event/597626
4/2 Moon Tree -
https://www..../event/597632
4/3 Reflections Of Gold -
https://www..../event/608228
4/5 Shimmering Sunset -
https://www..../event/597637
4/8 Night Mysteries -
https://www..../event/597687
4/9 Eventide -
https://www..../event/597657
4/9 A Kiss Under The Stars -
https://www..../event/597662
*This is a Date Night (2-canvas painting! Nothing says romance like star gazing with the one you love, now you can bring the romance and magic into your home with A Kiss Under the Stars.