DIY Pine Cone Craft You'll LOVE!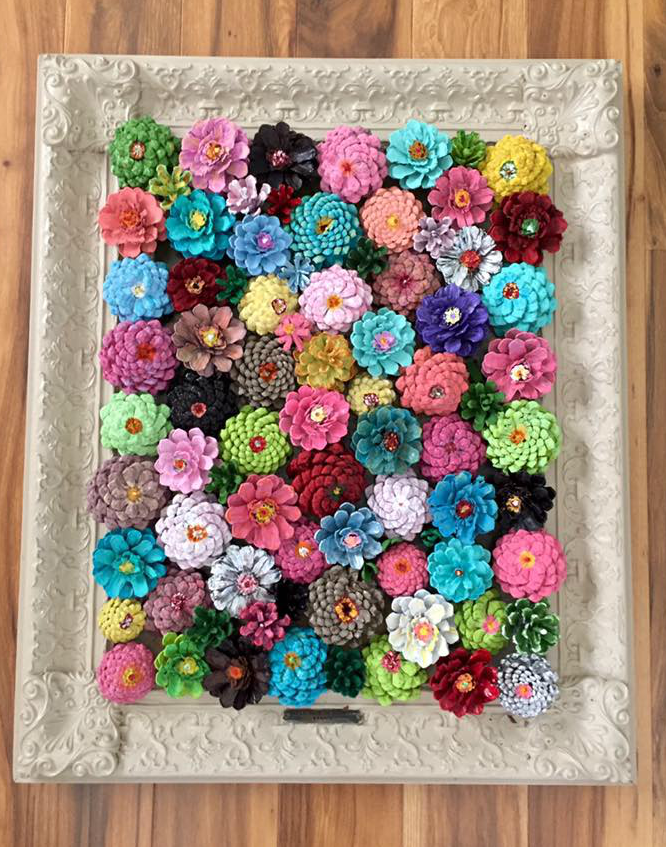 Bring some color and joy into your home with this 3-Dimensional work of art that's sure to "Wow!" your guests and have them asking for directions on how to make one! Ae with a few, simple supplies, this decor is simply, perfection, in every way. The entire thing can be made to fit your design specifications and created, just for you and your home's style! Make this with any size frame and colors of paint, and even add in some other elements (besides pinecones), for a one-of-a-kind- work of art that you'll treasure for years to come.
Made with items you can either find in nature (pinecones), the thrift store (frame), and any craft store (paints), this craft is easy and inexpensive to create and even the kids will LOVE to help out with this one! The full tutorial for this project can be found on the link at the bottom of the page, so be sure to read on, to learn how to make it! The directions will suggest either spray paint OR acrylic craft paint to add color to the pinecones, and since this is a great project to create, keeping in mind that we're using recycled items, we suggest the paint (bottled acrylic) for the color option! Using a type of paint that can be done in the house and without fumes that the paint cans create is a great choice!
First, you'll need to gather some pinecones (ideally from a pine tree, to keep the cost of the project down), or from your local craft store.You can also check out sites like 'Amazon', 'Oriental Trading Co.', or 'Discount School Supplies.com' if you're having trouble finding them in the stores or in nature. You can take this fun project a step further and incorporate a nature walk into the mix and have the kids help find pinecones, along the way!
Once you have the main ingredient, check out craft stores like 'Michaels', or the craft aisle of stores like 'Target' or 'Walmart' for the acrylic paints and buy them in every color for a bright and colorful look, specific colors to match your home, or just one color for a classic and sophisticated look.
Last, stop into a thrift store or antique shop and find a beautiful frame! You can go with one, large frame or a few small ones to put together, and choose to keep the frame its natural color OR paint it, along with the pinecones!
After everything is painted, assembled, and ready to hang, this is where we suggest a shiny coat of clear spray paint. This will not only add a lovely polish to the finished artwork, but will prevent the paint from chipping in the long-run.
Get The Full Tutorial:
https://www....flower-frame/
*Remember, 'Mother's Day' is coming up:
This amazing masterpiece would make a WONDERFUL gift for mom this Mother's Day! Celebrate Moms, everywhere, and all the hard work that they do, by giving this handmade present to your Mother, Grandmother, Aunt, Sister, other Mom-friends, or any other Moms in your life! In addition to this artwork, why not bring Mom in for one of our painting and wine classes?! She will LOVE to spend time with you in a fun and creative environment, making a painting and memories that will last, forever. Whether you come in with your Mom, give her a Pinot's Palette gift certificate, or come in (without Mom) and paint her a gift for her Mother's Day surprise, our classes always make a great idea, when it comes to celebrating something or someone!
Keep an eye out for all of the classes we'll be offering as Mother's Day celebrations! Bring Mom in for a class, paint with her from home with our virtual classes, or get a gift certificate for her to use for the class of her choice!