Your Art! Your Rules!
With every New Year come those pesky New Year Resolutions, we all are familiar with the ol' go-to's like 'Exercise More' or 'Spend more time with Friends and Family,' but this year we would like to encourage you to add one more to your list, Express Yourself!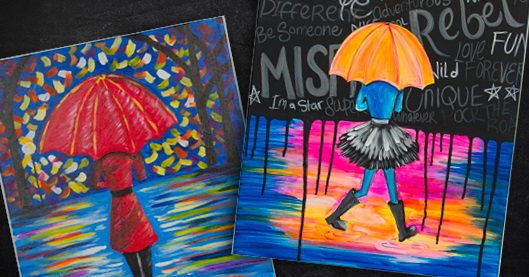 It's Your Year. Your Rules. Cease the opportunity to try new things that may have been too intimidating in the past! At our wine and palette classes, we make sure to create a stressfree evening where you can be as bold as you'd like! Think another color would better match your home decor style? Go for it! Want to try and stylize your painting to be more like a Van Gogh? Dive right in! Only your rules apply!
If you've got a great new idea but are worried about whether or not you can achieve your vision don't hesitate to raise your hand and get some help! Our artists, being the creative types that they are, LOVE to help our guests mix things up and be bold so don't hesitate to use their expertise to help switch things up!
So knock out a few resolutions at once by bringing your Friends and Family to express themselves with you! Our location in Bricktown is located on the Oklahoma City Canal so you can even knock out your 'exercise more' resolution by enjoying a beautiful walk before or after painting with us!
- The Artist's Insight - A monthly blog special by Eric Maille -
I've been painting my entire life, but I think you'll agree with me that being a painter doesn't make you an artist. An artist must be willing to explore the fascinating world that exists behind paintings- a rich history of unique talents, creative imaginations, innovative techniques, and thoughtful self-expression.
I've spent a long time developing that insight and learning from the insight of others, and it's helped me to become a professional painter and illustrator living and working in Norman Oklahoma, and an instructor at Pinot's Palette Bricktown. Now, once a month, I'll be providing tips, tricks, and stories from a polished perspective, and an artist's insight, so that even the casual painter, can become an art-lover and artist themselves!
Sincerely yours, Eric Maille