Top 5 Places for all things Dessert in OKC!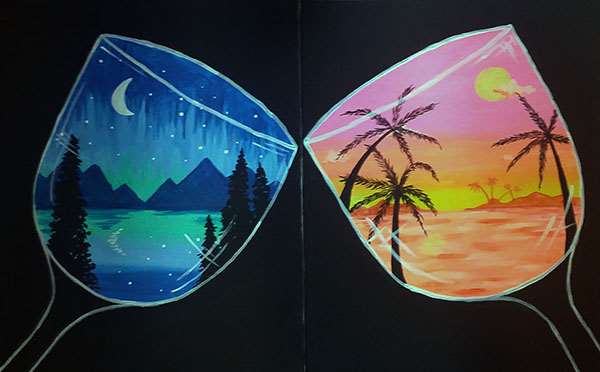 As part of our New Year's Resolutions we decided to say 'NO' to procrastination this year! To get this kick started we are going to start our Valentine's Day planning early so that we don't have to worry about the last minute scramble to plan the perfect celebration for our loved ones! For those of you who also resolved to break with tradition this year we recommend planning a really unique Valentine's Day that will spark your loved one's creativity! Wine and Painting for Two at Pinot's Palette is the perfect answer!! You supply the sweet treats and we'll take care of the rest! Our painting seats for Valentine's Day events fill up really quickly so the earlier that you reserve your seats the better! Since no Valentine's Day is complete without some sweet treats we have compiled our Top Five places for all things Dessert in Oklahoma City!
1. Pinkitzel –Cupcakes, Cupcakes, Cupcakes!! Conveniently located right around the corner from our Studio it'll be super easy to swing in and get your dessert on the way to class! While they specialize in Cupcakes that also make delicious Macarons, Chocolate Truffles and the Valentine's quintessential sweet, Chocolate Covered Strawberries!!
http://pinkitzel.com/
2. All About Cha - If you've never been into All About Cha we definitely highly recommend it! Aside from the delicious Coffee and Tea they have the most beautiful selection of pastries! We recommend the Grand Teton Mousse, but honestly you can't go wrong with any decision. They are also conveniently located in Bricktown so pop in and enjoy a pick me up!
http://allaboutcha.net/
3. Belle Kitchen – Located just north of us in Deep Deuce you can break with Valentine's Day tradition and pick up a dozen on Oklahoma City's Best Doughnuts!! They handcraft their dough from scratch and topped with a selection of glazes. We can't seem to get enough of the Brown Butter Sea Salt or the Hibiscus!
https://www....-kitchen.com/
4. Esca Vitae Bakery & Café – Oh my goodness! If you haven't been here to enjoy their bread and Sandwiches you are missing out! The best thing is that it's also the perfect place to pick up handmade pastries for your loved ones! The selection is vast and there isn't a single thing that won't just about blow your socks off! Located in the heart of the Midtown Plaza I can guarantee that you won't regret making the decision to swing by!!
https://www....scavitae.com/
5. La Baguette Bistro – Last but certainly not least is this Northside Oklahoma City Staple. Swing by and grab a delicious pastry to go or grab a table at the Bistro and enjoy your chocolate with a little bit of wine!
http://labag.../bakery-menu/