Thanksgiving Entertainment
Thanksgiving is one of the best days of the year; surrounding yourself with the blessings of family and good food is something that very few other things can compete with. But with all of the joy comes the reality of the hustle and bustle of it all. All the prepping for the food, trying to squeeze all of the family activities into one day, and keeping out-of-towners entertained leading up to and after Thanksgiving itself. We're here to help! We've got classes scheduled before the big day and after so that you can treat yourself to a night out before all of the craziness or afterward entertain a whole host of people!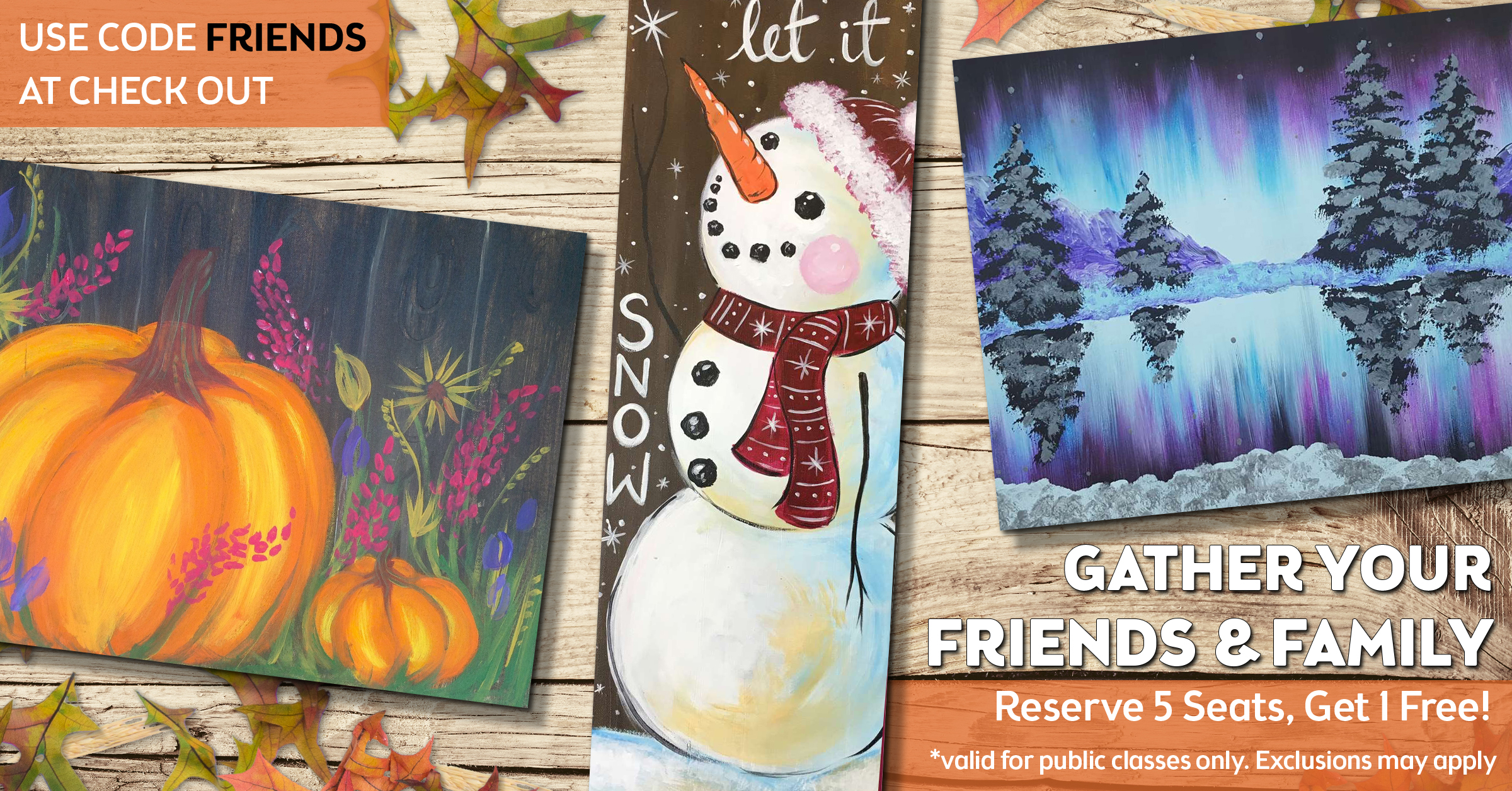 We have the perfect blend of pre-thanksgiving classes that will allow you the freedom to treat yourself (and family) to an afternoon or evening creative adventure that you won't soon forget.
On Sun, Nov. 24th, we invite you to create the perfect autumn landscape that can help spruce up any home decor for years to come, 'Autumn Grove.' The best part about this class is that it's part of our Mimosa Sunday series, so you'll be able to take the edge off while enjoying bottomless mimosas!
https://www..../event/356639
Every Monday, we feature our fabulous house Merlot and house Pinot Grigio for just $3.00 a glass. 'Moondancing' on Mon. Nov. 25th will be a feature that can be hung in your home through the year; the fun 10x30" canvas size also allows you to mix things up.
https://www..../event/356640
Tuesday, Nov. 26th, we will say goodbye to our autumn paintings with 'Floral Harvest', a beautiful pumpkin-themed painting that practically allows us to smell pumpkin spice throughout the room. This painting is classy and oh-so-fitting as THE decoration that welcomes people to your home for Thanksgiving.
https://www..../event/356616
Post-Thanksgiving, we welcome you to open up your home to winter and the holidays! We feature four paintings which are sure to please.
On Friday, Nov. 29th, we start the day with an all-ages, family event so everyone can be included in the fun. Skip the lines of Black Friday and instead treat yourself to a day of creativity. "Hootie Christmas" is just about the cutest owl that you'll ever find!
https://www..../event/356641
To close the day, after any shopping that you endured is over, you've overstuffed yourself with leftovers and just need to entertain the troops, we feature "Snowman's Wish" a painting that just begs to be personalized with everyone's unique personality.
https://www..../event/356645
Thankful that Cyber Weekend deals allow us all a little more breathing room to really enjoy what the holidays are all about, spending time with one another we offer another double feature on Saturday, Nov. 30th. To start the day, you can get into the spirit of the holiday by painting a joyful snowman ornament hanging from a colorful tree in our 2-4 pm class 'Snowman's Cheer.'https://www.pinotspalette.com/bricktown/event/356642
In the evening, we feature 'Frosted Dusk' from 7-9pm, a beautiful winter landscape that is something everyone will be sure to enjoy.
https://www..../event/356646
The best part about all of this? We want to celebrate you and your loved ones, so we're offering a deal that makes it impossible to not bring everyone out for an unforgettable night on the town. Gather your friends and family, reserve five seats, and get your 6th seat free! Use code 'Friends' at check out. Offer is good for any public class in November! Have a wonderful Thanksgiving, and we can't wait to see you!