I'll Have My Wine & Decorate Too!
As long as we have WINE the holidays will be fine!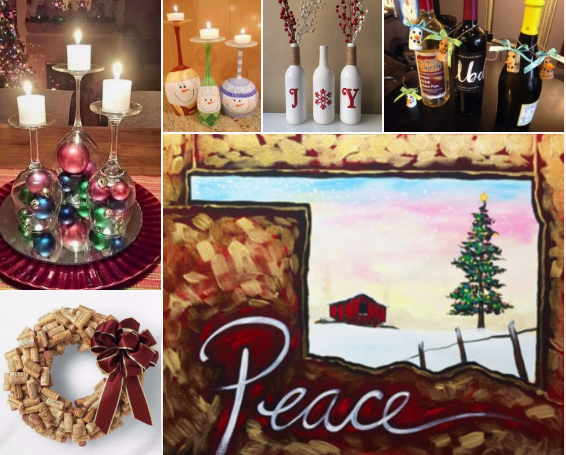 Dashing through the snow, with a bottle of Merlot what fun you'll have decorating this year and filling your home with cheer! I'm always inspired to get extra crafty this time of year when decorating my home and Pinot's Palette for the holidays! Enjoy my top 5 Home Decor ideas for your wine filled holiday season!
5. Cork Charms - I demonstrated how to create these cork charms in my last "Pour Yourself A Masterpiece" video! There are sooo many unique ways to decorate these cork charms! All you need are wine corks, acrylic paint or paint pens, thin ribbon, string or twine & super glue! You can definitely get more crafty adding 3D pieces to your charms as well. With your paint create a snowman face or a reindeer face, a cute nose, and glue a bow at the top! Use the string to create a loop to hang the charm. These are perfect to hang around a wine bottle neck, or a wine glass, a Christmas tree ornament, or even as a gift tag, just use your paint pen to write a name on the back! (I love using metallic paint pens!!)
4. Wine Bottle Vase - These wine bottle vases are adorable! I actually like to make them for each season and just change them out. Using spray paint or a couple of coats of acrylic paint cover the entire bottle with the color of your choice. You can decorate with words, glitter, ribbons, foam snowflakes, stencils, etc. The possibilities are truly endless!
3. Cork Wreath - These are fun to create with your gal pals! Everyone will first need a Styrofoam wreath. Cover with ribbon or craft paper. Then using hot glue fill up your wreath with your wine corks! You can create several different designs with your corks! To complete your awesome cork wreath you can tie a big bow at the top!
2. Wine Glass Candle Holder - These are super fun and festive! The wine glass will sit upside down with a candle sitting on top. You can use glass paint if you want to first paint and decorate your wine glass, or you can fill the cup of the glass with small ornaments or beads.
And the Number 1 Holiday Home Decor Idea:
1. Pinot's Palette Holiday Painting - Get your friends together and enjoy a wine and palette night out creating an awesome painting while you sip on fabulous wine and listen to great music! Maybe you have family coming into town? Treat them to a unique, memorable experience of Painting, Drinking and Having Fun with us!