Holiday Party Planning
Oklahoma's weather might still be relentlessly hot but fall and winter are still creeping up around the corner. Kids are getting back into school routines, shops are packing up the swimwear and stocking up on sweaters, and we can practically smell the pumpkin spice lattes in the air. Waving farewell to summer can be rough but thinking about the joy that surrounds the upcoming holidays can brighten our spirits and get us excited to see the autumn colors emerge. Be the office hero this year and book an amazing celebration with Pinot's Palette in Bricktown! Book a 20+ person party by October 1st, 2019 and you'll receive a $50.00 discount for being the best party planner out there! Simply mention the $50.00 deal when you book!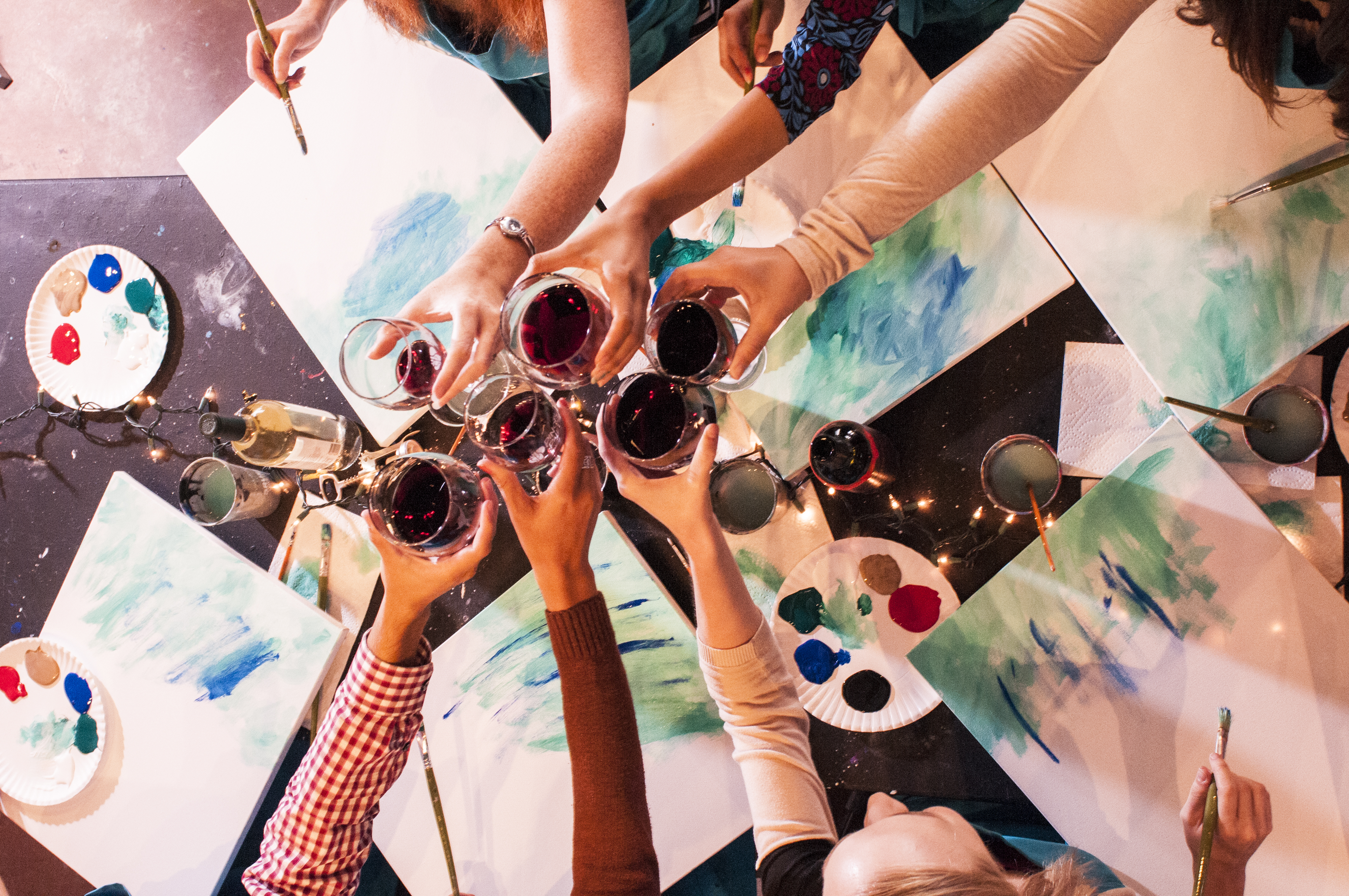 Planning the perfect holiday event will give you and your company a little something to start looking forward to in the upcoming season. Pinot's Palette - Bricktown has an assortment of options that will be sure to propel your holiday party into legacy status, and while August may seem like an early time to start planning you'll be sure to beat the rush and be guaranteed prime real estate on our event calendar!
Traditional Individual Paintings:
This is the original Pinot's Palette format that many people know and love. This option allows each of your guests to leave your event with a painting of their own creation that they can cherish for many years to come! Our artists will provide step-by-step instruction so even those who insist they can't paint will be amazed at their final products!
Jig Saw Puzzle Painting:
Mix-it-up with a puzzle painting! Each guest will be given a portion of the painting to complete on their own canvas, at the end of the event everyone will gather and solve the puzzle by putting their paintings together to reveal a final image that has a little touch of everyone's personality! Artists will be walking around assisting to help everyone achieve a beautiful finished product! Make it even more interesting by adding the element of mystery by not revealing what the finished product will look like! Either way, your team will surely have a blast getting jiggy with it!
Musical Chairs:
You guessed it! When the music stops so do you! After each step of the painting all guests will dance their way to their next seat and continue on the painting at their new spot! Our artists will provide step-by-step instruction as well as one-on-one guidance to ensure that everyone is leaving with a masterpiece artfully created by the entire team!
No matter the style that you choose your team is guaranteed to have a blast creating memories that can truly last a lifetime! Contact us today for more information about pricing and date availability. We look forward to hearing from you soon!!