Easy Potluck Recipes for the Holidays
To some, the approaching holiday season means parties, fun, lights, and cheer! To others, this time of year triggers anxious thoughts of having to cook for various holiday get together's… Well, put those anxious thoughts away! We're here to help you get in the spirit this season with some super easy holiday potluck recipes that take no time to make, and your groups are sure to love!! Also, continue reading after the recipes, as Pinot's Palette in Bricktown, Oklahoma City has an awesome Group Discount promo you don't want to miss!!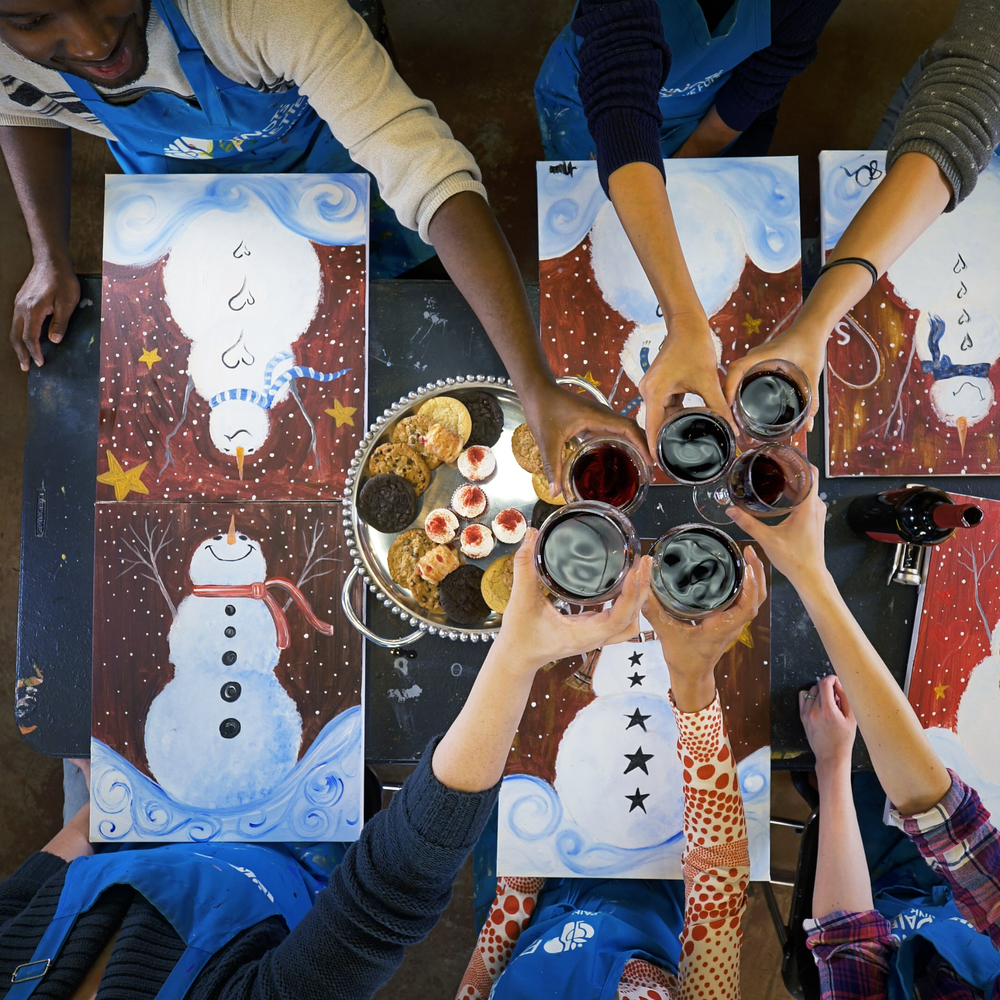 ---Caprese Crostini's---
Ingredients:
1 French baguettes cut into slices & toasted
1/2 pound of fresh mozzarella cheese cut into cubes
1 cup grape tomatoes halved
¼ cup fresh basil minced
2 garlic cloves minced
Olive oil
1 cup Balsamic Vinegar
Directions:
In a bowl combine cheese, tomatoes, basil, garlic and olive oil and gently toss together. Next, create a balsamic reduction by using a wide shallow pan, cook balsamic vinegar on the stovetop on medium heat, stirring often. Allow simmering for 10 minutes. Pour reduction into a small bowl to cool. The reduction will thicken more as it cools. Now, spoon the Caprese mixture onto the toasted baguettes/crostini's. Last drizzle your balsamic reduction on top with a small spoon and serve.
---Ham and Brie Sweet Pastry Croissants---
Ingredients:
1 can Pillsbury croissant dough (unroll dough & cut each piece into 2 pieces)
1/3 cup apricot preserves
1 pound deli ham
8 ounces of Brie Cheese cut into chunks
Directions:
Preheat oven to 375. Spread apricot preserves onto the center of each piece of dough. Next roll a bit of brie with the ham and layer on top of the apricot preserves and roll dough around. Pinch dough to secure. Place onto cookie sheet and bake for 11-13 minutes or until golden brown.
---Strawberry Shortcake Dip---
Ingredients:
1 package of Fresh Strawberries, stemmed and diced
4 tablespoons of Sugar
1 tablespoon of Vanilla
1 package (8 ounces) Cream Cheese, softened
1 container (6 ounces) Vanilla yogurt
2 tablespoons of fresh mint leaves, thinly sliced
(For dipping) Shortcake cookies, Angel food cake or fresh fruit
Directions:
Toss strawberries with the sugar and let sit while you prepare the dip. Using an electric mixer combine Vanilla, softened cream cheese, and yogurt and mix until smooth. Transfer to a pretty dip bowl and refrigerate. When ready to serve, top the dip with your sugar strawberries. Serve with your choice of Shortcake cookies, Angel food cake or fresh fruit.
---Champagne Punch---
Ingredients:
1 Orange, cut into circle slices
Fresh or Frozen Cranberries
2-3 cups of Pineapple Juice
1 ½ cups of Ginger ale
1 can of frozen Lemonade Concentrate, thawed
2 bottles of Brut Champagne, chilled
1 bottle sweet white wine (like a Moscato)
(Optional) The night before: using an ice cube tray pour in pineapple juice & 1 cranberry into each section and freeze. In a large punch bowl, combine all ingredients, including the pineapple cranberry ice cubes, and serve!
We hope you enjoy all of these easy and tasty recipes this holiday season! Don't forget to take some time for yourself and friends to celebrate! This December at Pinot's Palette – Bricktown enjoy our 'More the Merrier' promo! Get all your favorite people in one place to paint, drink and be merry! We've made it easy: Book 5 seats, get 1 free – good for any regular public event in December.
Paint. Drink. Have Fun.® It's the perfect night out to reconnect with the whole crew.
Make your reservations Today! Just use promo code VERYMERRY at checkout.*
*Valid for regular, public events that occur in December 2018 only. Complete 1 transaction for 6+ seats to qualify. Enter code VERYMERRY at checkout. May not be combined with any other discounts or promotions. Does not apply to previous purchases. Does not apply to purchases of gift certificates, merchandise or upgrades. Not valid for reservations of private parties or specialty events (e.g., Project Pet or Painting It Forward).