Celebrate the Fourth of July in Style!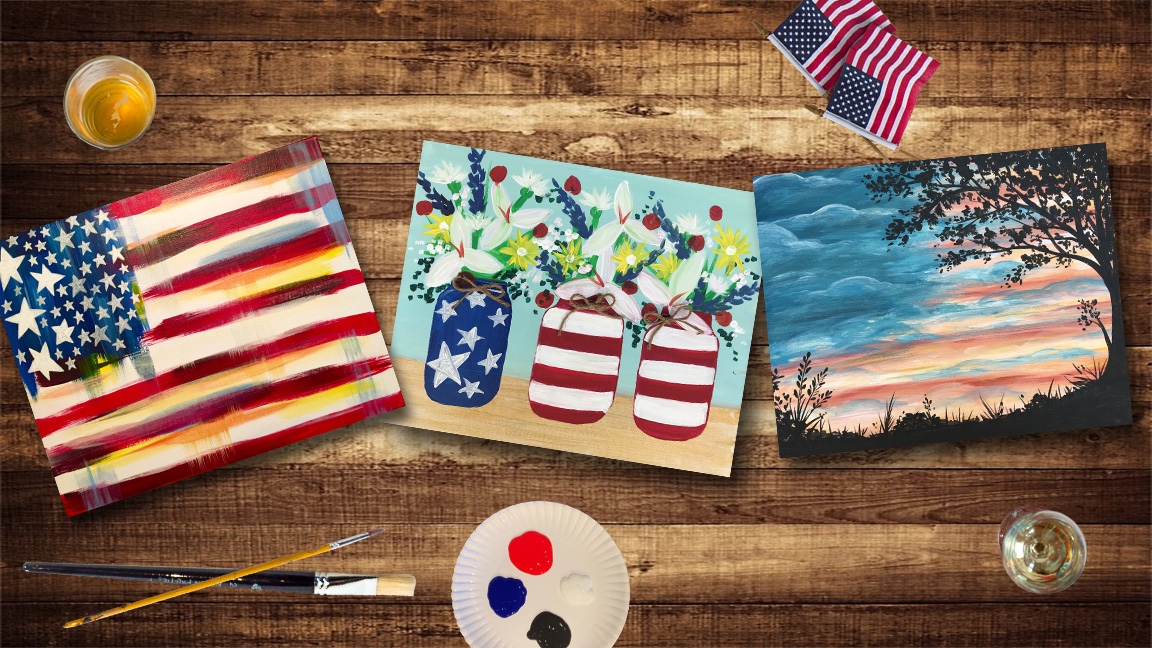 Apple pie, the 4th of July, and booming fireworks in the sky - What better way to spend Independence Day than decorating your house in patriotic style and having everyone over for the perfect BBQ before making your way to Bricktown to see an impressive fireworks show??!! Pinot's Palette Bricktown is here to help on the decorations! Whether you join us for a patriotic painting leading up to The Fourth of July or you join us the day of we've got something that will liven up your summer decorating for years to come!
For a more subtle patriotic painting we'll be offering United We Stand on June 13th from 7-9pm. You just can't go wrong with this beautiful sunset that is inspired by this great nation. The best part? It's on a Thursday which means that while you create your masterpiece, you and your gals will get to sip on bottomless sangrias for just $15.00!!
For our flower lovers come out and paint and sip on June 29th from 2-4:30 pm for Red, White, and Blooms! A lively painting featuring three bouquets that together make our great flag! The coolest part about this painting is that it incorporates twine bows so that your painting is left with a really cool 3D element!
For a more traditional flag lover, we'll also be featuring American Abstract on July 2nd from 7-9pm! Let your patriotic colors fly with the whimsy abstract brush strokes and stars that will be sure to let your creativity soar! Start your Fourth of July celebrations early and let the fun carry into the whole week!
For those of you that plan to make a day of it out along the Bricktown Canal before the fireworks we'll also be featuring an open studio on the Fourth of July so you and your whole family can come in and create your own Independence Day Masterpiece! With several self-guided instructions for you to choose from, your whole group will be sure to find something that tickles their fancy!