Skip the Tricks & Get the Treats!
Trick-or Treating isn't limited to just one day for PinotPerks Members! Don't miss out on your chance to win a FREE class this October!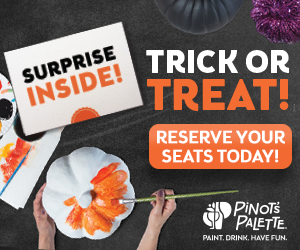 Who said Trick-or-Treating is just for kids?! Skip the tricks and get all the treats this Halloween season. New and existing PinotPerks members. Collect Corks and surprise treats while in attendance every Thursday in October! Treats include a
chance to win $10 off an event, or even a FREE event, as well as fun candy! Book your event, enjoy some wine from our bar, and
have yourself a scary good time!
This History of Halloween:
Historically, Halloween is a time of celebration and superstition, believed to have started over 2,000 years ago with the Celtic festival of Samhain. This day marked the end of summer and the harvest and the beginning of the dark, cold winter. As Europeans migrated to the U.S., the American version of Halloween began to emerge and continued to align with celebration of harvest. However, it wasn't until 1846, when the U.S. was flooded with Irish immigrants due to the potato famine, that people began dressing up in costumes and going house to house asking for food or money - leading to today's "trick-or-treat" tradition.
This Halloween embrace traditions of celebration and trick-or-treating at Pinot's Palette! Just our way of thanking you for being a loyal customer!!