United We Stand
Here at Pinot's Palette we place a lot of importance on 'Painting It Forward' to use our studios as a way to help generate profits for various non-profit organizations, what better way to raise funds than having a wine and palette night with friends! With Hurricane Harvey having such a major impact on Houston, where Pinot's Palette originated, we felt that we needed to pitch in and create a painting that would help raise money at 'Painting It Forward' events nationwide to be donated to the Hurricane Harvey Relief Fund.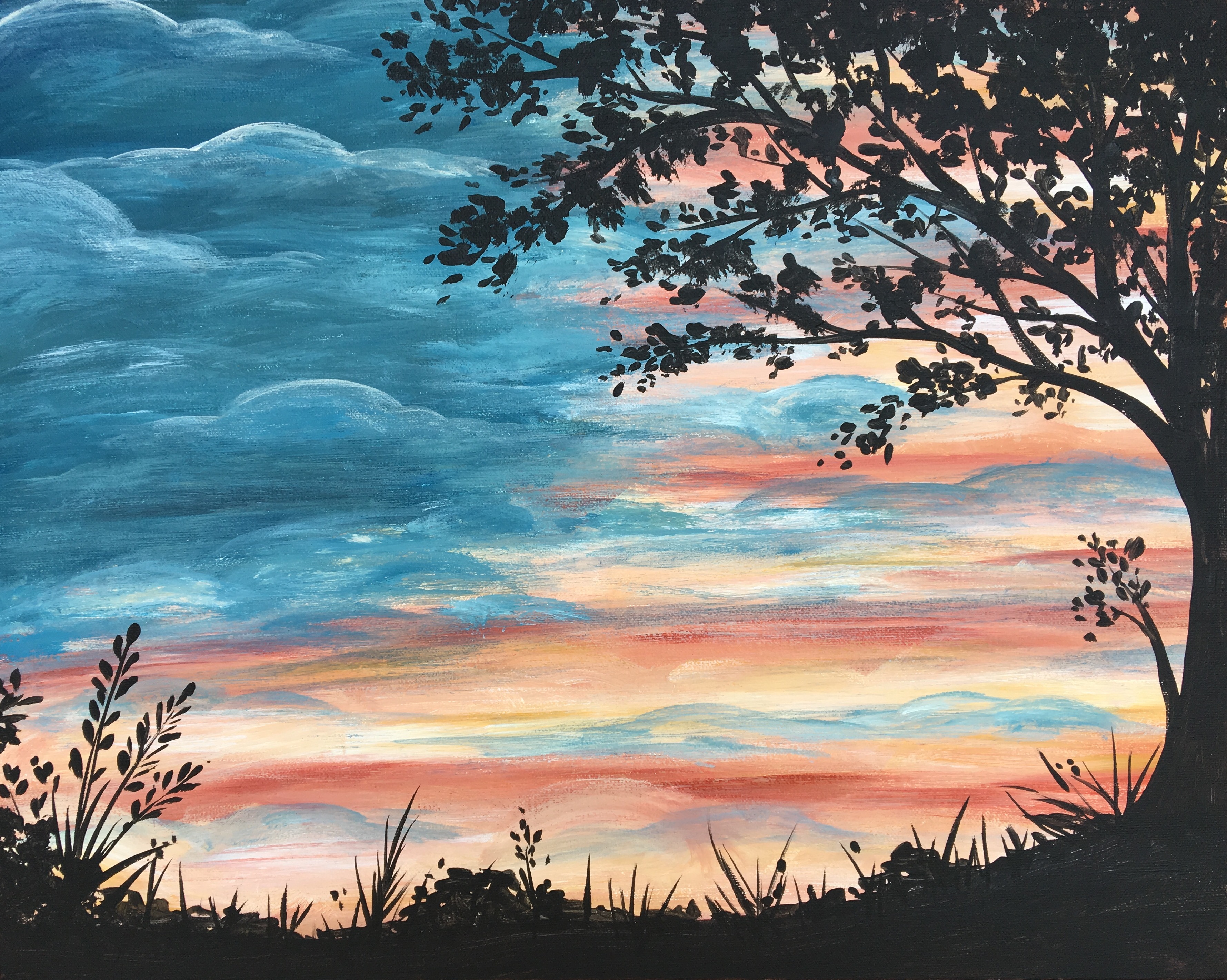 Our Pinot's Palette - Bricktown Owner, Ashley Gardner, started her career with Pinot's Palette as an artist and eventually worked her way up to owning her own studio. Having grown up in Houston she immediately got to work to create a painting that would be perfect for the fundraising events that she was helping to coordinate nationwide. She decided that focusing on the idea of uniting together to help friends, family and neighbors was going to be the backbone for her painting. She wanted to be sure that she was creating a painting that people from all over the country would appreciate and enjoy so her second decision for the painting was to incorporate the American Flag, the ultimate representation of 'United We Stand'. Once she had formed that idea she decided to get creative with the painting and turned a more literal flag into an American Flag subtly disguised as a picturesque sunset.
Her sentiment was well received with other studio owners, her 'United We Stand' painting has already been used for 100 Painting It Forward events since Hurricane Harvey. Because this Hurricane season didn't stop with Hurricane Harvey Ashley decided to create a second version of the painting so that it would also include those effected by Hurricane Irma and now possibly Hurricane Maria, as well. The original version of this painting included a Texas themed prairie landscape. On the second version she decided to create a similar painting that featured palm trees and sea grasses so that the fundraising efforts could be extended.
While I don't know the total amount raised from all of our studios across the nation yet I am happy to report that with the help of our amazing customers Pinot's Palette – Bricktown was able to raise 1,181.00 during our Painting It Forward event on September 6th. We would like to thank everyone who came and pitched in we hope that you all had an amazing time painting, drinking and having fun!
If you missed our Painting It Forward event, the public can donate directly to Harvey relief when signing up online for any Pinot's Palette painting events in September. A voluntary donation box at checkout sends a $5.00 donation directly to Global Giving's Hurricane Harvey Relief Fund. Global Giving works with well-vetted, locally-based charities to meet disaster victims' immediate, mid-term and long-term needs over time.
"In times of trouble we come together and Unite, Rescue and Rebuild. This painting is inspired by the resilience of the good people of our country. United We Stand."