Painting it Forward for the OK Kids Korral
Pinot's Palette - Bricktown joins forces with the Toby Keith Foundation - OK Kids Korral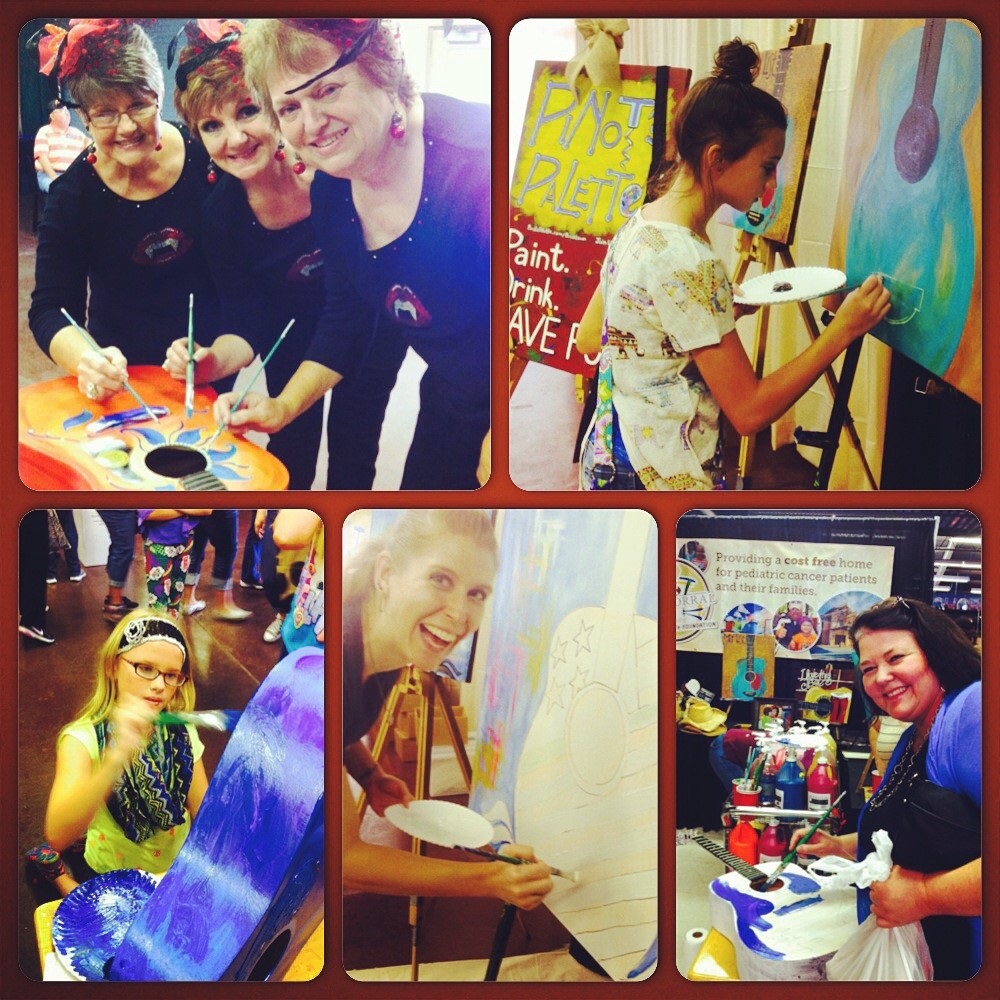 "It Takes All of Us to Make A Difference" Help keep the OK Kids Korral doors open to Love and Hope like us! What is the Toby Keith Foundation - OK Kids Korral? The mission of The Toby Keith Foundation is to encourage the health and happiness of pediatric cancer patients and to support OK Kids Korral.The Toby Keith Foundation has been helping children with cancer since 2006 and continues its services through partnerships with hospitals, caregivers, foundations and civic groups. OK Kids Korral provides a cost-free, convenient and comfortable home for pediatric cancer patients receiving treatment at The Children's Hospital at OU Medical Center. tobykeithfoundation.org
Pinot's Palette - Bricktown first partnership event with the OK Kids Korral was at An Affair of the Heart, October 2014. Pinot's Palette created 7 custom (Toby Keith inspired) paintings of guitars. Toby Keith signed each of these custom guitar paintings to be auctioned off at different Toby Keith charity events to benefit the OK Kids Korral. The large scale custom guitar paintings were brought to life in a BIG way at An Affair of the Heart. Each painting was recreated on large 36"x48" canvases, dozens of people that walked by our booth helped paint the huge beautiful works of art! We coin the phrase: "It Takes ALL of Us to Make a Difference" and in this case it couldn't be more true! Hundreds of people stopped by to help paint each of these guitar paintings; kids, parents, teens, grandparents, even my dad put his mark on one of the paintings! It's truly an amazing thing to see community and art come together for such a grand cause! Once the event ended Pinot's Palette then donated all 7 paintings to the OK Kids Korral to be later signed by Toby Keith himself. Our paintings are just a small contribution to this incredible cause.
We have participated at An Affair of the Heart in the Toby Keith Foundation booth 4 times total now, creating several Toby Keith inspired paintings with the help of hundreds attending An Affair of the Heart. A lot of these paintings have already been auctioned off and has raised significant funds to benefit the OK Kids Korral! The next An Affair of the Heart event will be in October starting on the 21st, 2016. Be sure to mark you calendar to enjoy the event and shop for so many unique and crafty items, as well as stop by our booth in the Arts and Crafts building to participate in the creation of one of our paintings to support this incredible cause!
Enter your contact info and request details below, and we will contact you with details about your private party!