Winter Decorating Tips
Now that Halloween and Thanksgiving are behind us we find ourselves needing to respruce our home décor for the Holiday season. There are so many options to make your home feel warm and inviting this season. Whether you like the traditional reds and greens or want to break the mold with a more subtle winter decorating scheme we've got the advice that you need to get your house ready for guests this holiday season!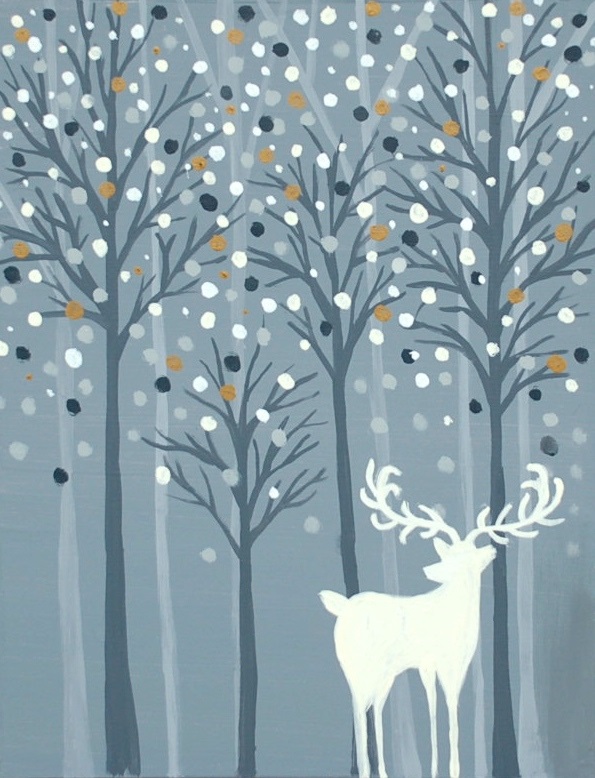 We all have those old holiday decorations that we look forward to seeing every year because they elicit memories of the beautiful times we have spent with loved ones. Don't hesitate to pull those out; they end up being great, conversation starting, pieces when everyone arrives for your holiday celebrations. Keep in mind that adding a new piece to your collections every year can help those memories continue to flourish and expand for years to come. Creating a new painting to sit on your mantle is an excellent way to create those memories. Bring your family and friends to enjoy a wine and palette so you can add a whole new level of emotion attached to the decoration! When you place the painting on your mantle we recommend surrounding it with a string of lights, a traditional decoration that really warms every home.
If you want to break free from tradition this year and decorate without all of the reds and greens that are traditionally associated with the season we recommend going for it! Using more subtle whites, greys, maroons and a hint of wintergreen you can embrace the holiday season while simultaneously breaking the mold of tradition. Pull out your vases and fill them with sprigs of greenery, this is a great way to bring in the holiday pine scent which really sets the Holiday Spirit aflame! You can offset these with other natural accents like birch logs, pine cones, and cinnamon sticks. Adding white string lighting around these elements is another way to incorporate the traditional feel of the season while still keeping it fresh and new. Add touches of gold throughout your decorations as well to give your home a very classy Christmas feeling.
Pinot's Palette – Bricktown is the perfect place to help with your Holiday decorating, whether you're going the traditional route or want to have a holiday with a more modern spin we have just what you need! Keep in mind that with all of the paintings we teach you can get as creative as you'd like, we always encourage our guests to let loose and pick colors that will best match their specific decorating styles. The artists in our studio are always happy to help you achieve your goal so that you can focus your energy on painting, drinking and having fun!