2019 Color of the Year
Since Pantone announced in 2000 that they would be selecting a 'color of the year' we find ourselves spending December anxiously awaiting Pantone's announcement of what the upcoming year's color is going to be. As artists, we love finding a reason to be inspired to create new masterpieces that are going to fit in line with the current trends in fashion, art and home decor.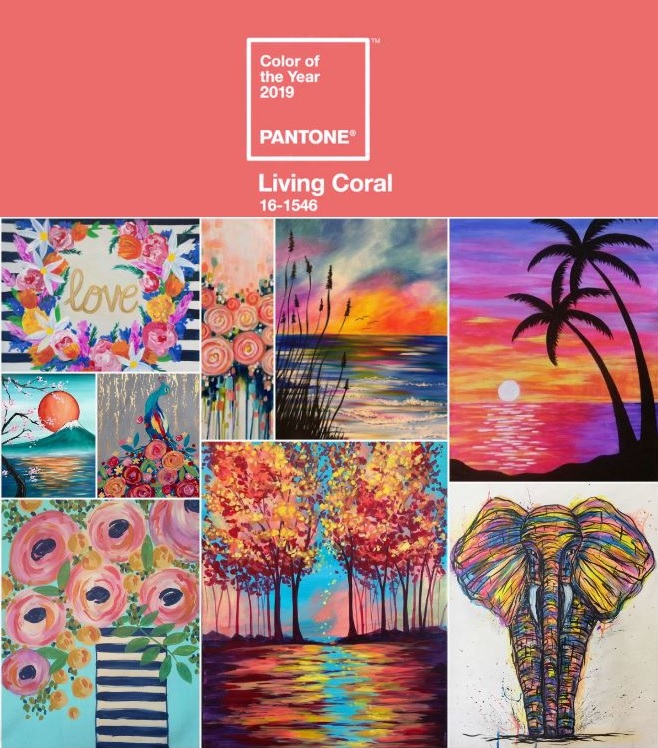 This year Pantone has chosen 'Living Coral' to be the 2019 color of the year. When making their selection, they observe trends and look to everything that is going on around them to help make their final decision. This year they wanted to be sure to choose a color that allows us to express "our innate need for optimism and playful pursuits." Living Coral is a warm and welcoming, peachy orange that expresses vitality, optimism, and a playful spirit. It's a color that in the past has been confined more to an accent color but this year artists and designers are encouraging everyone to dive in and let this color take over!
Add some 'Living Coral' to your life! It's a very versatile color that can be used with many different colors to express your style. For those of us who decorate with earthy tones, Living Coral can be paired with warm grays, deep greens and mauves to create a calm but lively atmosphere. For people who like to decorate with bolder, brighter colors Living Coral can be used with bright greens, hot pinks, and warm yellows to create spaces that are energized and enlivened. And just as you might have expected, you can also pair Living Coral with deep blues, bright blues, and teals to embrace a colorful sea life, the heart of the true nature of this color.
Luckily here at Pinot's Palette we're on top of things and have a number of upcoming paintings that fully embrace this color trend making it easy for you to stay on top of the hottest new home decor trend while also getting to paint and drink the night away! Check out our calendar to find a Living Coral painting to create today, and enjoy $6 OFF each seat!! Use promo code: Cheers19 at checkout.
*Discount not valid for existing reservations, private parties, project pet, family days, or combined with any other offer*
We look forward to fun classes and clinking glasses with you in 2019! Cheers!!