Painting with a Monkey!
Painting With A Monkey! What?! Are you Serious?!?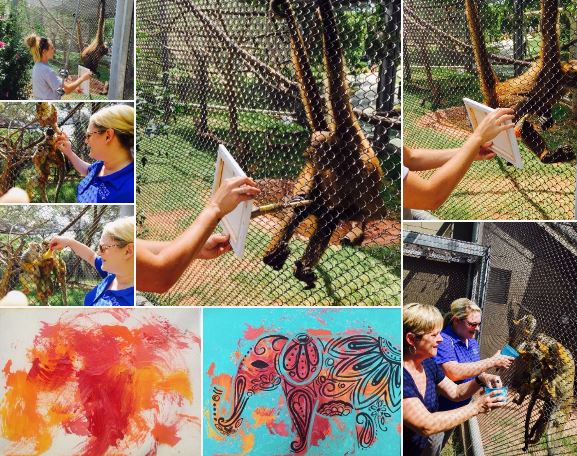 Pinot's Palette - Bricktown was invited by the Oklahoma City Zoo (Children's Zoo) to get up close & artsy with their Spider Monkeys & even feed some Squirrel Monkeys! Every year the Oklahoma City Zoo does an Art Gone Wild fundraiser to help raise funds for conservation programs. To enrich the animals lives at the OKC Zoo they train some of their animals to paint! The idea behind this project was once the monkey had the opportunity to explore his creative side and complete his masterpiece, then Pinot's Palette would take the painting & "help tell the monkey's story." This meant, we were to really examine the painting to see what we could create out of the wild brush strokes the monkey had painted & turn this painting into a comprehensive work of art!
Art Gone Wild Show Information:
From gorillas to giraffes, monkeys, stingrays, sea lions and more, animal art is created using a wild palette at the Oklahoma City Zoo. The seventh annual "Art Gone Wild" animal art show will be held at the Myriad Gardens from August 6-31, 2016. The show features original pieces of art created by the Zoo's own talented animal artists made especially for the show (with some help from their care givers & Pinot's Palette). Techniques vary by animal. Some animals enjoy using paint brushes while others choose to paint with their trunks, paws and even noses! Art by Zoo animals is safe and nontoxic, and part of the animal enrichment process of providing a stimulating environment which addresses an animal's social, psychological and physical needs. The exhibition gives the public an opportunity to view and purchase these unique works of art, with all net proceeds benefiting the Zoo's local conservation initiatives. The exhibition will be on display in the Crystal Bridge south lobby during normal operating hours (Monday-Saturday from 9a.m.-5p.m. and Sundays from 11 a.m.-5 p.m.). For "Art Gone Wild" information call Zoo Guest Relations, (405) 425-0262 or okczoo.org.