FUN Valentine's Experience in OKC
With Valentine's Day swiftly approaching now is the time to start thinking about how to celebrate with your loved one. Why not try something new and unique this year? Here are some tips on spending this year connecting with the one that you love and having a lot of FUN while you're at it!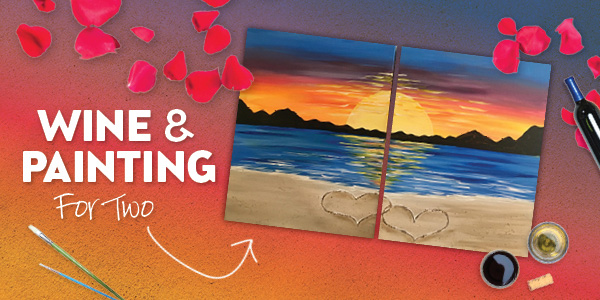 Spend your Valentine's Day connecting with your loved one while trying out something new! Studies have shown that just taking in new experiences with your sweetheart can enliven a relationship and help two people connect on a new level. Changing things up can be as easy as making dinner reservations in a different part of town or trying out a paint and sip class for the first time!
To make the most out of a fun new experience make sure that you stay present with your sweetie. Cell phones can have a negative impact on our attention span and memory so take the time to put the phone away and really enjoy one another's company so that you can create wonderful memories that last a lifetime. When enjoying a wine and palette class it's easy to stick to this rule because your hands will be busy with a brush as you and your partner work together to create a masterpiece!
Make sure to get silly with your Valentine this year. It's important to just be able to let loose with the ones we love, making sure that things aren't too formal and serious is a key part of any relationship. Getting creative is a great way to let go of boundaries and allow yourself a way to giggle the night away.
At Pinot's Palette - Bricktown we have a number of Valentine's options to choose from. We recommend one of our 'Date Night' paintings where you and your sweetie each work together to create a masterpiece that extends across two canvases. We have a number of options to choose from this year. You can also pick one of our 'Traditional' paintings where our instructor takes everyone step-by-step through the process of creating your own masterpiece. You are able to each decide on your own color scheme to mix things up to let the painting reflect each of your personalities. No matter the style Pinot's Palette is the perfect way to mix things up this Valentine's Day!
Enjoy $5 OFF each seat when you use code: 2020Love
*Discount not valid for existing reservations, private parties, project pet, chunky blanket, family days, or combined with any other offer*