Art Supplies for Beginners
I think that deep down, everyone is an artist at heart. It seems to be human nature to create, or at least to WANT to create new things. There's something cathartic about it. It's fulfilling and liberating, and just plain feels good.
While we all have our creative outlets, knitting, cooking, writing, and so on, it seems that a lot of people wish they could gravitate towards what we more traditionally view as art, but simply don't know where to even begin. Time and time again, I've had painters in our classes ask me how I got into art, how I developed my skillset, and what supplies work best for a beginner with no idea where to start.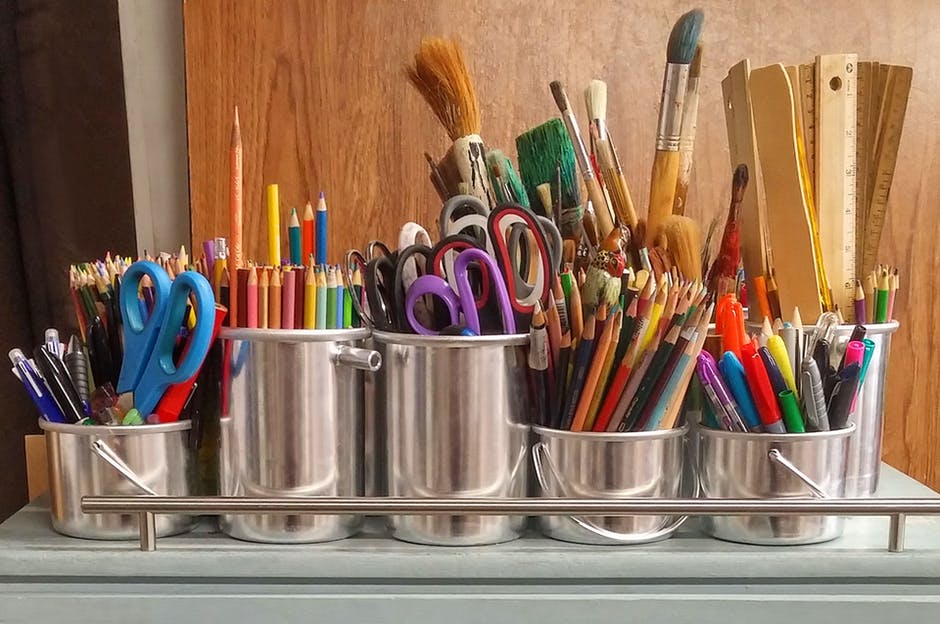 For me, my life as an artist started when my family gave me crayons and old pieces of mail to scribble on as a toddler, then solidified even more in the seventh grade when a friend of mine gifted me a sketchbook and a cheap set of drawing pencils. Talking with other artists, I learned that similar gifts were of equal importance to them as well. If it wasn't a sketchbook, a set of paints, or a VHS of Bob Ross painting a landscape that got them initially invested in creating, such gifts always seemed to play a factor in getting them going. One friend was given a relative's old camera, another had an uncle who built them an easel.
Once they had the materials, it didn't matter if they knew where to start—all they had to do was jump in and experiment with what they'd been given.
So then if materials are "where to start" when becoming involved in the arts, what materials are good for starting off with?
The honest truth is that there aren't really BAD supplies to start with. A new artist should experiment with whatever they can get their hands on. Someone who's never painted before could buy the cheapest supplies available to get started, and would probably STILL catch a little bit of an art bug, while still getting a general idea of how the paint works.
That being said, if you're looking to start building an art studio of your own, or give the gift of art to a loved one, there ARE some tips that can help you pick your supplies.
Any artist is going to need a sketchbook—and I recommend having a small set of pencils too. Soft-lead pencils (which are labeled with a B) will sketch darker than a hard-lead pencil (labeled with an H) so it's good to have a range of each. There are also different types of erasers that can be fun to try and out and experiment with. Fortunately, many basic pencil sets also come with a couple of different erasers. And while any sketchbook will do, it's a good idea to get a feel for a few different types of paper. Heavy paper doesn't tear or rip by mistake as easily. In general, it also doesn't yellow as quickly. Acid free paper can be used to avoid yellowing almost entirely.
Sketching is a good way to start off. It's always a good idea to start off putting your ideas on paper before putting paint on a more expensive canvas. And it's also a great place to doodle and brainstorm. A lot of painting techniques feel similar to drawing—so having a knack for drawing, while not necessary, will definitely give a painter an advantage.
There are lots of different types of paint.
Acrylic paint is where most beginners start, and it's what we use in our classes at Pinot's Palette. It's versatile and dries quickly, so that means it's easy to paint over mistakes and doesn't require a ton of patience.
Oil paint is similar to acrylic, but takes a long time to dry—meaning it requires more patience, but is a easier to blend and manipulate.
Watercolor is another popular medium with its own unique look. Using watercolor means learning more about paper, because watercolor just spills right off of most canvases. It also requires one to paint in carefully planned layers—which is a technique an artist can easily practice with acrylics or oils. A general rule of thumb—adding layers almost always helps a work of art look more refined.
In general no matter what kind of paint you're using, it's going to be made of two things—pigment and filler. Typically, more expensive paint has more pigment and less filler, and isn't as transparent or runny as cheap paint. In my opinion, it's a good idea to experiment and use both. Sometimes less opaque paint with a little less viscosity might be what you need, and sometimes you might want really thick, heavy colors without much filler. Paint that's cheap, and made with more filler, isn't inherently bad, it's just different.
As for brushes—most people base what brush they want to use off of the size of the things they're painting. Big brushes for big spaces, small brushes for detail. That being said, acrylic and oil painters use coarser brushes that hold heavy paint well (except for detail work which is generally better with a fine, soft brush,) and watercolorist use very soft brushes that don't damage their paper.
The supplies you use all depend on what art you want to make, and in order to find that out—all you can do is experiment and absorb as much as art as you can. Take your friends out to a Pinot's Palette class, watch some old Bob Ross videos online, go to art museums and galleries, and talk to every artist you meet.
You don't have to quit your day job right away to become an artist, but as I learn time and time again at all of our classes in Bricktown, pretty much everyone has an artist deep down, waiting to be let out. They just need the right supplies, a gentle push, and maybe a drink of wine to calm their nerves.