Glassware Guide For Beer
If you are a true beer enthusiast, you probably are already familiar with how different types of glasses can enhance different types of beer. Maybe you even have a glassware collection already. And maybe, you can name which glass pairing is best on the fly.
But for some people, the fact that there is such a wide variety of glassware for beer may come as a surprise. So here is a quick guide on the best types of glassware to pair with your beer to enhance the flavors!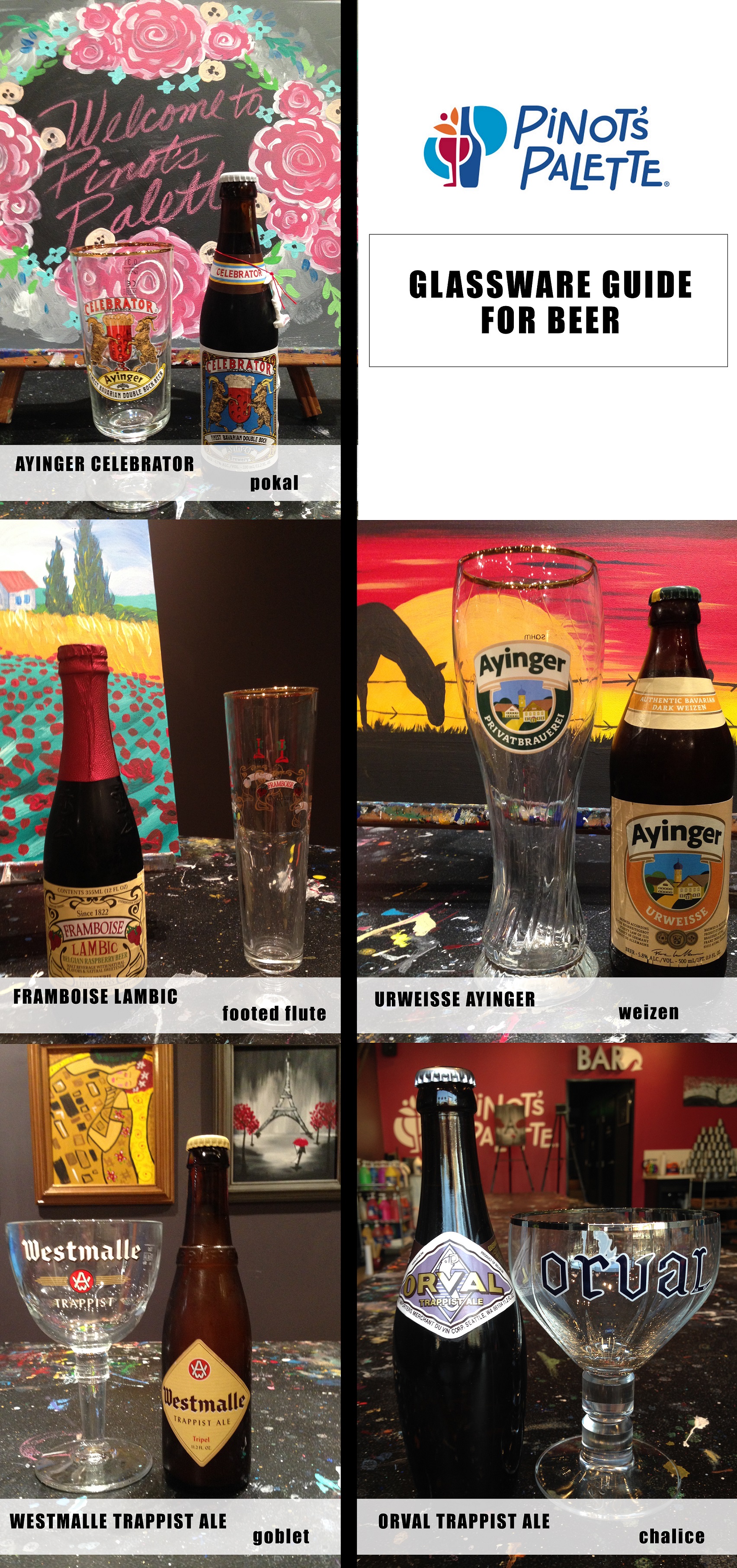 Goblet: This type of glass comes in a variety of sizes. It typically has a wide-mouthed glass, a thick but long stem with a bowl on top. The wide opening of this type of glass keeps the beer head contained so that long deep sips can be taken. It also makes it easier to appreciate the overall flavor profile and aroma.
Goblet - Beer Recommendation: Heavy and malty beers such as the Westmalle Trappist Ale, a Belgian beer that is available at Pinot's Palette.
Chalice: This type of glass is very similar to the goblet, but it's stem is typically shorter and thicker than a goblet. Chalices usually have thicker walls, thus making it heavier than goblets. Because of it's wide-mouthed opening, it is also designed to maintain beer head and to allow for deep sips.
Chalice Beer Recommendation: Dark, heavy and malty beers such as Belgian beer.
Flute: The long and narrow-bodied glass provides a type of sophistication and elegance to the world of beer. This type of glass is perfect for showcasing carbonation and bubble. Because of its shape, volatiles can be released quickly which results in a strong aroma right way.
Flute Beer Recommendation: Strong Lagers and Lambics. Framboise Lambic is available at Pinot's Palette.
Weizen: This type of glass starts with a strong and narrow base that curves outward as it goes up. It typically is much taller than a pint glass and can hold at least a half liter of beer. Weizen glasses are perfect for trapping thick foam head so that the strong aroma and flavor can be fully appreciated. Because of it's curvature, Weizen glasses are designed to hold a large volume. It is primarily made for wheat beers.
Weizen Beer Recommendation: Wheat Beers such as the Ayinger Celebrator.
Pilsner / Pokal: This type of glass is a European Pilsner glass that is tall, almost straight and slender. It has a bulbous bottom but narrower mouth which helps with head retention which enhances the carbonation and sparkling colors. It's narrow mouth encourages for better drinking rather than smelling.
Pilsner Beer Recommendation: Best used for beers with golden ales rather than for lagers like American Ales German Ales and English Ales, American Lagers, IPAs, Irish Stouts. A crowd favorite is the Ayinger Celebrator, available at Pinot's Palette.
No matter what your style of beer is, discover new choices and pairings at Pinot's Palette!
Check out the menu here:
https://www....-mind/barmenu