Interview with Danny The Artist
At Pinot Palette, we are honored to have such talented individuals be a part of our staff. Danny Loya, who is one the amazing artists, shares his background and experience in the art community.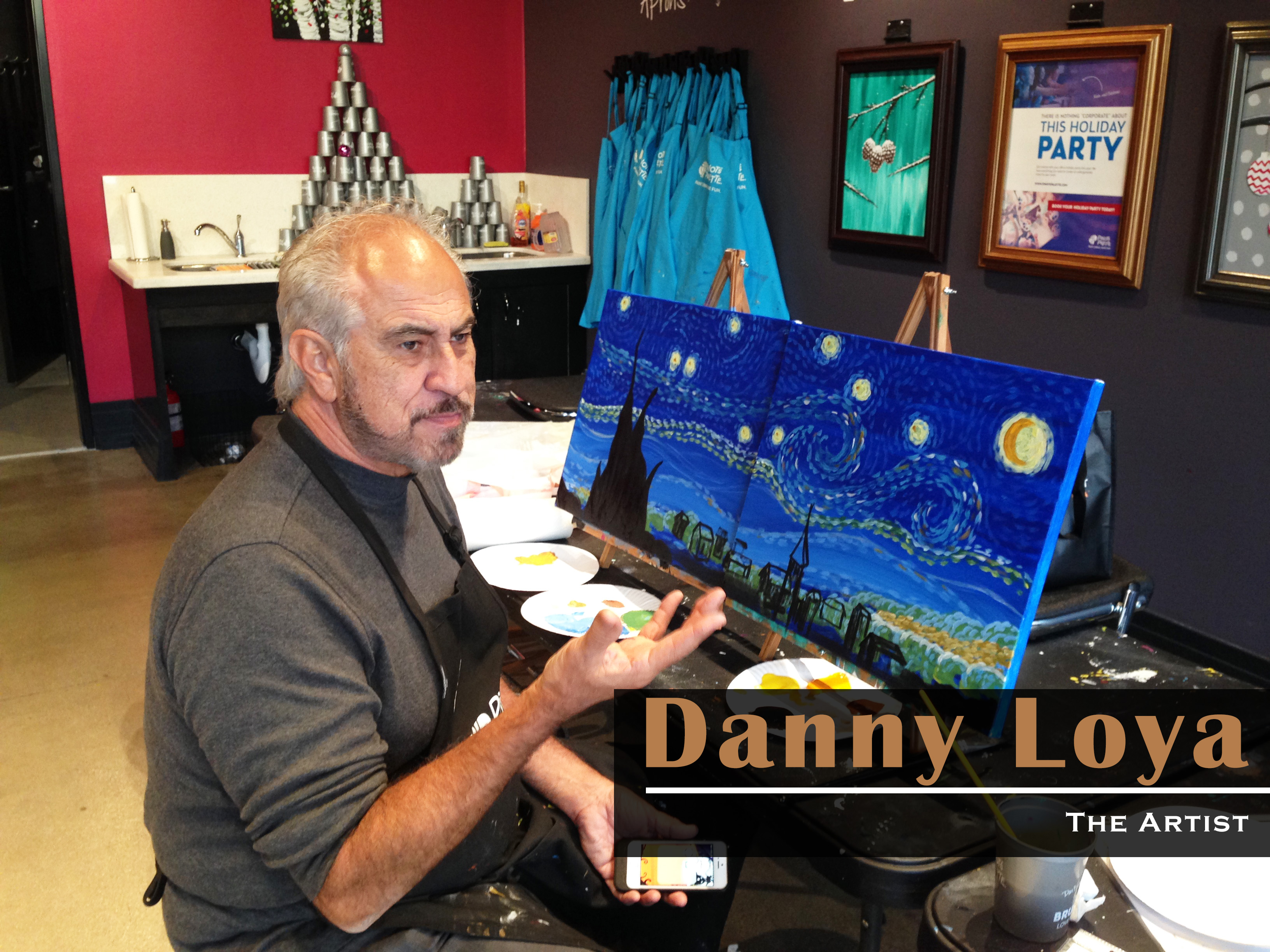 What is your background, Danny?
I was a hydraulic power design engineer from 1970-1980. I became an engineer because I was always told if I went into the art world, I would become a starving artist and would end up in Haight Ashbury near San Francisco. Well, my first passion was always art, so in 1981 I walked away from my engineering career and I started my own airbrush/screen printing business. In 1995 I started doing animation background paintings for animation studios. All paintings then were done with Cel-Vinyl acrylic paints. Then in 2000-2008 I decided to start teaching art, animation and digital media at various local colleges. From 2008-2016 I taught Graphic Design, Video Game Design, Robotics and CAD at El Modena high school. I retired in August 2016 and got rehired October 2016 at Pino's Palette Brea
Any interesting hobbies or fun story you would like to share?
I've been playing the guitar since high school. I've been on a few rock bands over the years. Currently, I'm taking Flamenco guitar lessons
When did you realize that you wanted to be an artist?
When I was in kindergarten, I had my first painting placed in the principal's office. He was overtaken by the fact that I added a shadow to a rooster I painted. From that point on I always enjoyed making others happy by creating art.
What inspired you to start creating art?
Like I mentioned, I always enjoyed making others happy with my art work. But it wasn't until 1980, I realized I could create art, sell it and make a living at it.
What art movement or artist would you say influences your work most?
Throughout my childhood years, I could hardly wait to see the cover art done by Norman Rockwell on the The Saturday Evening Post that was delivered weekly. He amazed my how he could capture the emotions of ordinary people in different situations through his art.
Do you have a favorite artist and why?
I personally love Flamenco dancing and Flamenco guitarists. I've also had a fascination with bull fighting from Spain. Fabian Perez, born in Argentina, currently resides in Los Angeles and is known for his paintings of the tango, Flamenco dancers and bull fighters. He takes things that people like to look at, enjoy and then he takes them more deeply into it.
If you could choose any artist to hang out with, who would it be?
Leonardo Da Vinci. He was not only an artist, but an inventor, an engineer.
What is your favorite style of art?
The Hudson River School of artists from the mid-19th century. These were beautiful landscapes painted by american artists that characterized realistic, detailed, and sometimes idealized portrayal of nature.
What instrument / tool could you not live without?
It would have to be my airbrushes.
If you could live inside a piece of art, which one would it be?
Thomas Cole's, "Garden of Eden" (1828)
If there was a magic power you could use in your art, what would it be?
When I was 3 years old, I picked up my first crayon and started drawing. It was a magical moment to see the crayon color keep coming out and coming out. I ended up drawing scribble lines all over my bedroom walls. So personally, for me, every stroke I make with a paint brush is magical. It doesn't get any better than that. The way paint can mix on a canvas or the accidental textures that can be created is magical.
What are your thoughts on being an artist in today's world?
I believe the purpose of art is to perpetuate beauty. That is what I am always striving for. God created the world and embellished it with the wonders of nature and the human figure. I think it is the artist's job to embellish it with his work."
What is your favorite part about working with Pinot's Palette?
To watch patrons, who have not painted in 30, 40 years, see a painting done with their own hands come to life in just two hours. Many are amazed with the simple steps it takes to complete a painting and cannot believe they did it themselves.
What advice would you give to someone attending a Pinot's Palette session?
Customers should prepare to come out of your comfort zone in creating a painting, but at the same time have a fun experience in doing so, because Pinot's Palette is in the art of having fun
What advice would you give to someone interested in pursuing art as a career?
Art is everywhere. But artists are their worst critiques. Don't expect everyone to love your art. However, there will always be that select group of the public who will love your style of art and will be willing to buy it. Always stay focused on your own work. Don't be self-defeated by comparing your art to someone better. Learn the style and technique from that person so that you can grow create your own art style.