Holiday Appetizers
With the holiday season in full swing, families around the world gather to spend precious time together. We are thankful that we can be a part of your experience when you and your family let your creativity flow through at our studio. Whether it's on a canvas or on a plate, let us explore how artistry in food brings everyone together.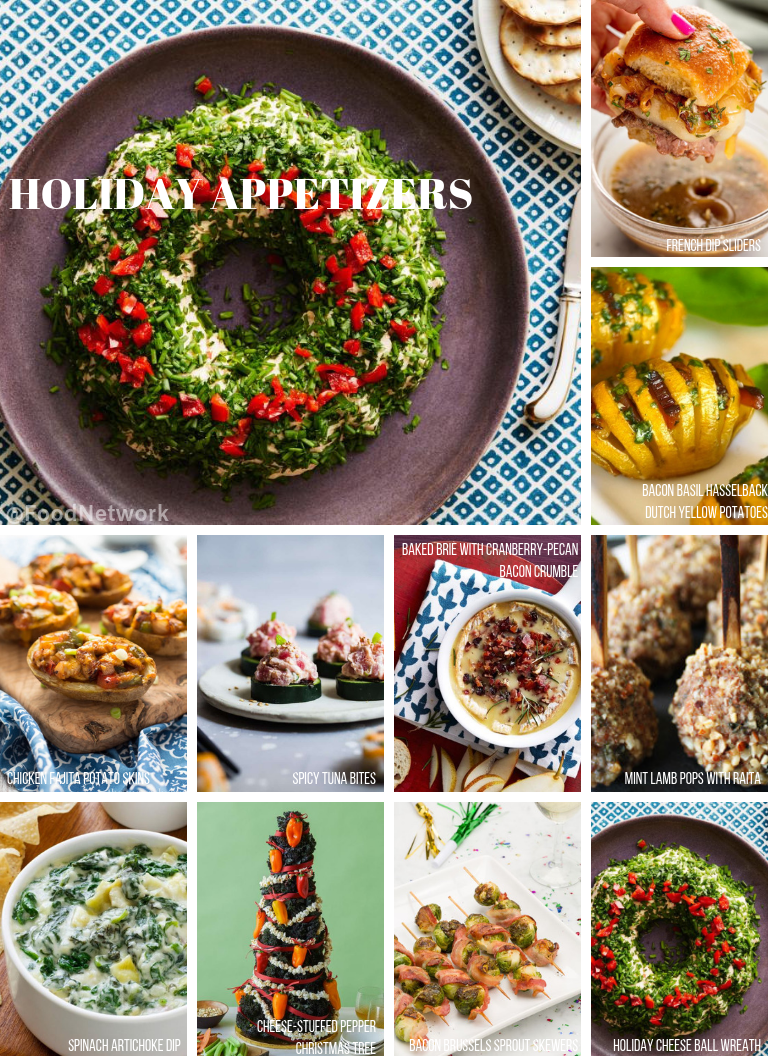 The holiday season is a special time to gather around the dining table. Holiday appetizers are especially popular among gatherings and are great conversation starters. There are so many varieties of delicious appetizers that are both classic and creative.
Check out some of the popular and unique dishes this holiday season:
1. Holiday Cheese Ball Wreath: This is a festive addition to any dinner party. It's shaped like a wreath and garnished with greens that is perfect for dinner. It is basically an easy cheese dip!
Get the recipe here:
https://www....reath-3363981
2. Cheese-Stuffed Pepper Christmas Tree: This is a great example of food artistry because it is shaped like a Christmas tree. The peppers are stuffed with cheese and are made to imitate Christmas lights, adorning the tree made of bunches of kale. It is definitely a festive touch to add to the holiday party.
Get the recipe here:
https://www....-tree-5390126
3. Spicy Tuna Bites (Gluten-Free): If you are a sushi lover but can definitely skip the carbs, this low-carb recipe will be a hit. Substitute the rice with cucumbers for a refreshing taste and top it all off with sushi grade tuna. Add a bit of chili for a spicy kick. Not only is this delicious and fresh, but it is also gluten-free!
Get the recipe here:
https://www....y-tuna-bites/
4. Spinach Artichoke Dip: This is a classic dish that is a must-have at any holiday party. Guests can feel a bit less guilty feasting this holiday season because at least this has spinach, right? This particular appetizer is always fun because it's casual and easy to eat. Just grab some crispy chips and dip away.
Get the recipe here:
https://www....ecipe-1973257
5. Baked Brie with Cranberry-Pecan-Bacon Crumble (Gluten-Free): Who knew that brie could be so good baked? The creamy baked brie combined with savory bacon and sweet cranberries are sure to be a delight for any tasteful palette. This baked brie would go great with slices of baguette or even some crackers.
Get the recipe here:
https://www....umble-3364028
6. French Dip Sliders: Basically mini roast beef sandwiches packed with flavor, these French Dip sliders dipped in au jus (juices from the meat) are great appetizers to work up anyone's appetite. Not only is the recipe simple, but results will yield satisfaction.
Get the recipe here:
https://www....iders-recipe/
7. Bacon Basil Hasselback Dutch Yellow Potatoes (Gluten-Free): Creamy, savory, and a bit nutty, any appetizer with bacon is a win.
https://cook...low-potatoes/
8. Mint Lamb Pops with Raita (Gluten-Free): Just like lollipops, the lamb is formed into mini balls with a skewer to imitate a lollipop! They are flavorful and is sure to be a hit with guests at any holiday party. The recipe also calls for chopped almonds covering the lamb lollipops and the
These flavourful bites are easy and delicious. The lamb is formed into small 'lollipops' and coated in chopped almonds and served with raita.
Get the recipe here:
https://www....-raita/12924/
9. Chicken Fajita Potato Skins (Gluten-Free): These mini chicken fajitas on mini potatoes are great mini bites. Bold and savory, don't forget to share!
Get the recipe here:
http://www.o...potato-skins/
10. Bacon Brussels Sprout Skewers (Gluten-Free): This appetizer only needs two easy ingredients! Bacon and Brussel Sprouts! Add some pepper for that extra flavor. Otherwise, this would be quick and easy holiday favorite!
Get the recipe here:
https://www....rout-skewers/
--------------------------------------------------------------
Cheers to a wonderful season. We want to remind you that we are always thankful for you.