Help Support Pinots Palette
Supporting local businesses is important now more than ever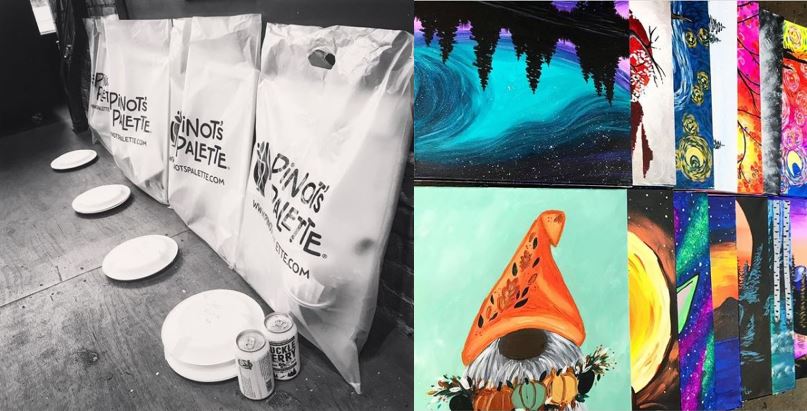 There are many ways to help us during this tough time. Here are a couple of fun things we're offering:
Live Virtual Interactive Classes -
Good for all ages! Purchase a class, and we'll send you a link (the day of the class) to zoom chat with our artist while they lead you through the painting. Can't make that time but love that painting? No worries, we record the video while we paint and the recording is good for 5 days after the class.
Our art kits are available for pickup at the studio Monday, Wednesday, and Fridays between 1-4pm or you're welcome to pop in any time we have a virtual class going on. You will receive an email when your kit is ready for pickup (please allow up to 24 hours to get your kit prepared).
Here's a link to our calendar:
https://www....pokane/events
Take home kits-
(Also good for all ages!) The difference between this and a virtual class is that take home kits are prerecorded videos; so if you have any questions you wont' be able to ask the artist. Plus we have 99 paintings to choose from, so a little bit more of a variety. Look under "shop" on our website to see all of them. The link is good for 7 days after purchase.
View all of the kits here:
https://www..../spokane/shop
Paintings for sale-
Do you just want to buy a painting already done? We're selling some of our work for $25 each. Buy 3 and we'll give you 1 for free! Currently an in-studio offer only when you are picking up supplies.
Drinks and Merchandise-
Don't forget to add drinks to-go to your order or one of our items (a wine glass, a paintbrush pen, nice brushes, etc)
Gift certificates-
Holidays are just around the corner! Buy a gift certificate for a loved one. We can send it virtually or you can pick it up at the studio and we'll throw in a free painted wine bottle and paintbrush pen with it!
If you have any questions feel free to call us (509.290.5098) or email us (spokane@pinotspalette.com)