Recreate Specialty Cocktails Inspired by Georgia O'Keeffe Paintings
Want to put your inner bartender to the test?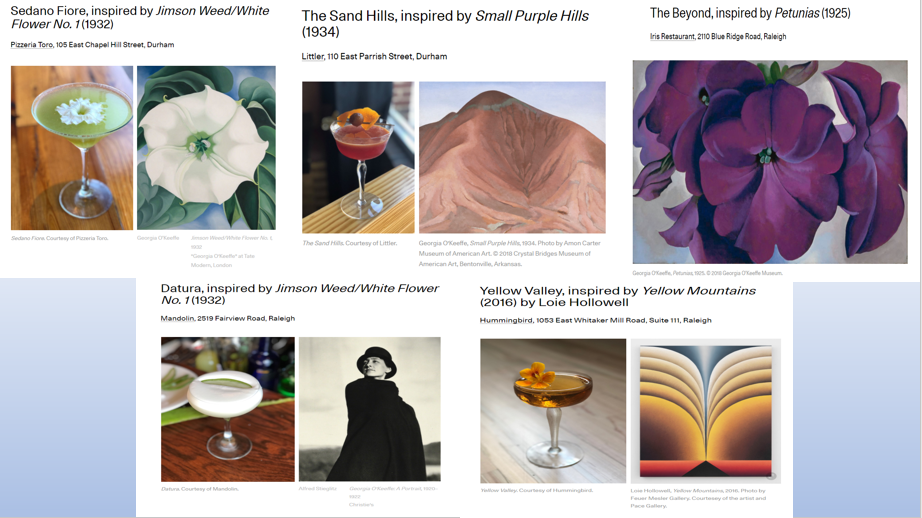 Check out these cool specialty cocktails inspired by O'Keeffe's subjects and color palette, as well as the artists she's influenced. From October 13th, 2018 - January 20th, 2019, the North Carolina Museum of Art in Raleigh opened a new exhibition called "The Beyond: Georgia O'Keeffe and Contemporary Art." They challenged restaurants in the city to create these drinks. Here are 5 of the cocktail recipes and the paintings that they're inspired from.
1. Sedano Fiore, inspired by Jimson Weed/White Flower No. 1 (1932)
Pizzeria Toro, 105 East Chapel Hill Street, Durham
Recipe:
2 oz Uncle Vals Botanical Gin
½ oz celery/pepper juice (blend, run through cheese cloth)
Capful Chartreuse
Capful of Luxardo
1 oz lime juice
One pretty, edible flower of your choosing
Build in shaker over ice, stir, strain in martini glass, and add flower.
2. The Sand Hills, inspired by Small Purple Hills (1934)
Littler, 110 East Parrish Street, Durham
Recipe:
1 oz Ardbeg 10 Scotch
1 oz Auchentoshen Scotch
1 oz Antica Vermouth
¼ oz luxardo
½ oz cherry syrup
½ oz blood orange puree
Brandied rainier cherry
Orange peel
Add all ingredients to a shaker glass with ice. Shake and double strain into a coupe. Garnish with a brandied rainier cherry and orange peel.
3. The Beyond, inspired by Petunias (1925)
Iris Restaurant, 2110 Blue Ridge Road, Raleigh
Recipe:
1½ oz gin
1 oz lemon juice
½ oz homemade lavender syrup
Ginger ale
Garnish: lemon slice or lavender sprigs
Fill a rocks glass with ice. Pour in gin, then lemon juice, then lavender syrup. Top with ginger ale. Garnish with slice of lemon.
Lavender Syrup
¼ cup dried lavender
½ cup sugar
½ cup plus 3 tablespoons water
In a small saucepan, add half a cup water and lavender. Bring to a boil. Simmer for 3 minutes. Remove from heat and allow to steep for 20 minutes. Strain and discard flowers, leaving a lavender liquid. In a separate saucepan, add sugar and 3 tablespoons of water. Bring to a boil, stirring until sugar dissolves. Simmer for 4–5 minutes and then stir in the lavender liquid. Whisk until combined. Remove from heat and transfer to storage container until ready to use.
4. Datura, inspired by Jimson Weed/White Flower No. 1 (1932)
Mandolin, 2519 Fairview Road, Raleigh
Recipe:
1½ oz Skyy Peach vodka
½ oz Vida mezcal
1 oz aloe juice
¾ oz St. Germain
½ oz lemon juice
3 dashes Crude bitters grapefruit/peppercorn
Mandolin Farm egg white
Mix all ingredients. Dry shake to emulsify. Add 4 ounces of crushed ice. Shake vigorously. Double strain into coupe. Add aloe garnish.
5. Yellow Valley, inspired by Yellow Mountains (2016) by Loie Hollowell
Hummingbird, 1053 East Whitaker Mill Road, Suite 111, Raleigh
Recipe:
1½ oz Reposado tequila
1 oz Amontillado sherry
½ oz St. Elder Liqueur
1 barspoon agave nectar
Grapefruit Peel
Stir all ingredients together with ice, pour into chilled coupe. Express oils on top from grapefruit peel. Garnish with Nasturtium or other edible flower.
To read the full article, click the link:
https://www....ktail-recipes