Holiday Parties!
Want to do a holiday party with your co-workers but are struggling to figure out how with COVID still happening?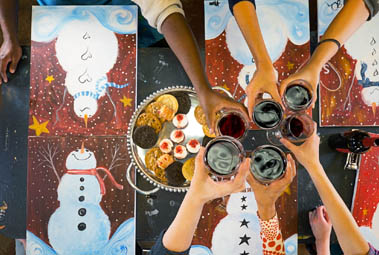 Look no further! Come host a Holiday Party while still being covid safe with us. We have a couple of options going on right now in-person and virtually!
With private events, you get to choose the time date, painting, and music, and our painting library has over 3,000 paintings to choose from! Below are some guidelines and more information for you.
 Private Parties can be booked any day and any time as long as we do not already have a class scheduled. We just need a 1.5 hour window between classes for setup/cleanup. You can view our class calendar here: www.pinotspalette.com/spokane/classes for current availability.
 Our Main Studio room has a 15 person minimum (or 15 paid spots) and can fit up to 60 people comfortably. We charge the same price as our public classes; $35/person for a two hour painting and $45/person for a three hour painting party. The main studio is reserved for our public classes Thursday, Friday, and Saturday nights.
o Thursday – Saturday after 5:30pm private parties are possible if you rent out the entire studio for a flat fee of $2,400.
o Our minimum is reduced to a 10 person minimum for parties booked 3:30pm or earlier Monday through Friday.
 Our Happy Tree Private Party Room has a 12 person minimum (or 12 paid spots) and can fit 16 people comfortably (we can squeeze up to 20 people). We charge $40/person for a two hour painting and $50/person for a three hour painting party.
 You're welcome to bring any food or snacks that you'd like. We have plates, napkins, and utensils at our studio for your convenience.
 A 30 minute window is provided before and after every private party to give you and your guests time to hang out and socialize. If you would like additional time in the studio, it will be $40 for 30 minutes or $75 for an hour.
We are requiring masks when you enter, leave, and are up walking around the studio. You are not required to wear a mask at your table while painting (unless you want too). We have all of our tables 6ft apart and can have up to 6 people at a table.
OR
Have a virtual party!
• We charge the same amount as our regular parties: $36/person for any regular 2 hour class with a 10 person minimum. This includes take home kits with all of the supplies to create the picture you choose and one of our artists walking you through the painting step by step.
• If you'd like to use your own supplies, we charge a flat rate of $200 for up to 99 Zoom participants.
Virtual private parties are held via Zoom, so you can interact with the artist and see all of your guests.
For more information email us at: spokane@pinotspalette.com