Meet Erica!
We are doing a new blog where we are featuring our Connoisseur members from our Pinot Perks program. Erica has been coming to our studio since February of 2016. We love her easygoing attitude! Erica shared some information about herself and what she loves about our paint and sip studio.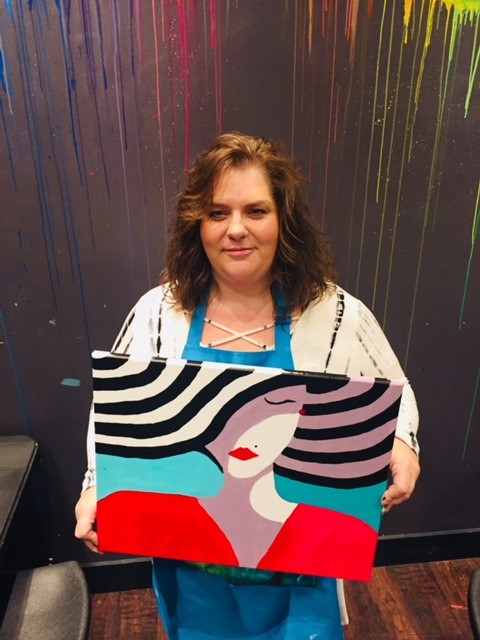 About me ... I'm 48 years old, have raised/am raising my 2 children on my own, I'm a travel agent and I work from home and love my career. I grew up in Rosalia, WA which is about 30 miles south of Spokane. Lived in Seattle for about 15 years and moved back to Spokane in 2002. I'm passionate about writing, would love to be a published author some day ... and in the last year and a half, have discovered that I LOVE to paint and drink wine at the same time!
I was hooked on Pinot's Palette from the very first painting I did in February 2016. I LOVE the whole thing ... meeting new people, creating something and getting to bring it home, spending time outside of my house and away from my kids and the dog (lol) and with adults ... drinking wine and laughing. It's where I've re-connected with lifelong friends that I've been out of contact with for years. When you're a mom, it seems any extra money goes to your kids ... at least that's what it's been like for me. I decided after that first painting that I was going to budget in $50 a month for me to come to a class and have an evening for me. I've missed some months here and there but also doubled up on some months ... I think I've been to 19 classes. I have many favorites for many different reasons ... all because of the memories attached to that night. If I HAD to pick just one ... it would probably be the painting I did with my 2 older brothers - I think it was called Amber Sunset ... it's not my best painting technically, but I spent the evening with my brothers laughing and drinking and just having the best time together!
I remodeled my home office about 2 1/2 years ago and never put anything up on my walls because I wanted it to be "special" ... once I went to my first class, I decided that my paintings, no matter how bad they my turn out, will be the only "art" I put on the walls. So, my office is filled with my paintings and they are about to have to spill out into the rest of the house because I'm running out of wall space! I've given a couple as gifts, also.
I tell people ALL THE TIME that they have to go! They always say "I can't paint, I'm not artistic" and I shake my head and tell them "I can't either ... but this isn't about raw talent ... this is following directions (to a certain degree) and it's so easy!" I always tell them that they will be SO surprised with what they walk out of there with. And I haven't been wrong yet! I've brought a lot of people with me and most have gone back and done it again and all say they want to.
My girl, Audreana Camm, painted my apron and it's the Colorful Swirly Sky painting basically ... I absolutely LOVE it!!
I can't say enough about how much I love Pinot's Palette and the extra goodness it's brought to my life ... I'm a fan for life, you'll never get rid of me!