Customer Reviews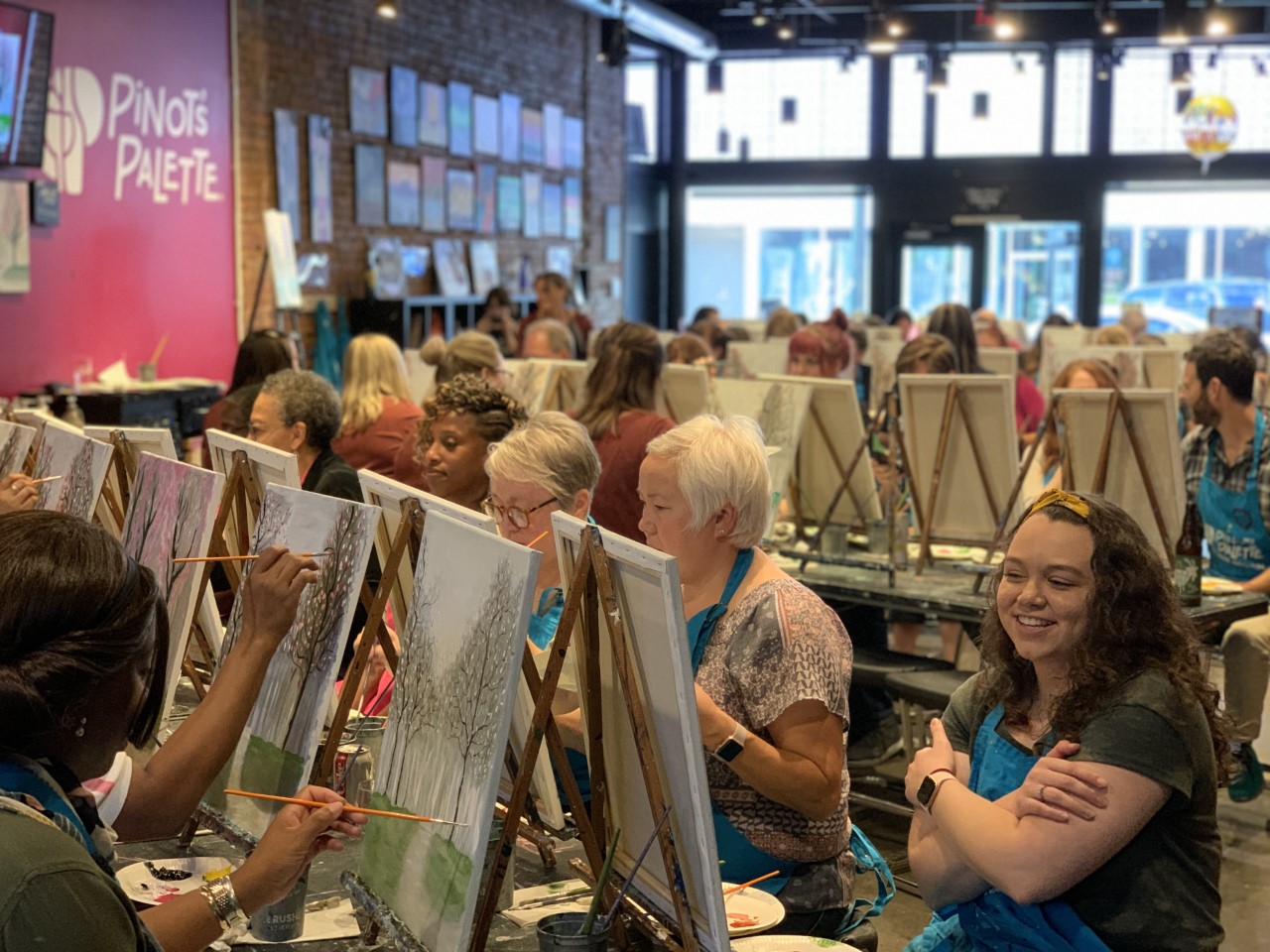 "I had the most wonderful time! The staff was incredibly friendly and helpful. The instructions were clear and easy to follow. I brought my painting home and my kids couldn't believe I painted it myself. The music selection was equally amazing, a lot of people sang along with the songs. I will absolutely go again!" -Brenna T.
"We were really happy with this event. 10/10 recommend. We have been to another studio and we're not very impressed. We loved the flow, the timeliness, and interaction of this class. Very thankful for the artist to have a good sense of humor and very interactive." -Lindsay T.
"Very friendly atmosphere and the way it was taught was perfect. I'm no artist but to be able to explain and have a masterpiece at the end was wonderful. That and all around positive attitudes. Great first date" -Brandon R.
"This was our 2nd time going and had another great evening of painting and sipping wine! We plan to continue to visit and enjoy the atmosphere, the artist's are so fun and make it a great time. Thank you" -Diane B.
"Great time great class great staff great painting! Thank you for another great evening it's our favorite place to go" -Rebecca G.
"LOVED every part of this class...definitely will be bringing my whole family back! Love the girls nights, date nights, and more! You would pay the same going to a movie and this is way better! :)" -Katie M.
"I love painting with you guys. I am always happy with my painting and you guys go above and beyond to help us be successful" -Rebekah L.
"We've come a few times and have had both smaller classes and very full classes - every time has felt engaging, like we're not lost in the crowd, and we've been happy with our paintings and experience!" -Jessica E.
"Our group Alpha Kappa Alpha Sorority had a wonderful time. I was a little nervous about painting but I learned a lot and had a wonderful time. Loved the music, the teacher and staff." -Felicia G.
"I am 78 and this was my first time. Everyone was so gracious and supportive. All materials were ready to go on time. I could not believe we all painted the same picture! I need to loosen up and not be afraid to be inventive!!! Another time would be fun!!!" -Carol F.
"Everyone was so helpful and friendly! I loved my painting and it was so much easier than I expected it would be. Great teacher!!!" -Karen Y.
"Our instructors were great and very supportive! We were there to celebrate a friends birthday, and it was wonderful!" -Mikayla A.
"Jesse and the staff were amazing, friendly and helpful. Definitely will recommend to all my friends and return for more classes." -Rebecca F.
"I love your classes, I have been attending for almost 6 years. I am hoping there will be new holiday paintings soon. I look forward to attending more classes." -Kathy P.
"Love painting at Pinot's! The ladies (and gentleman)were awesome! Great time"!" -Angie L.
"This is the only place I'll come to for this kind of thing. We always have fun and it's so relaxing. I love supporting local artists." -Tricia H.
"My daughter and I have been attending classes for a couple of years and the more we paint, the more we want to do. The classes are so much fun and it feels good to take home a painting that you thought was impossible for you to do but it turned out pretty good for someone who had never painted before. We are looking for our next class right now!" -Arlene C.
"It was my friend's birthday. I mentioned it to the artist thinking she might announce it and we would all sing happy birthday, but she said, "I have something better...hang on." She came back with a beautifully painted wine bottle and a paintbrush pen with a little Happy Birthday card! It was a perfect topper to the evening!" -Wendy N.
"Jackie your team did an outstanding job! Always a class act! Honorable" -Tracy F.
"Even in a larger class, Audrey made us feel like we were the only ones there. The teacher was also very encouraging while she was up on stage." -Shannon N.
"My first time, and first time picking up a brush in a few decades. Booked last minute and everything was prepared for us. Service all around was excellent and chipper. Painting was a relaxing, invigorating experience. Will absolutely do again." -Jonathan O.
"Linea was amazing. We had a great time. Great beverage prices. Appreciated the Culligan water too. Thank you" -Carolyn K.
"Both Audrey the artist and the gal behind the counter serving drinks were amazing! We will definitely return and share our wonderful experience with others!" -Laurel W.
"I have treated myself as self-care to attend at least one of your classes every month. The classes have helped me get through my first year of widowhood. Thank you for all the franchises around the country, and especially in Spokane WA." -Nan B.
"I refuse to go anywhere else! The atmosphere and artists are amazing!" -Jorden S.
"Well-organized, lots of fun, enjoyed the music and encouragement for this OCD non-artist! Definitely a fun night out with friends." -Virginia H.
"Our artist was really great and went at a pace that was easy to follow. The person serving drinks was incredibly fast and efficient. I was pleasantly surprised by how quickly she responded to requests during the painting time." -Nick F.
"My kids celebrated my 65th birthday by joining me in doing something I've wanted to for a long time. It was such a great time and they enjoyed it as much as I did! I definitely will do this again." -Daniel G.
"Aly that was running the bar was very helpful, talkative and friendly! Bee our artist did an amazing job of instruction and was very friendly and helpful. This was my first time ever and it was so much fun I look forward to doing it again!!!" -Genna B.
"every instructor makes it easy to go home with a painting that looks like a painter did it! the painting choices are great, keep them coming!" -Debbie W.
"It seems like Audrey has been the "artist in charge" each time I've been to Pinot's Pallette. She is knowledgeable, friendly, funny and makes everyone feel comfortable. We'll be back...probably more often than we should. Lol" -Nancye H.
"I have tried other sip and paint classes and Pinot's Palette is always my favorite. Your artists are wonderful teachers and have great patience. Its nice to be recognized and greeted when I come." -Kathy P.
"the artists energy was awesome! she was very upbeat & encouraging & her sense of humor made the whole experience." -Michelle E.
"I took the knitting class. Elisa was very hands on helpful and friendly. Overall my experience was a 10+" -Cindy L.
"Amazing experience. Can hardly wait to do it again! I am also very appreciative of your calendar, as I work nights and weekends. Being able to do something fun on a Sunday, Monday or Tuesday is harder than it might sound. Thank you!" -Jennifer L.
"I really loved it! I was initially very nervous because I feel like I am a terrible artist but the instructor was amazing and calmed me down very quickly and I was amazed with the result. It was awesome!" -Alexander B.
"I was extremely worried since I am not very artistic and the artist did amazing at settling my worries and helping me each step of the way. I will Definitely be back and I'm bringing all my friends!!" -Brittany T.
"really enjoyed the time painting. The instructor was engaging, funny, and easy to follow. The greeter, Jesse, was great! She actually helped me out of a disaster with my painting. I thought everyone was great!!" -Amy
"I had an amazing time. The whole atmosphere felt welcoming and the music was upbeat and uplifting. If we had any questions, or needed something they were right there to make sure we were taken care of. I will deffinately be back." -Gloria F.
"Thank you - that was so much fun! I'm arranging a group outing to Pinot's Palette with my girlfriends in the near future!" -Heidi O.
"My friend and I had so much fun! We literally laughed the entire time. We were both poking fun at our paintings but by the end of the night they actually turned out pretty good. I guess with wine all things are possible!" -Sherry N.
"I love that Pinot's holds these classes as fundraisers. It's a great way to give back and have fun while doing so!!" -Randi O.
"We had a great time and my wife got an unexpected birthday gift. We are considering coming back to do a date night picture." -Brad P.
"This was my first time and absolutely loved it. So much in fact that we re all going to bring our husbands and do a couples night. Thank you:)" -Raydeen R.
"It's my third time at Pinot and every time is special and fun. Such a great event to be able to share with family and friends. I also enjoy giving an evening at the Palette as a gift." -Louise H.
"Last night was the first time I had been to Pinot's Palette. I loved it! I had no idea what to expect but had heard from friends and my daughter that it is fun.....and it was! My daughter and I will definitely be back. The artist was very good with her instructions and humorous too! Thank you for a really good experience!" -Janice K.
"I find the fundraisers and the $10 dollar paint classes a great opportunity for me to bring friends and some of my personal customers to your establishment without them having to spend a lot. There is so much enthusiasm with the crowd it's infectous and my friends all have enjoyed coming." -Shirley R.
"I had a great time painting last night. Sat with some amazing women and even chose to paint my poppies on a palette and it turned out beautiful. Thank you Pinot's for helping me find the painter that has been hiding inside me. I love your classes." -Kathy P.
"Our first time and we enjoyed it so much. Booked another paint immediately! Thank you for an amazing date night, away from our 7 kids, volunteer fire job, and full time jobs. It was so needed. We laughed, we enjoyed each other, and the artist was hilarious!" -Billie K.
"Fabulous staff!! Detail oriented, friendly and fun!! Our office enjoy it very much, thank you!!" Kenya J.
"A very wonderful and fun experience. Loved the freedom to follow closely or color outside the lines!" -Abbie J.