Workshop Classes Coming Up!
Come check out some of these unique workshops we have coming up in November!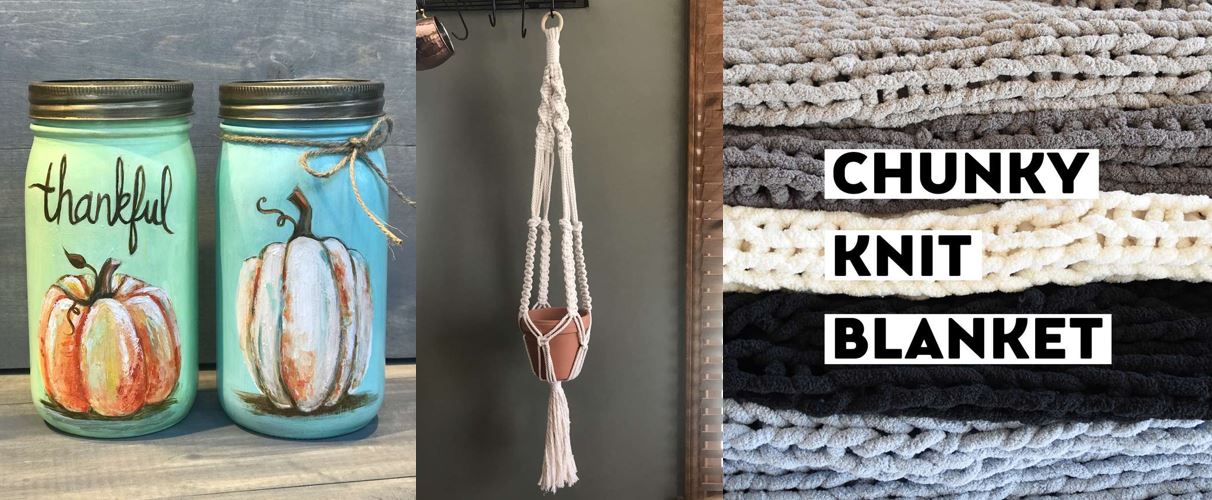 We have three fun workshops happening in November:
On November 6th, we have these adorable Pumpkin Spice mason jars that make for great home decorations or as a lovely gift. These jars are just the right size to put in ingredients of a special family recipe, fresh picked flowers, candles, you name it!
On November 8th, switch things up from our traditional painting classes and we will teach you how to make this beautiful, boho chic, macrame plant hanger. These are perfect to house your plants, ranging from small succulents, to long, flowing foliage!
And then on November 15th, we have an one-of-a-kind event where we will guide you step-by-step through hand knitting a warm, soft chunky knit blanket. No needles or knitting experience is required and all supplies will be provided. We have a selection of colors that will be available for you to choose when you arrive on a first come, first serve basis. Completed blanket will be approximately 40 x 50 inches.
For more information or to sign up for any of these classes, the links are listed below:
https://www..../event/469411
https://www..../event/485713
https://www..../event/489413
We hope to see you there!